Act one–perfect
Unlike others in the industry, Richa Chadda, who successfully essayed the role of Manoj Bajpai's first wife in Gangs of Wasseypur , has begun her career on a different note…
Being experimental is one thing, but kick-starting your career as a mother of four grown up men in a movie is plain adventure! How many female actors have done that before? Richa Chadda, however, is happy to have embarked on the journey to stardom at a stage where other actors reach after playing glam dolls to the hilt. That's not all — the feat has been achieved without a godfather in the industry and minus any star boyfriend to boast of! The latter, Richa feels, has become more of an obligation now. "I am proud to have been able to make it big without any compulsory qualifications," quips Richa, who plays the role of Manoj Bajpai's first wife in Gangs of Wasseypur.
Mythology Magic
Despite the growing popularity of reality shows and family soaps, the popularity of television serials based on mythology have hardly seen a downward swing…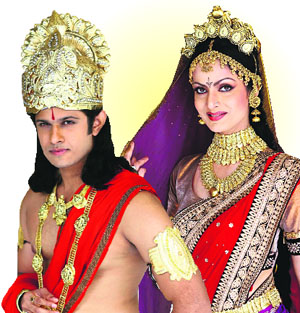 Television shows based on mythology have always been sacrosanct for the Indian audiences. Weren't the roads literally deserted on Sundays when Ramayan was on air? Was it very different in the case of Mahabharat later? With time, the parameters on which shows are judged have changed and now it is all about TRPs, but the abiding charm of mythological stories is here to stay. Life OK's Devon Ke Dev Mahadev is surely a testimony to this fact and now another version of Ramayan has catapulted Zee channel to the number one slot, reaffirming the fact that stories based on mythology have managed to carve a niche of their own amid a slew of reality shows and family soaps.
Neil Bhatt and Shikha Swaroop in Ramayan
Small screen appeal
Being a television actor is nothing short of a regular nine-to-five job, but the ones who are a part of the drill have invented ways to break the monotony — they enjoy every day on the sets. Meet Shaleen Malhotra, who plays the lead role of Arjun in the serial Arjun on Star Plus. After being part of the reality show Roadies 4 and then taking up the role of a VJ, Shaleen is now all for television and his new show till the time something new like films happen.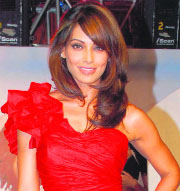 Knowing your stars
After being in the industry for more than a decade, Bipasha Basu says an actor's life is a sad one. She says even superstars fade away after a point and are remembered only when they die. "An actor's life is very sad. The biggest of superstars in our country fade away after some time and are remembered only when they die. But what to do? It is very vulnerable, very sad, but that is the way it is. Nothing is permanent in their life," said Bipasha. A classic example is that of Rajesh Khanna, Bollywood's first superstar. Candid talk: Bipasha Basu
First-day-first show
Fun package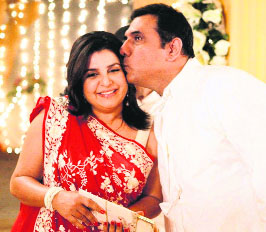 Shirin Farhad Ki Toh Nikal Padi
Starring: Boman Irani and Farah Khan
Farhad Pastakiya (Boman Irani), 45-year-old golden hearted Parsi bachelor working as an undergarments salesman has never found love. The only women in his life are his dominating mother, Nargis and doting grandmother, Siloo. The world has given up on him but Farhad has never given up hope. Until one day a woman walks into his shop and it's love at first sight. Shirin Fugawala (Farah Khan) a 40-year-old, bubbly, straightforward Parsi trust secretary is Farhad's soulmate but destiny intervenes in the form of a demolished water tank.
Farah Khan and Boman Irani in Shirin Farhad Ki Toh Nikal Padi
Trying to act cool?
Robert Pattinson managed to avoid talking about his personal life since Kristen Stewart's cheating scandal on a show, by joking about his homeless state, saying he is "living in a trash can." He was out and about in Hollywood for a chat with Jimmy Kimmel and looked cooler than ever in his casual blazer, jeans and sunglasses combination.
The 'in' side
Get floored
Concrete has today become a material of choice for designers world over. Most of the trendy retail outlets, offices, restaurants and even residences have stained concrete floors. Stained concrete floors offer a limitless range of colours and designs. A cement floor is now no longer the boring grey we all remember. Colouring the concrete has given this material a complete makeover. Here is why you must consider it as a flooring option.


Stone age: Stained concrete enjoy quite a few advantages over other flooring materials.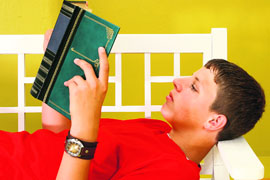 TROUBLESHOOTER
Strengthen the bond
My husband and I had serious problems as he was highly dependent on alcohol. Towards the end he was confined to home but would still continue to drink. He died last year. My younger son remains aloof, he does not express himself. I feel he is falling behind in school as well. My older child is more communicative and is doing fine. How can I help my younger son?
Astro turf
ARIES: Self-employed and businessmen may feel like putting in a few hours to supervise property ventures. Conditions at home will be pleasant. Do not speculate. It's critical to have a balanced life-style. Tarot message: You need to act for yourself and no one else. Lucky colour: Peach Magic number: 28 TAURUS: If there is work to be done and you feel like doing it, go right ahead. Household chores can be handled efficiently.
The year ahead
If your birthday is August 25...
Avoid the destructive tendency to manipulate and control. Children as well as romantic attachments are centres of intense concern. The positive approach is to form more powerful bonds. Emotions will run high; your behaviour will confuse people around you. Frustration could grip you as you seek immediate results. Group involvement will be entertaining but expensive, especially if you don't stop spending on others. Don't let your family members decide what you should or should not do.
Master Chef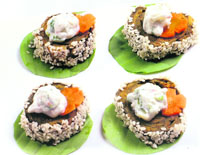 Salad days
The word 'salad' is synonymous with health. Of course, earlier the good old salad was just a mixture of raw veggies like cucumber, tomato, onion etc and as an accompaniment to the main meal and voila! Today it occupies a proud place on the table and many times is a whole meal in itself. Here we have experimented with green leaves of the root plant arbi to make a nutritious green salad with adequate seasonings sesame and patra.
Chatter box
Only great chefs become bride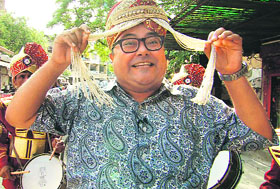 NDTV Good Times' new show Fat Man & 13 Brides is being hosted by food critic Bikramjit Ray. The show is about a fat food critic in his late 30's travelling across the country in search of a wife. He will only marry the girl who can make her way to his heart through his stomach. Popular food critic, Bikramjit Ray, will travel across India in search of some of most delicious food that's up for grabs – all with the excuse of finding his perfect match.
Search is on: Bikramjit Ray
Cruise tastes Indian flavours
Hollywood star Tom Cruise surprised an Indian restaurant manager in Hertfordshire when he dropped in for having spicy food, and enjoyed a meal comprising lobster and chicken tikka masala. Cruise and his eight companions visited the Veer Dhara restaurant in St Albans, where they were shooting for his latest film, All You Need Is a Kill. Cruise, one of the highest paid actors, tried to settle the bill of 220.85 pounds by American Express card, but the restaurant does not accept cards. Another member of the party paid in cash and left a tip of 79.15 pounds, according a source.
For the love of words
Ravinder Singh, bestselling author of Can Love Happen Twice? is inviting readers above 18 years of age to share their love stories. The last date of entries is August 31. The contest is open only to residents of India and the Indian subcontinent. The winning entries, selected by Ravinder Singh and Penguin editors, will be published as an anthology by Penguin Books India in December.
Audience speak
Since people's verdict makes or mars a show, it's important to highlight their take. A couple of ardent Devon Ke Dev Mahadev fans share why the show is doing so well and is more popular than others. Radhika Gupta, a home-maker, feels the show is a hit because it caters to all age groups and is equally popular with kids as well as adults.


Who sparkled, who didn't
Take a look at the gorgeous Bollywood actresses who walked the ramp at the India International Jewellery Week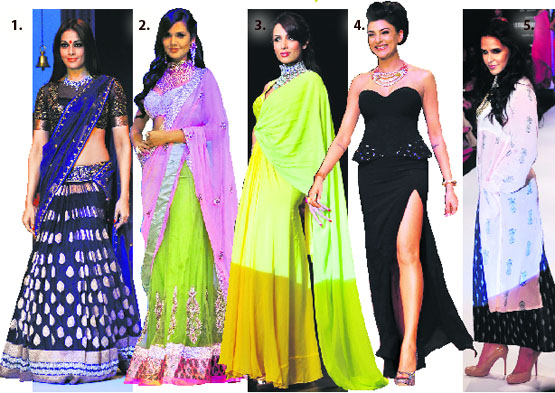 1) Bipasha Basu
She is channelling her inner Bengali
goddess. While it is great to see her in conservative Indian wear, the jewellery hardly stands out.

2) Esha Gupta
She looks gorgeous and we like the
saree too. However, the jewellery gets
lost in the outfit. It is actually quite
tacky as well.

3) Malaika Arora Khan
It is a great to see her fully covered in this lime green and yellow creation. The baubles on her are absolutely striking and steal the show! She looks elegant.

4) Sushmita Sen
She stole the show! She made sure people remembered her. She almost tripped on her gown because it got stuck in her heel. Luckily, her mother was there to sort out her problem.

5) Neha Dhupia
She looks absolutely fierce and confident. Her muted and rather laidback outfit lets the jewellery sparkle all the way!
—HRM
Sherlyn goes gaga over Sunny
In her recent interview, starlet Sherlyn Chopra took a swipe at Jism 2 star Sunny Leone, saying she might be an adult entertainer but she wasn't the ultimate fantasy.
High Spirits
Te Amo Senorita
Witness the essence of Senorita combined with the elegance of Anarkali in our cocktail world.
Playing a journo
Actor Jackie Shroff, who plays a veteran journalist in Dutch director Laurens Postma's first Hindi film Cover Story, says he was attracted to the unusual story which has only two characters. An official adaptation of legendary Dutch film-maker Theo van Gogh's film The Interview, the film also stars newcomer Anjum Nayar.
On the ramp
Newly divorced actress Katie Holmes is set to present her clothing line Holmes & Yang at the upcoming New York Fashion Week. The 33-year-old will show in front of the biggest names in the fashion industry on September 9 at the Lincoln Center, reported a publication.
Perry splits from Mayer?
Singer Katy Perry has reportedly split from guitarist John Mayer just after two months of dating. Perry, 27, and Mayer, 34, went public about their romance when they made an "affectionate" appearance together at Soho House in West Hollywood in June.
No child's play
As part of Himalaya's efforts to help mothers address the problem of fussy eating in kids, the company held a special session in Chandigarh, where mums could interact with doctors and seek their advice. TL Suresh, Business Head—Pharmaceutical Division, said, "An increasing number of kids from urban Indian homes are choosy eaters, which means that meal times are stressful for both parents and children."
Rishi turns a villain again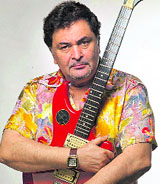 After garnering appreciation from both the media and audiences alike for his role in Karan Johar's Agneepath, Rishi Kapoor will essay the role of a villain in Yash Raj Films' Aurangzeb. "Yes Rishi Kapoor will be playing the role of a villain in Aurangzeb," said a YRF spokesperson This film is rumoured to be a fresh take on the 1978 made film Trishul. Arjun Kapoor, who was also introduced by YRF in Ishaqzaade, has also been signed to play a stellar role in the film. Directed by Atul Sabharwal, the film will have Arjun in a double role. The film that is scheduled for a 2013 release will also have Jackie Shroff and Amrita Singh coming back after two decades. Bad boy: Rishi Kapoor
Vardan Aashirwad finally…
The iconic bungalow of Bollywood's first superstar Rajesh Khanna has now been renamed as Vardan Aashirwad. "Yes...the name of the bungalow has been changed. But I cannot say the reason...it is personal...why should I tell you," Khanna's estranged wife Dimple Kapadia said. According to sources close to the actor, "The name of the bungalow has been changed due to actor's last wishes. It is to do with the vastu." — PTI
Such a tease!
Yash Chopra's as yet untitled directorial film started shooting for its next schedule in Ladakh last week. The first look of the film broke with a theatrical teaser trailer recently and this has added to the huge interest. Starring Shahrukh Khan, Katrina Kaif and Anushka Sharma, the film also brings together the award winning pair of AR Rahman and Gulzar, who along with Yash Chopra, are creating some wonderful and meaningful music for this romantic film. The Yash Chopra Romance is scheduled for a Diwali release.
Done with it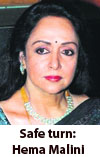 Actress Hema Malini, whose last production and directorial venture Tell Me O Kkhuda failed at the box office, says she is in no mood to invest money in another film as it is a risky proposition. "I made a film recently but it did not work at all, my heart broke. If you tell me to make another film, I will not. If you give me money to make it, then I will. But I don't want to make a film because it is too much of a risk," the 63-year-old said here. Tell Me... was meant to relaunch the actress' daughter Esha Deol into Bollywood, but her efforts failed to reap the desired results. Now, while Hema is ready to act and dance, film production is not on the anvil for her. — IANS

Source of inspiration
Rumour has it that while Randeep Hooda plays an Indian cricketer who has an affair with Kareena's character Mahie Arora in Heroine, his character is based on flamboyant Pakistani cricketer Imran Khan and his escapades off the field.
Game plan: Randeep Hooda
In hot soup
Aki Narula has left his designing projects halfway because he has too much on his plate. He didn't complete styling for Ranbir and Ileana in Barfi! and could not provide designs in time for Dhoom: 3.
Hollywood calling
The buzz is that Zarine Khan, last seen in Housefull 2, has been approached to do a Hollywood film called Chimera, directed by Daniel Silva which is based on his novel The Falling Angel. She is contemplating the offer.