This time, live to eat
There was a time when a size-zero was the most sought-after concept. With the likes of pleasantly plump Sonakshi Sinha and a curvaceous Esha Gupta making a mark in the industry, the concept of beauty and fitness has changed gradually.
Dressed to perfection
Women love to dress up, but how many of them actually do it as they should? So, the latest show called What Not to Wear-India, by the lifestyle channel TLC, is all about giving the participants a makeover and guiding them about their image and wardrobes.
In sync with extreme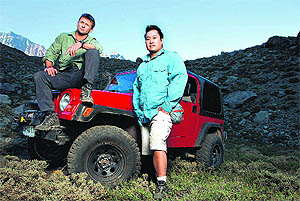 Gary Humphrey and Bill Wu, two complete opposites, one former British special forces operative, another a chiropractor; get together to bring a brand new show One Car Too Far. If you have enjoyed shows like Man Vs. Wild, Dual Survival or I Shouldn't Be Alive…well, this one goes a step further. The duo dropped off into extreme conditions along with a car, not only have to survive the inhospitable terrain, but reach a safe station.
daring duo: Gary Humphrey and Bill Wu
Hair is how
Fashion forward hair styling with international products is what Affinity in association with Sebastian offers to tricity residents. This styling destination opened its doors recently in Chandigarh. Teamed with known hair stylist Nikhil Sharma and Rob Samet, P&G salon professional country manager, Vishal Sharma, director Affinity shared, "We are here to cater to the clientele that would come to Delhi all the way."
The girl with tattoos
Chandigarh's own VJ Bani J, was the show stopper at Affinity's launch. Her punk look replete with rather Gothic eyelashes in black and pink epitomise the futuristic look that the salon promises the city. The girl has a thing for tattoos. She reveals, "It's my mode of self expression," says Bani, who has 23 tattoos in total on her. Stars, flowers (roses in red and black with complementing green leaves on right arm) and inscriptions like Rise and Shine, Karma and Truth (each on left and right arm) and birds, tribals, symbols of strength find place on her arms, wrists and back. She was 16 when she got her first one on a shoulder. And an unlikely company for her tattoo treats is her mom, who is also fond of inking her skin.
Body art: Bani J
GET PHYSICAL
Curb your hunger
The biggest challenge when it comes to weight loss is controlling your appetite. Fortunately, there are many healthy foods that can curb your appetite naturally. Incorporating these health foods will suppress your appetite, banish hunger pangs and recharge your metabolism. So, snack on these healthy foods to stay full while consuming fewer calories.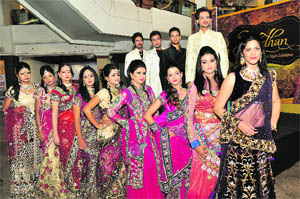 Wed in style
Bandhan – The Royal Wedding Exhibition, a three-day mega event organised by Resonance Concept & Designs, started at Bella Vista on Saturday. A fashion walk was held to mark the occasion. The models also displayed the wedding collections at the well-decorated stalls.



Dressed to kill: Models at the show
stress buster
At peace with yourself
Sometimes life can get overwhelming whether it is something that is extremely bothersome or it is just a whole lot of small stressors that kept piling up and suddenly they seem to have overtaken life.
TREND SETTER
Being a sport
Trends and styles are there all around for anyone to emulate but only those who suit it to their persona and carry it effortlessly, qualify to be trend setters. Commerce student Paramvir Rajput has his own views on the subject:
STAR TRACK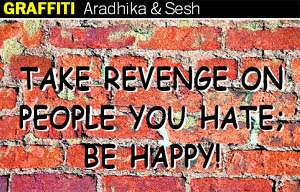 Asin to play a Marathi girl
Language no bar
Gold, brown, red…bring it on!
Stitch in time
Clash of the cousins
Under the Tuscan sun
Out of sight
On a good note
Big bullies of Silver screen
chatter box
Fingers crossed
All work, no love
Fitness on priority list
Still a team
Against the reel
Best of the lot
Talent gets younger
In a new role