Winning with teams
A look at how team-spirit boosting initiatives are being assimilated into the corporate culture
Sayani Sinha Roy
"Coming together is a beginning
Keeping together is progress
Working together is success"
— Henry Ford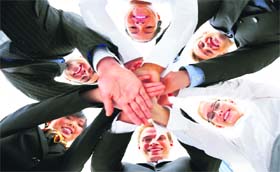 The word "team" stands for "together we achieve more". And, when one talks about team mechanics, an organisation is the place where one can see the best example of how teams work to achieve a common goal.
A workplace today is innovative in every possible way, thus, it is all the more important to infuse team spirit among the employees where they can climb the ladder of success enjoying the cooperation of co-workers and easily accessible bosses.
Innovative initiatives
Corporates these days constantly upgrade themselves keeping in mind their human capital. Thus creating and enhancing a culture where team spirit runs high can make an important difference and etch a growth path like never before.
Technology giant Dell is one such organisation which lays stress on team spirit by including their senior leaders in sharing their experiences through institutionalised platforms like 'Lessons in leadership'. These platforms help in understanding and developing leadership skills that are essential for becoming a good team member and keep the employee morale high. Prabhakar Pakalpati, Site Director, Dell Chandigarh, says, "We are very focused on providing multiple open communication platforms and providing two-way discussions with frontline through chat platforms like listening posts, 'chat n chai'. The teams have extensive engagement calendar for events that foster camaraderie and winning. From the career development perspective employees have clear line of sight to their career development while striving to attain business goals and all levels strive for the same goal and celebrate success as One Team".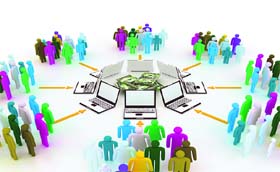 On the other hand Coca-Cola is an organisation which is quite popular among job seekers for its 'fun-at-work' programmes. This is an initiative to retain employees and provide them an ideal work environment. Regular 'Town Hall' meetings, workshops etc allow an easy and smooth exchange of information and healthy interaction between managers and subordinates leading to building of a conducive, open and happy environment for all system associates. Their workplace is a reflection of the happy energy that the group constantly endeavours to achieve and such a concept not only helps the employees to relax and enjoy but also helps in building team spirit.
"There are several best practices that we as a company have put in place over the years, across functions. For instance, we have a 'Fun Committee' that serves as the thought generator on the 'fun-at-work' approach. It is a great way for our employees to connect and enjoy a few laughs with their colleagues. In addition to that, we also have an internal social media site — Chatter — which has been launched with the aim of promoting accelerated communication and collaboration across locations. This helps to easily initiate dialogue with large groups across the globe on various business topics, ideas and questions. Apart from that we have several skill development and capability building programmes, which lead to a talent exchange, within the company and fosters learning across locations", says Sameer Wadhawan, Vice-President, Human Resource and Services, Coca-Cola India and South West Asia.
Inspired by the Indian Premier League (IPL), IT firm Tech Mahindra has embarked on a unique employee engagement programme, where the workforce not only play cricket matches, but teams are formed and traded like the original tournament in order to foster team spirit.
'Away Day' is another initiative that involves an informal outing, or in-house competitions where different teams participate and try to outdo each other at fun activities. With these initiatives, SRS India, a pioneer in the network market, is able to have a highly motivated workforce that contributes towards maintaining the momentum of their progress. "To enhance interaction among our employees and various teams, we conduct several team-building exercises from time to time. The focus of these exercises is to bring the employees together on an informal platform and provide them with a chance for open interaction so as to know each other better", avers Tinku Singh, Group President, SRS Group.
Spirit of oneness
An important part of a team is team spirit, the sense of oneness and support gained from working together and this is what organsations are working on these days and the HR department is the suitable one to take care of it and plan out on how to go about it. Alka Bakaya, Director R.E.D Training, a performance consultancy firm emphasises on the fact that while traditionally organisations and HR have invested in off-sites, town halls, galas and bonding training programmes to boost team spirit, in recent times much research has been done to link enhanced performance to motivation, team cohesion and retention. "In our experience fair and accurate feedback on performance, more involvement of a manager in helping a team to generate solutions to work challenges, more transparent communication within the teams are the factors that enhance performance and team spirit."
One of our basic human needs is to feel that we belong to something bigger than ourselves, and for many people that need is met by being part of a supportive work group. Effective team building initiatives foster harmony and sence of purpose in employees and as a result they want to be at work, tardiness and absenteeism becomes minimal, team functions smoothly and units are able to carry out the missions and goals of an organisation in a much better manner.
Special touch
Making each employee feel that he plays an important role in an organisation is an important part of fostering this team feeling. JW Mariott, one of the leaders in the hospitality industry, conducts various activities such as employee interaction on a frequent basis, receiving feedback from them and working on it, internal communication to know what the employees desire the most. They celebrate "Associate Appreciation Week" in May each year during which the hotel's leadership team thanks its associates for all their hard work and efforts. During this week managers get into the role of their associates and do their jobs like room cleaning, bed making, service in a restaurant, serving meals in the associate dining room, etc for a day. "We, at Marriott truly believe that a well-connected team is the key to success and we undertake various activities to enhance team spirit across all our properties," says Gurmeet Singh, Area Director of Human Resource, Marriott International.
The largest maker of security software Symantec, conducts a two-week innovation programme called InnoQuest, which provides innovators across teams mentorship and resources to convert their ideas into innovations. Another event called MindBytes endeavors to create an environment to promote ideation, including contests, brainstorms and guest talks. "Symantechies are invited to contribute creatively to the yearly tabletop calendar that adorns all workstations. The most recent contest required Symantechies to share images that exemplified the essence of Symantec. We received a deluge of entries and all of them echoed the sentiment that Symantec is everywhere, which to us is an indicator of the positive team spirit and commonality of objectives across the organisation," claims Sudhanshu Pandit, Director, HR, Symantec India.
team spirit mantras
Creating small teams
One of the ways to foster team spirit among employees is by dividing them into smaller teams and giving them team goals instead of individual goals. This will ensure that the employees work, consult, help and support each other in their work as they know that they are going to be appraised on the basis of their team's performance. At the same time, the employees should be very clear as to what is expected from them i.e. there should be clarity of individual tasks. This will automatically enhance team spirit among them.
Two-way communication process
Communication is the key to all relationships, whether personal or professional. Thus, effective communication makes the challenge easier and creates a transparent environment where everyone feels free to communicate, take and give advice and voice opinions related to work. Give freedom to employees to speak whatever they think will contribute to everyone's knowledge about their work or any departmental issues.
Balance between autonomy and control
Although, the rules, regulations and procedures should be in place to get the things done at the right time, allow some amount of freedom to your employees to do a job in a particular way they deem fit. In case of teams team leaders should be allowed a bit of autonomy to use their own methods of getting things done by the people under them. This will contribute immensely towards team building in the workplace.
Promoting fun at work
Fun-at-work is a vital ingredient in fostering team spirit and almost every corporate today is trying to take this path. This concept works as a stress-buster for employees who are working under strict deadlines, pressure and tension, organising interesting games, birthday and weekly parties, picnics can definitely add zing to the workplace routine. It also gives employees an opportunity to know their colleagues better which can be effective in creating an understanding between them and as a team they can work together better.
Rewards and recognition
High package is definitely an attraction but retention of an employee depends on rewards and recognition for a job well done. It is also a way to keep them motivated and let them know that the company cares for them. Reward and recognise an employee who has shown considerable growth and guide an employee who is lagging behind, so that the others do not feel deprived and de-motivated.
In order to make profits and be successful organisations are undertaking a number of team-building activities as investing in the human capital is the best investment decision that a company can take.