Gals, it's shoe time
Indian women have a variety of international designer footwear to slip their feet into and leave footprints in style
Surekha Kadapa-Bose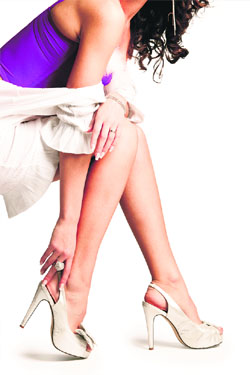 How one envies our ancestors! No confusion every morning about what clothes to wear, what footwear to go with it, what accessories to match with these? Just drape a good saree and deck yourself up with flowers in hair, neck and wrists. Add to this, a pair of 'khadaun' (flat wooden sandals) for your feet and you are ready. While the saree continues its hold, the 'khadaun' have undergone a metamorphosis.
Blame it on the fetish for shoes but footwear has witnessed a tremendous transformation. Today we have ballerinas, pumps, stilettos, wedges, peep toes, sandals, gladiators, flats, flip-flops, Kolhapuri chappals, so on and so forth. The list of different styles of footwear has almost become endless.
During her husband's reign, former First Lady of the Philippines Imelda R. Marcos is believed to have owned nearly 2,700 pairs of designer shoes. It was when the collection of her footwear, which is part of the most-prized collection of the Shoe Museum in Marikina in the Philippines, became public news that designers and fashionistas across the globe woke up to the importance of flaunting different footwear for different occasions. While three pairs are a must for every woman, Imelda is the limit to own the maximum.
Echoing the sentiments of the woman-next-door, Deepika Mehra of brand Vanilla Moon footwear, says, "A woman can never have too many pairs of shoes. Buy as many as your fetish (and wallet) permits."
But she goes on to say, "While it is important to maintain the fashion element, it is equally important not to overlook the comfort factor; otherwise an enjoyable outing can turn into a painful experience. If it is going to be a long day or evenings with a lot of time spent standing and walking around, then pay more attention to the comfort factor. If it is an occasion which warrants less standing, then go for higher heels and walk tall."
The problem with shoe shopping is that everything looks great in the window display. When one sees stars like Aishwarya Rai Bachchan, Deepika Padukone, Anne Hathway, Angelina Jolie, etc. cheerfully walking with six-inch stilettos or wedges, we, too, assume that we, too, will be comfortable in these. However, one should never make this cardinal mistake while buying a pair of shoes.
According to Payal Kothari, designer at brand Veruschka, "You should make sure that an experienced salesperson measures your foot and gives you a proper fit. It's never the length of the foot that's important. It's the ball of the foot. Make sure that the salesperson is measuring it properly. Go for the shoe that you feel comfortable from the minute you step into. Walk around an uncarpeted area of the shop before zeroing in on a pair."
Many reputed shoe shops or designer boutiques take great care to offer you advice while selcting a shoe and, however much you may not like the plain-speaking attendant, for the health of your feet and your overall well-being, you should take the advice.
Another point one should always take care of, especially in the warm and humid climate we live in, is to go in for as many natural products for shoes as possible. No doubt, PETA is doing a wonderful job by fighting for the rights of animals but when it comes to shoes, go for leather shoes. On the material best-suited for shoes, Deepika asserts, "Natural products without compromise. Pure leather allows the feet to breathe properly. Synthetic materials may cause excessive perspiration, which should be avoided in our hot climate".
A must in all-women's shoe rack is a pair of shiny black patton classic shoe, which can be worn with any dress. For daywear, go in for small wedges, flats. For more comfort, go for a ballerina, and if you are a college goer, nothing is more comfortable than a pair of sneakers. For evening wear, make sure you have a pair of delicate strappy-heeled sandals, gladiators, or stilettos. The height of the heels should depend on your comfort level and balancing abilities.
With the opening up of Indian markets and increasing expendable budgets, several international big brands are finding India the best place to be. Many international brands like Prada, Givenchy, Jimmy Choo, Yves Saint Laurent, MCQ etc. are operating through channel partners in most Indian cities. Competing with them, we have our own brands — the evergreen Bata, Veruschka, Vanilla Moon, Woodland, Metro, Mochi, and several others.
So, don't be in a hurry to buy shoes. Take time and select the proper fit and style.



Tips for buying shoes
Remember your well being depends on your feet. And they are the most used parts of your body. So make them as comfortable as possible. Some tips to buy best foot wear by Payal Kothari, designer brand Veruschka:
1.Avoid buying shoes from the footpath. These may come in attractive shapes, colour and prices but there will be little long-term comfort in these. Stick to a reputed shoe shop and brand.
2.Make sure the salesperson knows what he is selling. He should measure your feet correctly. It is not the length of the foot that is important but the ball of the foot. The shoe has to fit snugly in the arch of the foot.
3.Shoes should be comfortable from the word go. Don't get taken in by the salesperson, who says that the shoe will loosen and fit properly after few days. The moment you step in the shoe, you should be comfortable.
4.Forget Imelda Marcos. Opt for multi-purpose footwear. You can wear multiple number of shoes but make sure these can be matched with different attires and dresses of different colours. Every woman should have black classic leather footwear. At present, neon colours are very trendy. Go easy on these. Versatility and good quality shoes should be the preferred choice.
5.Go for sales. Generally a trend lasts for a couple of seasons. So if sales are on, buy. These shoes will look great in the next season too. But just be sure, these fit you properly.
You have heard of different types of footwear. If you are wondering what all these names are about. After all they are only footwear! Didn't the Bard say, "Rose by any other name is a rose only!" Then, why such a hue and cry about the shoes? Well, when it comes to footwear there is a huge difference. Read to know the difference
Flip-flops
Earlier meant for bedroom and bathroom wear, these are now meant as casual wear. Hollywood beauties like Elizabeth Taylor, Audrey Hepburn, or closer home Babita and Sadhana were seen often slipping their feet in the lovely pair of flip-flops. Absolutely comfortable, you can wear these to college, beach or for an evening stroll.
Stilettos
Party wear is how one can describe these shoes. Depending on your balancing capacity, you can opt for the height and thickness of the heels. These start from 3" to 6" high pencil thin heel to slightly thicker heels. Pencil thin heels need practice to walk. Nowadays pumps and sandals with stilettos are trendy. These not only add height to your body but also make you look seductive.
Ballerinas
Popularised by ballet dancers, these shoes are flat, comfortable and rounded at the front. Adorned by many for its stylish and feminine look, these suit both formal and casual attire. If you have a height which makes you tower over your boyfriend, then opt for these shoes. These will make you look trendy without making him look a midget. And these are available in all kinds of material - jute, satin, leather etc.
Gladiators
As the name suggests, this footwear was once worn by the marauding army men. But now, the footwear has attained popularity with young girls, especially those who like to wear short skirts, calf length attire, capri pants or jeans. These will add zing to your attire. Deepika Padukone loves these. These are found in flats and heels.
Wedges or platforms
From the sole to heels, the entire shoe is raised with additional single flat high sole. The height depends on your choice. Short actors wore these to give them the added height. Today, we have high-heeled wedges. So if you have a 2" high flat sole and the heel is 6", you get a height increase of 4" without making your feet ache. Best is to go in for chunky high-heeled wedges.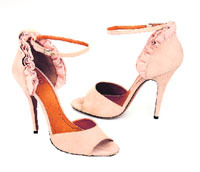 Givenchy
The name proclaims style, class and money. Available in nude suede leather with the sole also in leather, these pumps will bring out the feminine grace and charm in you. These look great on short skirts. Get set with these with your dress for a lunch date or even the horse race.
Price on request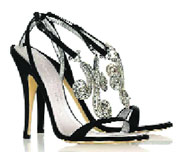 Jimmy-Choo
Ivory wedding shoes from Jimmy Choo vary from peep-toe bridal shoes, open toe slingback bridal shoes with ankle straps. With gorgeous soles, leather and twinkling embellishments, these are sure to complete any bridal wear. The most coveted foot wear, it is popular pan universe. These shoes will add sparkle to any outfit and occasion.
Price: Rs 30,000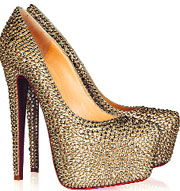 Christian Louboutin
Who wouldn't want to own a real Christian Louboutin pump? The grapevine says that those who can't afford the brand are painting the soles of their shoe red to pretend to own one! The brand's latest offering Daffodil 160 crystal-embellished suede pump will certainly set you back with a couple of lakh rupees. Measuring 6.5" heels with a 2.5" platform, you will be close to touching the sky with this real glamour.
Price: Rs 4,00,000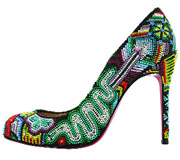 Christian Louboutin
You will look like a princess in these Christian Louboutin's 6" stilettos. In this Yolanda series, they have several styles with lot of embellishments of colourful beads, crystals, spikes and others. The classic Yolanda series is good for evening parties or a naughty nightout. The multi-coloured footwear will look great on plain nude or subdued coloured attire.
Price: Rs 1,80,000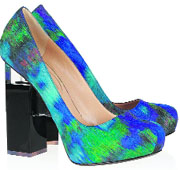 Nicholas Kirkwood
This is from the latest collection of Nicholas Kirkwood's Erdem collaboration. These luxe pumps are not only chic, but will also add to your confidence of having the best dressed feet at the party. With 5" heels added to 1" platform, this pair will also add height to your persona. Crafted from silk-covered leather and finished with a graphic heel, the pair is the perfect clash of elegant pattern and bold design.
Price: Rs 86,000
Purple Casadei
The purple pumps with style wedges, suede leather and leather sole will add zing to any western attire, be it long or short. These look great on ankle-length crimple cotton skirt, topped by matching purple lose top. Celebrities, including Hollywood stars Anna hatchway, Lucy Liu, Kim Kardashian and several others love Casadei. With more than 50 years of experience in shoemaking, the Casadei family produces shoes, which are entirely made in Italy using exclusive materials finished-off by hands.
Price on request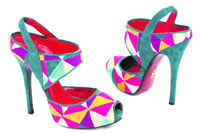 Cesare Paciotti
These highly colourful pumps with a patchwork design in suede leather with leather sole will add colour to your day. Known for red soles, these look great with denims, short skirts, or even mid-length dress. According to Cesare Paccotti from Italy, his products are for women who are attractive, sophisticated, strong and modern. You can't go wrong with these pumps at all.
Price: Rs 34,999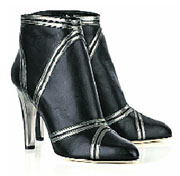 Jimmy-Choo
The black nappa leather boots from Jimmy Choo feature a 100mm silver-plated heel, a metallic silver trim, a pointed toe and a zip fastening on side. These look great on narrow-bottomed denims or ankle-length skirt. Jimmy Choo has a huge fan following across the globe with celebrities like Katy Perry, Gwyneth Paltrow, Jenifer Lawrence and others sporting the footwear at all celebrity shows.
Price: Rs 70,000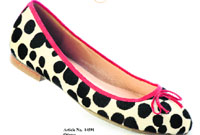 Vanilla Moon
These ballerina shoes come in suede and soft leather lining. The polka-dotted design is an eye-catcher. The pink piping and a small bow add a touch of glamour.
These make a comfortable everyday wear. Ballerinas have always been popular with filmstars, royalty, or the girl-next-door.
Price: Rs 5,490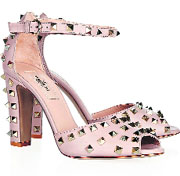 Valentino
The shoe not only looks romantic but even the material used — antique-rose leather — sounds lovely. These Valentino's sandals, studded with pale gold hardware, are a perfect example of the opulence of Italian brands. It will look great on any classic cocktail dress, or even a sleep urban separates. It defines tough chic style.
Price: Rs 73,000
Prada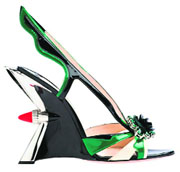 This design comes from the spring 2012 collection where stilettos and high heels were designed keeping the classic 1950s car models. So you will find heels decorated with automotive parts, including spoilers, wings, taillights, chrome accents or flames. Wear these on short skirts so that the shoes can be admired for their craftsmanship. The shoes are so associated with chic and luxury that a film comedy-drama The Devil Wears Prada starring Meryl Streep and Anna Hathway was also made keeping the hoity brand in mind.
Price on request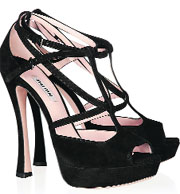 Miu Miu
Every fashionable lady dreams of owning a pair of Miu Miu footwear. The classic multi-strap black heels is a weapon a woman won't be able to resist. The 5.5" heels on 1" platform will make you look great in any attire — Western, Indian, or ethnic. The suede peep-toe sandals not only look sleek and classic but will also add to your grace and elegance.
Price: Rs 56,000
Dsquared shoe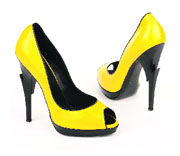 Canary yellow 4" heels will go with an evening dinner or party. The shoes are made of leather, including the sole. The Canadian twins Dean and Dan of Dsquared set up their own label in Milan in 1994 from where their tongue in chic collections have earned them a loyal celebrity following. Also famous for creating catwalk shows bursting with energy, the design duo loves cheeky subjects. These canary bright yellow pumps will add riot of colour to your style.
Price: Rs 32,199