prime concern
nuclear ENERGY
No clear way forward
By Vibha Sharma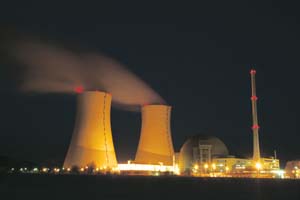 EVERY issue has two sides and nuclear energy is no different. India is faced with the highly contentious issue of whether it should step up its nuclear programme for future energy security or go slow to assuage safety concerns. The debate makes nuclear energy a tough road to take for energy-starved India.
Clean and cheap energy
The working of a nuclear energy installation is quite similar to a thermal or hydel power plant, the only difference being that instead of coal or water, a radioactive element like uranium is used to heat the water and spin turbines to produce electricity.
N Nagaich, Executive Director, Corporate Planning, Nuclear Power Corporation of India Limited, says the basic difference is energy intensity. To produce 10 lakh units of electricity only 27 kg of clean uranium is required, against 700 tonnes of carbon-intensive fossil fuel like coal.
A 1,000 MW capacity plant would require 350 tonnes of uranium and 35 million tonnes of coal to produce 8,000 million units of power annually. To ferry this coal, 150 trains with 24 bogies each would be needed every day. In contrast, all that a nuclear set-up would require to run for a month is a truckload of uranium.
Nagaich says: "At present, 436 nuclear power reactors are in operation in 31 countries, catering to 14 per cent of their energy needs. Fifteen countries are setting up new reactors. In France, 58 reactors cater to its 80 per cent power needs. China, which is facing similar issues like India, is going for nuclear energy in a big way. Some countries have chosen to shut their reactors as they have completed their economic lives. Denmark and Germany have decided against it because their energy requirements are small and can be taken care of with renewable sources."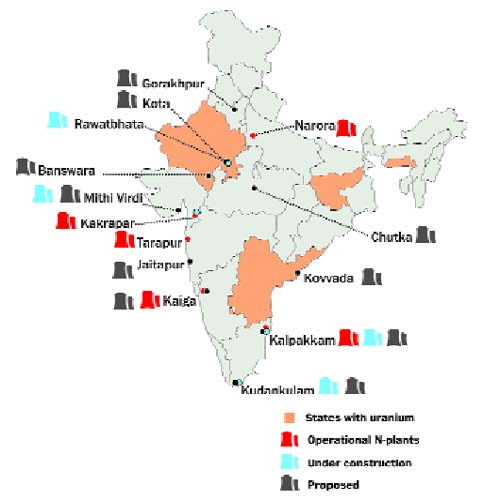 The 'safe' claim
The chief advantages of nuclear power generation are economic, environmental and productivity per unit area/volume. Lydia Powel, who works on energy and climate change policy issues at the Delhi-based Observer Research Foundation, says Indian nuclear scientists were isolated from the world for 34 years, which they turned to their advantage. "They developed home-grown capabilities, some among the best in the world. Indian reactors have functioned well," she says.
However, this is not a guarantee against accidents: "Accidents have occurred in closed socialist economies as well as open market economies and India is no exception." While the technology for nuclear plants is mature and accidents are rare, if an accident does occur, the damage can far exceed the harm caused by accidents in other types of plants.
The flip-side
P Kumar Sundaram, a research consultant with the Coalition for Nuclear Disarmament and Peace (CNDP), explains why nuclear energy spells disaster and why many industrialised nations have either reduced or shelved their programmes.
"Italy, Sweden and Switzerland have decided to shun nuclear energy, acknowledging that renewable energy is a workable alternative. US Nuclear Regulatory Commission has put all new nuclear licensing on hold and gone in for renewable energy sources. Japan has shut down 53 of its 54 nuclear reactors and is getting along fine without the sort of power outages that India sees. Japan feels that any decision to restart nuclear facilities should be ratified by the local people. But in India, Koodankulam and Jaitapur nuclear power projects are coming up despite public outcry. The government is pushing through its plan, overlooking nuclear energy's dangerous impact on health, safety and livelihood of local communities," he says.
Apart from Jaitapur in Maharashtra, protests have broken out at Chutka in Madhya Pradesh, Mithi Virdi in Gujarat, Kovvada in Andhra Pradesh, Kota in Rajasthan and Rawatbhata in Rajasthan.
Perceived danger
"Nuclear is not a clean source of energy and radiation is a silent killer. Industrial accidents can occur, but in case of nuclear accidents, the damage can be huge. Chernobyl, Three Mile Island accident and Fukushima's bad designing coupled with nature's fury, are a case in point. However, the Indian Government has ignored these concerns and refused even to part with basic documents like environmental impact assessment (EIA), safety evaluation reports (SERs) and inter-governmental contracts," Sundaram says.
Countering the government's allegations that the movement was "misguided" and instigated by "outsiders", he says: "We are not only opposing nuclear but also proposing a renewable-based decentralised and people-centric energy policy. The government must improve transmission and distribution of existing power plants."
Efficient transmission
Improving efficiency of transmission and distribution will boost availability of electricity, agrees Lydia. Better pricing of power will also facilitate investment in power generation. But renewables are unlikely to make a huge contribution to generation as India needs high quality, continuous baseload power. "Renewable energy is not designed to supply this. Germany and Japan used coal and gas to fill the gap in power supply after the closure of nuclear plants," she says.
India needn't initiate a formal slowdown since the scarcity of resources (financial as well as natural) will ensure that the pace of building nuclear plants is slow anyway. "In a world based on competitive economics, India cannot give up the pursuit of any form of energy. But it must exercise caution. The Three Mile Island accident occurred at a time when the US accelerated its nuclear build-up. India wants to increase its nuclear capacity four-fold in eight years (20 GW by 2020). In the last 50 years, it has developed only 4.5 GW," she says.
"Carbon emissions from nuclear plants are very small compared to coal and gas-based power plants, but they do generate plenty of toxic waste," she adds.


N-POWER
Total power generation capacity in India
2,05,340 MW
Nuclear power generation
4,780 MW (2.3%)
Thermal
1,16,387 MW (56%)
Hydro
39,291 MW (19%)
Power shortage
20,000 MW (10%)
Uranium reserves
Andhra Pradesh, Jharkhand, Meghalaya and Rajasthan
Existing Plants
Tarapur Atomic Power Station 320 MW
Tarapur Atomic Power Station 1080 MW
Rajasthan Atomic Power Station 740 MW
Madras Atomic Power Station 440 MW
Narora Atomic Power Station 440 MW
Kakrapar Atomic Station 440 MW
Kaiga Generating Station 880 MW
Under Construction
2,000 MW at Kudankulam (TN) and 1,400 MW at Kakrapar (Gujarat)
Proposed
Gorakhpur (Haryana); Jaitapur (Maharashtra); Chutka (MP); Mithi Virdi (Gujarat); Kovvada (Andhra Pradesh); Kota, Rawatbhata (Rajasthan)
CAG's TAKE
Spurt of economic growth requires substantial augmentation of energy facilities, a large part of which can be provided by nuclear energy.
Stakeholders, including the government, need to be assured that nuclear energy and associated technologies are safe and that society can repose trust in the regulator.
Safety undefined
Atomic Energy Regulatory Board has not prepared a safety policy in three decades
Rs 500 maximum fine for safety oversight
The recent tritium leak in the Rajasthan Atomic Power Station exposed 38 workers to radiation.