Arts
Poster d'art
The film poster, in its cinematic journey of more than 100 years, has survived both, the test of time and technology. It has also re-emerged as a trend that is regaining popularity
Deepa Ranade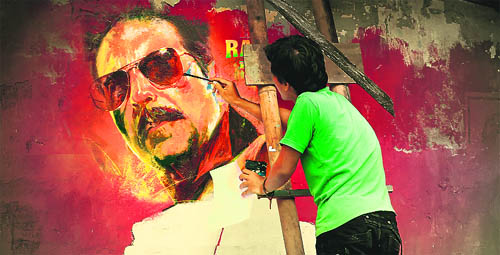 Starting off as a publicity tool, the good old film poster has today been transformed into an object de art, a collectible worthy of museum display and auction. Vintage Bollywood posters are displayed in art festivals the world over, and there is an increasing demand for hand-painted Indian movie posters in France too.
The classic poster of Mother India fetched a hefty price while the poster of Guide; designed by famous poster artist D. R. Bhosale, garnered a handsome $2000. But not long ago, these hand-painted treasures were dumped in trash by printers and many invaluable gems were, thus, lost forever.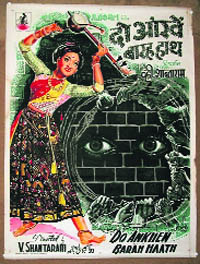 As Atmanand Golatkar, veteran publicity designer, explains, "Posters were designed to convey the theme of a film. These were meant to draw the audience to the theatres by generating curiosity about the film. Just like today's TV promos."
But he admits candidly that even as recently as the 1980s, posters never qualified as an art form, "These served a brief promotional function. In those pre-colour photography days, artistes will use black and white film stills to hand-paint coloured posters on canvas, which, in turn, will be used as a template for printing posters by lithographic method."
Mind you, these were oil paintings, and guess who took away these hand-painted canvases? These were unceremoniously discarded by the ignorant printer.
Hand-painted canvases or glossy vinyl prints — whatever the format — posters have always been the window to the soul of a film. Almost a century ago, even Dadasaheb Phalke publicised his and India's first film Raja Harishchandra (1913) primarily through a simple picture-less print. Currently, the earliest surviving poster with an image is that of Baburao Painter's film Kalyan Khajina (1924). A filmmaker of the silent era and a painter himself, Baburao is rightly considered the father of hand-painted posters in India. An interesting anecdote about this passionate painter goes that Baburao invited Durga Khote, the heroine of his film, for a shoot to Kolhapur and then, he got so engrossed in painting her portraits for the posters that he forgot all about the shooting until Khote reminded him about it.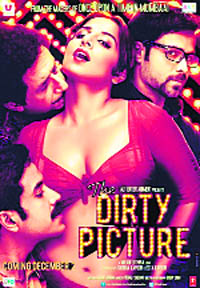 Poster painters emerged as an art fraternity unto themselves and laid the foundation for hand-painted posters. Of these, the most illustrious were B. R. Bhosale, G. Kamble, Diwakar, C. Mohan and, of course, M. F. Husain. G. Kamble was veteran filmmaker V. Shantaram's favourite and when Kamble painted a gigantic poster of Do Ankhen Barah Haath stretching across the walls of Mumbai's landmark Plaza theatre, people turned up in hordes just to gaze at that monumental work of art. Incidentally, eminent director Satyajit Ray also enjoyed hand-painting posters of several of his films.
Rajesh Devraj , co-writer of The Art of Bollywood with Edo Bouman, singles out D. R. Bhosale as one of the most consistent and skilled poster artists in Hindi cinema.
"Most people think of Bollywood images as over-the-top but Bhosale's work was quite restrained. He could create the most stunning posters simply by placing a single expressive image against a stark black background," he writes.
Till the 1940s, posters were just the announcements of upcoming films giving very little thought to matter of art but the spirit of Independence prevailed in the 1950s, giving birth to new genres as Raj Kapoor's brand of romance in Awara and poster artiste S. M. Pandit echoed the sense of freedom in his artistic expression in designing the poster. The subtle hues searching for a deeper meaning of the film surfaced in posters and the art of poster reached its artistic acme with Sahib, Biwi aur Ghulam, Pyaasa, Kaagaz Ke Phool, Pakeezah and Mughal-e-Azam.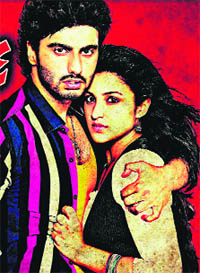 The flashy 1970s ushered in a new era of gaudiness. Posters, too, reflected the mood of those action-packed films, replete with sexual overtones. Everything had to be made brighter — even he-man Dharmendra's lips were painted cherry red and his cheeks coated liberally with a deep pink blush. Blue, black and red shades marked action film posters, while yellows and pinks in a poster symbolised a romantic film.
The era of hand-painted posters continued right up to the early 1980s, "I also painted posters at the beginning of my career. We had to even paint the lettering of the titles, there were no readymade fonts like today," remarks Atmanand.
But the advent of the digital age marked an end of the 'masala posters', sweeping away all artistic nuances, bringing instead a palette of convenience and the urgency of execution, "Somehow, poster art became more visual and visceral and less ethereal and individualistic. It just put an end to what we artistes pride in — the signature style," rues Atmanand.
Internet also brought to fore the ugly trend of plagiarism. Posters' designs were conveniently pilfered from Hollywood hits and references blatantly copied. Oil paints and brushes for computers and canvases were exchanged for glossy vinyl surfaces.
In 2000, Neville Tuli founded Osian's, an art auction house, and he reportedly spent nearly $5 million to buy iconic posters of Marilyn Monroe, Alfred Hitchcock and Walt Disney and some artefacts. Then he formed 'Osianama' project dedicated to film and arts under which he also procured vintage Bollywood posters from private collectors — Mughal-e-Azam poster for 20,000. Osian's catalogue of vintage movie posters pegged Mother India poster at `25,000-35,000 and Amitabh Bachchan-starrer Deewar at `15,000-25,000.
Noted Bollywood biographer Bhawana Somayaa, who put together a book of Bachchan's film posters for Osians, titled Bachchanalia, opines, "There is a great need of an archive for old film posters, magazines and related artefacts where collectors could deposit and display their collections."
Jerry Pinto and Sheena Sippy have also published a book, Bollywood Posters, dedicated to film posters. Evidently, posters are being looked as an art form by the cognoscenti. During an exhibition of Bollywood posters in New York recently, a big segment of Indian private collectors and museums evinced interest in acquiring these posters. Most sought after were the posters of films between the 1930s and the 1960s, and then, that of the blockbuster hits.
From being displayed at shaving saloons, paan shops, tea stalls and wayside eateries, Bollywood posters have now attained the exalted the vintage status.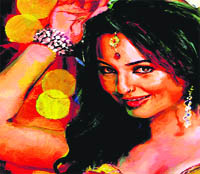 Return of RETRO
The hand-made poster style is returning yet again in a fusion form. Rockstar initiated the trend and Rowdy Rathore followed suit with its bright-hued 1980s-style hand-painted movie poster. "I am glad to see the re-emergence of artistic inclination, hand-painted posters reworked digitally make for a heartening trend. The fusion of art and technology," publicity designer Atmanand says. He hopes that poster art will be taught in institutes as an art form very soon.