Foodie's day out in Toronto
Preeti Verma Lal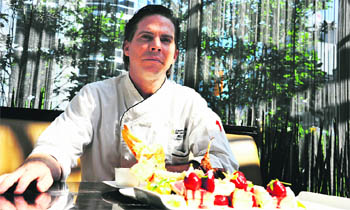 Toronto has 7,000 restaurants but no specific cuisine Photos by the writer
John Travolta? Or Bill Gates? as you walk up the wooden staircase of Mengrai Thai restaurant, Allan Lim, the sprightly restaurant owner, throws up this baffling question. Most people are aware about Mengrai's tag as Toronto's best Thai restaurant; many had heard finger-licking stories about Chef Sasi Meechai-Lim's red curry panang king prawns and lemon grass scallops.
But there was no snazzy whiff about it — the decor was minimal, the cutlery mundane, the curtains sheer purple. So, why the question about a Hollywood hunk and a geek with pots of money? They could not have been on the menu. Or, were they? Well, sort of. Travolta loves Mengrai's chicken with pineapple and Gates, the fried morning glory. Allan can drop names by the dozen — Chef Lim, his wife, has been flown to do private dinners for Anotnio Banderas, Jessica Alba, Jackie Chan.
Thus began my food trail in Toronto, a city that has 7,000 restaurants, but no specific cuisine. A city where every year food fads are listed with great brouhaha – this year, it is hip to do street food and pick Polish hot dog from a food truck; eating with hand is forgiven but shirt wiping is still sacrilege; Filipino food, Thai's ugly sister, is making waves; mason jars are having their moment – the rustic-looking canning canisters are finding neat corners on the dinner table; artisan pops (home-made soda) is gathering fizz and Japanese pub food is stepping beyond dragon rolls.
If, however, you are looking for authentic Canadian cuisine, there is no such thing. "There's nothing called Canadian cuisine. It is a smorgasbord not a stew pot of cuisines," explained Michele Simpson of Tourism Toronto. "There are five China Towns, two Little Italys, a Little India and even a Korea town. You can get bagel and lox in Eglinton West, meat on skewers in Danforth; cheap dimsums in East China Town; cupcakes in Mount Pleasant, tikkas and pakoras in Little India, gelatos and pizzas in Corso Italia," Simpson added
Toronto can spoil you with food choices and you can be at the top of the world. Literally, in 61 seconds flat, you would be beamed 351 metres above ground to 360 Restaurant, an award-winning joint that draws foodies not only for its roasted beet and orange glazed duck spiedini, and dark chocolate tower, but also boasts of the world's highest wine cellar. As you dig your fork into scrumptious continental fare, the restaurant takes a languorous 72 minutes to revolve 360 degrees for a magnificent view of the city.
In the evening, when the air turns crisp and the mood ritzy, it is time to slip into a little black dress and step into Fairmont Royal York, Canada's largest kitchen where chefs can bake 15,000 French rolls a day, grow Pinocchio nose chillies on the 14th floor terrace garden, serve choux pastry swans, toasted crumpet and finger sandwiches for afternoon tea, and where Birdbath Martini is a potion to die for.
And don't be scared of the ghost in red, satin smoking jacket, who often swaggers out of the hotel's basement. And also if you can be prepped to walk those 72 km of carpet in the hotel in search of the table where Queen Elizabeth once sipped loose leaf tea.
Instead, walk into Azure Restaurant in Intercontinental Toronto Centre where the stars stare down the skylight as you bite into Chef John Mitchell's painstakingly done lamb chop and strawberry panzawella. For Mitchell, food is a belief; his god lies not only in details but also in the food source. At Azure, lobsters come from Nova Scotia, halibut from Vancouver, salmon from British Columbia, duck from Quebec, strawberries from Massachusetts. Mitchell is turning food on its head – he is shunning white asparagus and foie gras for red and green lentils, which are making a deserved comeback on Toronto's dinner plate.
Do sample the must-eat list: apple coleslaw in Le Petit Dejeuner; gourmet sandwich at My Place; all-natural ice cream with bourbon caramel sauce from Drake's Scoops; seafood feast of scallops, shrimp, mussels in Donatella; and the irresistible French toast with bananas in dulce de leche chantilly and maple syrup at Delux. And, of course, O'Noir, a dine in the dark restaurant where cigarettes, lighters, luminous watches, cellphones, and matches are forbidden; O'Noir is dark, so pitch dark that you eat in absolute darkness.
One is willing to order a five-spice filet mignon in O'Noir only if Spiderman, everybody's favourite Torontian, will sit across the table with a twinkle in his eyes!
Fact file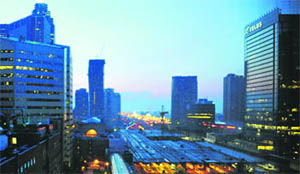 Must see/do: CN Tower, Rogers Centre, 100 workers monument, Town Hall, Toronto Islands, Harbourfront, Royal Ontario Museum, Bata Shoe Museum, Toronto Zoo. Take 501 Street Car route for a city tour. Do a day-trip to Niagara Falls.
Where to stay: Fairmont Royal York and Intercontinental Toronto Centre are good options. There are other options too.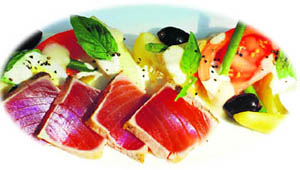 What/where to eat: Charcuterie tasting in Reds, gourmet sandwich at My Place, raspberry sorbet in Azure; coffee at Broadview Espresso, 360, a revolving restaurant at CN Tower offers a spectacular view.
Shopping: Eaton Centre, Bloor-Yorkville, Hudson Bay Company, Queen Street, Kensington Market, Honest Ed's in the Annex