M A I N N E W S
BJP sets terms for ending logjam over coal blocks
Cancel allocations, order independent probe: Sushma to govt
KV Prasad
Tribune News Service
New Delhi, September 2
Hopes of Congress political managers to restore normalcy in both Houses of Parliament remained faint today with the Bharatiya Janata Party standing firm on its demand that Prime Minister Manmohan Singh must step down. The main Opposition party, however, offered a window, albeit with two riders — cancellation of controversial coal blocks allocation and an independent probe — to allow Parliament to function.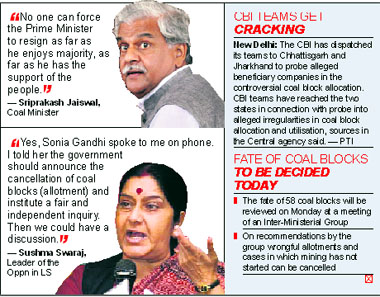 A brief conversation between UPA Chairperson Sonia Gandhi urging Leader of the Opposition in the Lok Sabha, Sushma Swaraj, to let a debate on the coal block allocation take place in Parliament led to the latter insisting on two pre-conditions. The BJP-led Opposition has stalled the proceedings in Parliament over the last two weeks after CAG estimated Rs 1.86 lakh crore loss of revenue on account of the allocations.
"Yes, Sonia Gandhi spoke to me on phone. She wanted the Parliament impasse to end by our [BJP] agreeing to a discussion. I told her the government should announce the cancellation of coal blocks [allotment] and institute a fair and independent inquiry. Then we could have a discussion," she said on Twitter, the microblogging site, on Saturday night.
A day later, she said the interpretation that the BJP had set aside its demand on the resignation of the Prime Minister was incorrect. Addressing the media in Mumbai, she maintained that the Thursday (August 30) conversation between her and Sonia Gandhi remained inconclusive since the latter did not get back to her with the response of the government.
On the other hand, Coal Minister Sriprakash Jaiswal said any decision on the cancellation of allotments could be taken only after the Inter-Ministerial Group (IMG) reviews the fate of the 58 coal blocks.
The IMG is scheduled to meet here tomorrow. On its recommendations, wrongful allotment and cases in which mining has not begun can be cancelled. It is expected to present its report by September 15.
"Right now, no allocations are being cancelled. On the basis of the IMG report, the allocations which were made in a wrongful manner or those allottees who have failed to start production of coal in a time-bound manner may face action. Any number of coal blocks can be cancelled," the minister said in Kanpur.