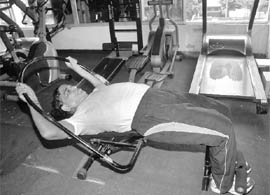 Undoubtedly, physical exercise is an important component of strategies for both prevention and management of diseases. Exercising in the form of participation in sports and physical games increases the body stamina and cardio-respiratory reserves. It helps maintain an optimum weight, a good physique and a healthy mind. It is also useful for the prevention of several chronic diseases of the lungs, the heart, the cerebro-vascular system and of other organs.
The value and benefits of exercises are different for patients with diseases and physical problems than those for healthy individuals. There are several restrictions and limitations to exercises imposed on patients with diseases of the heart, lungs, musculo-skeletal problems and other disorders. It is, therefore, important to consult the doctor in such specific circumstances.
Respiratory exercises constitute an important group of physical activities involving not only the lungs but also the total breathing apparatus. Miraculous effects from cure of asthma to that of cancers are sometimes attributed to different forms of respiratory exercises. Many a patients are eager to know of exercises which may relieve them of their diseases and avoid drugs. It is another matter that very few to them are likely to indulge in doing so, even when advised.
There are different kinds of exercises which affect the respiratory system. In healthy individuals, all kinds of sports and other physical activities strengthen the respiratory muscles, delay the onset of and increase the tolerance to breathlessness. General physical exercises involving the repetitive movements of arms and legs and walking are also helpful for patients with lung diseases such as asthma and chronic obstructive pulmonary diseases. Introduction of structured exercising is an essential component of rehabilitation programmes for chronic lung diseases.
Inspiratory muscle exercises are important to maintain the tone and health of inspiratory muscles and inflate the lungs with air. Commonly described as "deep inspiration followed by breath holding", the inspiratory exercises are prescribed for patients before and after different types of surgical operations. Such exercises are better undertaken with the help of small instruments called "incentive spirometers" which allow the inspiration through varying degrees of resistance and provide a semi-quantitative self-assessment of the inspiratory hold.
Respiratory exercises are sometimes confused with "expiratory exercises" involving blowing out, inflating bladders and balloons. Forced exhalation should, in fact, be generally avoided except in specific circumstances. Such exercises may increase the intra-alveolar pressure within the lungs and also put the respiratory muscles at a disadvantage. Patients with obstructive lung diseases are actually advised to adopt slow and prolonged exhalation rather than a forced and blowing out effort.
Breathlessness is a common complaint especially of patients with lung and heart diseases. Exercise has both beneficial and sometimes harmful relationship with our system. It can aggravate breathlessness by increasing the cardiopulmonary decompensation. On the other hand, breathing exercises also include respiratory retraining to control the fast respiratory rate. As an example, patients with chronic obstructive lung disease or emphysema learn to adopt slow and prolonged expiration called "pursed lip" breathing to relieve themselves of air trapping and breathlessness. The same effect can be augmented through proper training. Similarly, patients with other causes of breathlessness can also be helped through exercise training.
Exercise is also known to precipitate an attack of asthma, commonly known as "exercise induced asthma". Factually, exercise can exaggerate bronchospasm in any asthmatic patient. It is for this very reason that the parents of asthmatic children tend to restrict their physical activity and participation in games. This is, however, not advisable in the interest of overall health of such children. Such a phenomenon must be avoided through appropriate control of asthma with treatment.
Yoga and "pranayama" comprise an important group of exercises which benefit the lungs. Yoga exercises often involve the different groups of muscles combined with a kind of meditation which relaxes the mind. These exercises are especially useful to remove the component of psychological stress and burden. The role of yoga in the management of functional and psychosomatic disorders cannot be denied. Howevers there is lack of proven effects through evidence from meticulously conducted scientific studies. Their benefit in the treatment of serious physical diseases and cancers is entirely unsubstantiated.
"Pranayama" provides different kinds of inspiratory muscle exercises coupled with a meditative effect on the mind. Like that for "yoga", the quantitative proof of their benefits is yet to be documented. Exercises should be learnt and undertaken under the supervision of experts to avoid undue damage to the muscles, joints and sometimes to other organs. Exercises cannot serve as panacea for all problems. It will be preposterous to attribute magical reliefs to any such form of management. Nonetheless, breathing exercises and respiratory retraining can significantly add to the benefits of treatment in some groups of patients. Both "pranayama" and yoga exercises also require training and supervision, at least during the learning phase.
The writer is Professor and Head, Department of Pulmonary Medicine, PGI, Chandigarh.