M A I N N E W S
Omkareshwar dam: Villagers' water satyagraha continues
Vibha Sharma
Tribune News Service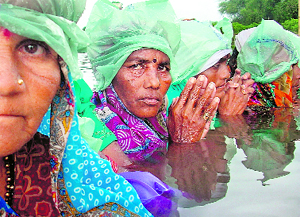 Villagers stand in neck-deep water at Khandwa village in Madhya Pradesh. — AFP
New Delhi, September 9
While the first responsibility of addressing issues of oustees of the Omkareshwar dam project lies with the Madhya Pradesh Government, activists say the Centre, especially ministries of Power, Water Resources, Environment and Tribal Affairs, cannot be absolved for their liabilities and here's why.
Himanshu Thakkar of the South Asia Network on Dams, Rivers and People, who terms the happenings in the Narmada Valley as "the worst face of state terrorism", argues that both Omkareshwar and Indira Sagar Project (ISP) are owned and operated by the Narmada Hydroelectric Development Corporation Limited (NHDC), in which the NHPC Limited — a central government organisation — hold the majority 51% stake.
"In other words, therefore, both the NHPC and the Power Ministry are responsible for illegalities committed at Omkareshwar and the ISP," he says.
Even though Power Minister Veerappa Moily is said to have decided to send a fact-finding team to Omkareshwar apart from reviewing the situation with NHPC officials, Thakkar says the steps are not enough to resolve the problems faced by affected people.
"Not just the Power Ministry, the Water Resources Ministry is responsible because the projects are supposed to be operated under the directives of the Narmada Control Authority, which functions under the Ministry. As far as the Environment Ministry is concerned, it gave clearances to the project under specific conditions, which are now being violated by increasing the water level without proper R&R. The Tribal Affairs Minister has not bothered to react on atrocities on tribals," says Thakkar.
Oustees have been protesting in waist to neck-deep water for the past two weeks as part of their jal satyagraha.