Medicines that can affect your vision
Dr R. Kumar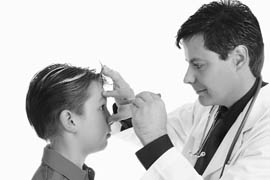 Gupta, 45, was shocked to know as his eye doctor pronounced that he was suffering from cataract, glaucoma and dry eyes. His feeling of unsatisfactory vision was likely to persist, if not accentuate, as if his rheumatoid arthritis (RA) was not enough to give him multiple troubles. He has been using oral steroids and chloroquine to manage his rheumatism, and now the eye problem may require surgery. "Can it be due to the underlying disease or the treatment given for the same", enquired Gupta.
"Both may have contributed to eye symptoms", responded the doctor.
RA and many other common ailments and their treatments cause eye discomfort and loss of vision. Diabetes is a well-known cause of blindness, but a recent study published in the Archives of Internal Medicine found that those taking anti-diabetic drugs were at a high risk of loss of vision. Similarly, anti-glaucoma medicines like latanprost can cause blurred vision, redness, sensation of foreign body, discoloration of the iris, itching, burning, and stinging.
Preservatives like benzalkonium chloride and thimerosol, present in almost all eye-drops, can cause irritation, redness and toxicity to the eyes. Frequent use of Botox to treat facial wrinkles can lead to toxic effects on the eyes. The medicines or cosmetics or hair dyes can result in the swelling of eyelids and redness in the eye. Penicillin, sulpha-drugs, antibiotics, sleeping pills, pain-killers, antipyretics and vitamins can fall in this group. Those on anti-cancer drugs can also develop vision problems.
Patients taking oral medicines like statins for heart disease or chloroquine for rheumatoid arthritis, on a long-term basis, need to be checked regularly by an eye specialist. Those indulging in drugs of abuse or alcoholism or long-term smoking of tobacco or recreational drugs should essentially fall under the ophthalmologist's scanner to detect their vision defects early.
Let us look at some medicines used to treat various common medical conditions that can lead to vision problems.
Anti-allergic pills
In the case of some people, antihistaminic drugs can cause an attack of glaucoma, with symptoms like headache, severe eye pain, nausea and vomiting, blurred vision and halos around lights. The medicines can also cause dry eyes.
Anti-malarial drugs
These can prevent or treat malaria, also used to treat rheumatoid arthritis and lupus. Some people who take these medications over time can develop retinal toxicity, leading to vision loss that may or not recover.
Corticosteroids
Prednisone is used to treat conditions such as arthritis, lupus, psoriasis, severe allergies, ulcerative colitis, and breathing disorders. It is well known to increase a patient's risk of developing cataract or glaucoma.
Erectile dysfunction drugs
Viagra can cause blurred vision, sensitivity to light, and blue tinge to objects. Commercials for these drugs also warn of sudden vision loss, due to non-arteritic anterior ischemic optic neuropathy,
Ethambutol
Ethambutol, which is used to treat tuberculosis (TB), can be associated with optic nerve problems. This can cause loss of vision and difficulty in seeing certain colours. Another TB drug, Isoniazid (Tubizid), also may cause eye problems.
Flomax
Flomax is used to treat men with enlarged prostate who have trouble passing urine. It makes it easier to urinate but can make cataract surgery very difficult.
Phenothiazines
This group of medications is used to treat schizophrenia and other mental illnesses. The side-effects include sensitivity to light, changes in colour vision, blurred vision and the problem of night vision.
Tamoxifen
Tamoxifen is used to treat breast cancer. Its side-effects may include blurred vision, corneal changes, and an increased risk for cataracts.
Acne medication: Isotretinoin
Its side-effects may include dry eyes and a sudden decrease in night vision.
Topiramate: anticonvulsant
It is used to treat epilepsy. It may cause angle-closure glaucoma.
Statins
Statins may cause double vision (diplopia), drooping of the upper eyelid (ptosis), and loss of full range of motion of the eyes (ophthalmoplegia).
These medicines are safe in the majority of the cases but some users may have problems. Avoid self-medication and misuse. A periodic visit to your eye specialist is a must.
Email:drrkumar16@gmail.com