M A I N N E W S
Amritsar-Chd Superfast hits the track; to halt at Ludhiana, Jalandhar
Neeraj Bagga/TNS
Amritsar, September 11
The Amritsar-Chandigarh Superfast Express linking the holy city, Jalandhar and Ludhiana to the state capital chugged out of Amritsar railway station on its maiden journey today — its graffiti-like colours unchanged and boards still pronouncing it as Duranto. In all, 347 passengers travelled from Amritsar, Jalandhar and Ludhiana to Chandigarh on Day 1.
The Superfast has replaced the not-so-popular Amritsar-Chandigarh Duronto Express and fulfilled a long-pending demand of commuters and businessmen, who wanted the train to halt at Jalandhar and Ludhiana. Since the Duronto is a non-stop train between originating station and destination, halts were not possible, resulting in poor occupancy on the route.
As per the break-up available with the Ferozepur division of the Northern Zone, 208 passengers undertook the journey from Amritsar to Chandigarh, 34 from Jalandhar to Chandigarh and 15 from Ludhiana to Chandigarh.
The train, which departs from Amritsar at 5.20 am, covers the distance to Chandigarh in 4.25 hours. It halts at Ludhiana for five minutes and at Jalandhar for three minutes. Fares have also been considerably reduced as meals will no longer be served to the passengers, as was the case on the Duronto.Various categories of AC buses cover the Amritsar-Chandigarh distance in four hours. One-way fares vary between Rs 300 and Rs 320 per person for AC and around Rs 170 for non-AC bus.
Amritsar resident Dalbir Singh, who frequently travels to Chandigarh for work, gave the Superfast a thumbs-up. "The train reaches Chandigarh at 9.45 am and departs for Amritsar at 6.50 pm. That gives me a nine-hour day in Chandigarh to complete my work in government offices and then return home the same day," said Dalbir Singh.
Divisional Railway Manager, Ferozepur Division, Naresh Chander Goel said though the Superfast's first day occupancy rate did not differ much from that of the Amritsar-Chandigarh Duronto, things would improve soon.
"As more and more people come to know of the Superfast's halts at Jalandhar and Ludhiana, occupancy will look up. The number of Chandigarh-bound passengers from Jalandhar and Ludhiana is likely to rise," said Goel.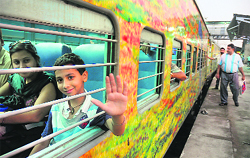 The Superfast Express leaves from Chandigarh for the holy city on Tuesday. Tribune photo: S Chandan
FARE CHART
Route AC Non-AC
Amritsar-Chandigarh Rs 321 Rs 91
Amritsar-Jalandhar Rs 170 Rs 53
Amritsar-Ludhiana Rs 230 Rs 66
The schedule
Amritsar (5.20am) — Jalandhar (6.12am) — Ludhiana (7.15 am) — Chandigarh (9.45 am)
Chandigarh (6.50pm) — Ludhiana (9.05pm) — Jalandhar (9.57 pm) — Amritsar (11.15 pm)