Timeless timekeepers
The niche demand for clocks can be seen at auction houses where antique masterpieces fetch a fortune
Nutan Sehgal
Good times don't last forever but good timepieces do! Elegant and expensive clocks, traditionally considered collectibles of the rich and the famous, today top the wish-list of an increasing number of up-with-the-times people.
Apart from the ever-rising demand for antique wall and table clocks, there's a distinct niche developing for modern wall clocks creating an altogether new opening for leading players, who are unfolding designer ranges that are classy, trendy and, sometimes, downright quirky.
The demand for clocks can be gauged from the fact that sometime back at the World Watch and Jewellery show in Basel, Switzerland, when Swiss watchmaker Jaquet Droz displayed La Machine à Ecrire le Temps (the Machine that writes the time), it received such an overwhelming response that it virtually stole the show.
Time machine
The 'Time Machine'is actually a complicated clock, more like an advanced computer, where everything works to micro-second precision. Considered the ultimate expression of a watchmaker's art, this $3,42,275 (`18.4 crore) clock is a design wonder where an unbelievable 1,200 separate components operate in conjunction to make it one of the most perfect clocks ever created.
Though this may be a technological wonder, the potential of the traditional clocks has been recognised by leading companies like Rolex, Vacheron Constantin, Patek Philippe, Breitling, Jaeger LeCoultre, Omega and more.
The exclusive clocks of these companies have been the choice of kings, queens, heads of states and celebrities. The Patek Philippe company, for example, which started making clocks in 1868 has been the favourite of the British royalty and its other distinguished customers include Pope Pius IX and the king and queen of Denmark.
Elegant & expensive
Expensive clocks have for centuries been considered accessories of the rich and the famous. Limited editions of mega expensive brands are rolled out from time to time for the ultra rich to flaunt their taste for things exclusive.
The Swiss have clearly been world leaders as far as timepieces are concerned. Geneva and Neuchâtel in Switzerland have been home to some of the most exquisite clocks the world has ever seen. Another iconic timepiece, the cuckoo clock, was created in the Black Forest region of Switzerland. Clockmakers here have created the chalet-style cuckoo, which had an outstanding tonal quality of chirping and chiming, thanks to the top quality music box invented, especially for the clock. Over the centuries, cuckoo clocks have not lost their appeal.
Grandfather clocks
Like the cuckoo clock, the grandfather clock too has achieved legendary status over the centuries. Invented around 1670 by British clockmaker William Clement, it was first called the Longcase clock that had a pendulum whose each swing took a second to complete. These free-standing clocks were hand-crafted from the highest quality wood, brass and durable glass and instantly caught the fancy of the world.
The straight lines and artful curves of these clocks, which sometimes towered over six-feet, lent elegance and grace to whichever room of the house these were kept in. Made generally of oak or cherry wood, these ancient clocks had an ivory white face with golden Roman numerals and the chime of the pendulum framed by golden decorative weights echoed through the house.
Interestingly the old world charm of these giant clocks has not abated and collectors and aficionados pay fortunes at auctions around the world for antique pieces by well-known clock makers like William Cement & Sons and Peddie Stirling Company of Scotland. For those who cannot lay their hands on the originals, many companies making high-end replicas of these artistic clocks.
Modern-day clocks
Though computers and mobile phones with built-in analogue and digital time displays may have diminished the need for clocks but their appeal has not decreased. These are now increasingly being looked upon as decoration pieces.
Clock makers are coming out with designer and limited editions, turning clock-making into a highly creative activity. Whether you have a predilection for the ultra-modern or neo-modern, there's an unconventional clock to suit your style and wallet.
Though the market is flooded with low-end and Chinese clocks, for the serious buyers, there's plenty on offer. Giants in the field like Baume & Mercier, Tissot, Rolex, Tag Heuer, Longines, etc. come up with modern classics from time to time.
Interestingly, even designer houses and brands targeting the young are jumping on to the watch and clock bandwagon. Names like Tommy Hilfiger, Christian Dior, Espirit, Guess, Pierre Cardiene, Gucci are enthralling Gen Y with their timepieces.
What is it that high-end buyers look for in a clock? Experts say, it is a combo of design and the brand name. Which is why, perhaps, many of these leading brands come up with new collections every year.
FORTUNE TIMES
Limited editions of mega expensive brands are rolled out from time to time for the ultra rich who want to flaunt their wealth with their exclusive designer labels which make them stand out in a crowd.
Recently an enamel dome clock named Le Tour du Monde de Magellan by the Geneva-based Patek Philippe was auctioned for $1,64,445 (Rs 90,44,475) to an undisclosed bidder.
Another Swiss company Parmigiani Fleurier has come to be associated with timeless beauties. Its stunning 15-day table clock is proof of its two centuries of experience in clock making. The complex mechanical clock is made of one kilogram of silver. Its price is never disclosed but told quietly to serious buyers.
Richard Mille clocks and watches are the epitome of style and high precision. Its astronomic clock is a perpetual universal calendar that depicts a partial solar system, featuring a rotating earth orbiting the sun, a rotating moon orbiting the earth, moon-phases, and an equation of time.
French luxury house Cartier's clocks have truly been the timekeeper to the high rollers down the ages. Its celebrated Portique Mystery Clock is made of platinum and gold with rock crystal dial. It is adorned with rose-cut diamonds, oral cabochons, onyx and black enamel. The clock is transparent and its platinum and diamond hands seem suspended in air as they float around the dial. Ever since it was created in 1925, it has been hailed as a masterpiece.

MARIE LONGCASE CLOCK
Not many know that the grandfather clock was earlier known as the longcase clock. And some fine ones continue to be called with their old name. The Marie Longcase clock is one of them. This French and Scandinavian inspired clock has beautiful detailing, removable crown and shell overlays. The aged dial features distinctive Roman numerals beneath a convex glass crystal. Truly a beauty to behold.
Price: $4,750 (Rs 2,61,250)

SCOTTISH GRANDFATHER CLOCK
The Scottish Longcase Grandfather Clock in cherry Bordeaux has a hand-painted dial and a painting of a pastoral scene with a woman standing in a boat floating down the river with a waterfall as a backdrop and a shepherd standing on the shore. The antique beauty has an ivory dial with Roman numerals and it features uncomplicated columns and simple lines. The overall effect is awe-inspiring.
Price: $8,220 (Rs 4,52,100)
ROLEX WALL DISPLAY CLOCK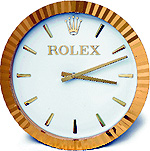 The iconic Rolex Watch Company's 1990 Wall Display Clock is a very rare timepiece. Made of brass with bezel it has white, opaque glass applied gold baton indexes. Run with Quartz movement with fast/slow adjustment it has a diameter of 60 centimetres and depth of 16 centimetres making it a timeless luxury clock.
Price: $8,000 (Rs 4.4 lakh)
BALL CLOCK
This is a low-priced Howard Miller adaptation of the ball clock made so famous by George Nelson in 1940. The clock face is finished in brushed nickel and is surrounded by 12 black satin balls on nickel finished rods. Black hands complete the look. The clock meshes very well both with traditional and modern settings.
Price: $65 (Rs 3,575)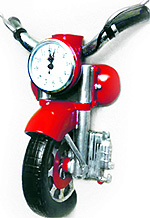 MOTORCYCLE WALL CLOCK
Another one of the fun clocks, this one by Creative Motion looks like a motorcycle crashing through the wall complete with its handlebars, front fender and front tyre. The clock is in its headlamp. Measuring 5 inches in length and a little more than 13 inches from one handlebar to another, this macho clock is perfect for a young boy's room or for the bedroom of a man young at heart.
Price: $90 (Rs 4,950)
PATEK PHILIPPE WORLD-TIME WALL CLOCK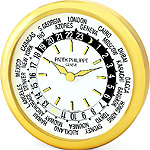 It may have been launched just nine years ago but the large World-Time Wall Clock by Patek Philippe is a rare gilt brass timepiece. The two-body, polished clock has gilt indexes, surrounded by a black and matte silvered revolving disc in 24 hours for the daytime and night-time hours. The outer revolving ring dial bears the names of 24 global cities making it a classic.
Price: $3,000 (Rs 1.65 lakh)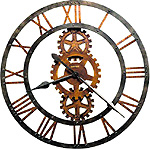 CROSBY WALL CLOCK
The Crosby Wall Clock designed for the gallery is a large, 30-inch diameter metal timepiece with applied Roman numerals and cast metal gears. The inner and outer rings and spade hands are finished in a warm grey iron. It features antique brass finished gears and numerals in the centre of the dial. The artistry of the clock shows up at its best against a light-coloured wall.
Price: $325 (Rs 17,875)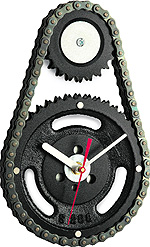 CHAIN GEAR CLOCK
This clock will surely take you on a ride of your life. Handcrafted from Chevrolet 350 V8 engine parts — considered one of the greatest automobile engines of the 20th century — it has become somewhat of a classic among collectors. Made of two-timing gears held together by a chain, it is a perfect decor for any room or office.
Price: $80 (Rs 4,400)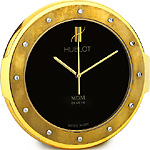 HUBOLT WALL CLOCK
Swiss giant Hubolt may be known for its stunning wristwatches but its clocks division throws up surprises frequently. One such surprise was its brass quartz wall clock Hubolt MDM launched in 2000. Round, polished and brushed, it has a heavy brass bezel with screws and brass baton hands giving it an elegant look.
Price: $1,100 (Rs 60,500)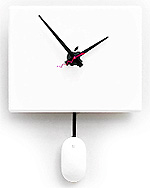 APPLE iBOOK WALL CLOCK
This is one of the cleverest wall clocks launched in the recent times. Created by the apps and games creator Pixelthis, this clock is basically a decommissioned Apple iBook G4 recycled into 14-inch high and 18-inch wide timepiece complete with an Apple mouse that works as a pendulum. The masterpiece is the brainchild of a genius geek.
Price: $75 (Rs 4,125)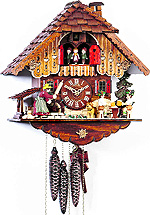 CHALET CUCKOO CLOCK
Though the cuckoo clock was invented in 1737, it is still a very coveted timepiece-cum-decorative. Take the case of the hand-carved and hand-painted Chalet Cuckoo Clock. This traditional style Cuckoo crafted in the Black Forest region of Germany has a family barn scene with two beer drinkers, who move their glasses every half and full hour to the sound of chiming. The sheer artistry of the clock will pep up your interiors.
Price: $995 (Rs 54,725)
BREITLING MANUAL WINDING CLOCK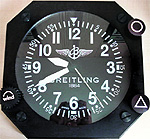 This is a rare clock that has collectors in hot pursuit. In 1995, Breitling launched a Huit Jours (8-day) Manual Wind Clock crafted from old aircraft instruments. The clock that comes both in desk and wall models was in a limited series of 1,000 with each having a distinct number. There are just a handful of these left and come up for sale from time to time. If you like timepieces, grab this piece when you get an opportunity.
Price: $700 (Rs 38,500)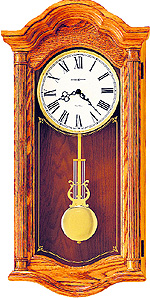 HOWARD MILLER WALL CLOCK
It's a fine blend of looks and utility. The Howard Miller Wall Clock is designed for both indoor and outdoor use and has an in-built thermometer and a hygrometer to tell the temperature and relative humidity, respectively. The circular frame has a brushed, antique copper finish with embossed décor making it a beautiful and a very versatile clock.
Price: $505 (Rs 27,775)
DO-IT-YOURSELF WALL CLOCK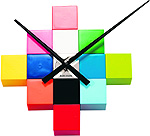 This one is from Karlsson's "Time of Your Life" series that has clocks that add fun and contemporary design to the home or office interiors. Distinct colours, shapes and a sense of humour are the keynotes of this collection. By first placing the main cube at the centre, you can use your imagination to arrange the colourful blocks around it. The cubes have adhesive backing and will stick to the wall.
Price: $70 (Rs 3,850)