Snapshot of the great joint family traditions
Reviewed by Aditi Garg
Chennaivaasi
By T.S. Tirumurti. Harper Collins. Pages 268. Rs 299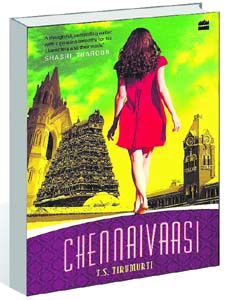 INDIA comprises, within its folds, many mini-Indias, each one unique and yet strikingly similar. There are differences regarding religion, language and customs but at its very heart, they all speak the same cultural language, follow similar customs and their Indian identity is their religion. Even the Indians settled abroad or those who have received their education on foreign shores cannot escape the pull that India has on them. Their thought process may change, their ideologies may differ and their actions may not agree with their peers, but while in India, they have to do as the Indians do. There is little space for the "me" and it is always "we" that takes precedence over all decisions, however personal. Even falling in love has to be guided by principles of with whom you can and cannot fall in love with.
T.S. Tirumurti is the Joint Secretary in the Ministry of External Affairs in New Delhi. After joining the IFS in 1985, he has been posted at Indian Missions in Cairo, Geneva, Gaza, Washington D.C. and Jakarta. He has penned Kissing the Heavens: The Kailash Mansarovar Yatra, a travelogue. Chennaivaasi is his second novel after Clive Avenue.
Chennaivaasi is a refreshingly told tale about the self-obsessed large Indian family for whom nothing is more important than the pride of the family. They will readily send their kids out for an education and extol virtues about the same but when the same kid comes back with a mind of his own and dares to think beyond the borders, he is cut to size. Ravi had been sent on a scholarship to Cornell and when he returns to Chennai, everyone is taken aback. He has with him a blonde girl who he is intent on marrying, with or without parental consent. Deborah, the blonde, makes every effort to get the family to accept her. From learning to make khuzambu, do the elaborate namaskaram and even, how to speak Tamil, a very daunting task for even an Indian girl from another region, she manages it all.
Despite the odds, the young couple stand their ground and do not bow to pressure. As circumstances change, the very same father who had banned them from entering his house, shows up at their doorstep. From there begins a journey of self-discovery for the father and his quest to make it up to his son whom he had abandoned. On the way he finds an unlikely ally and realises that the truth of life is very different when you take off your blinkers. All that he had chased in his life suddenly seemed immaterial in the face of things that brought him so much happiness and peace. He realised that houses are just brick and mortar, it is the people who live in them make it all worthwhile.
The white blonde girl has been so stereotyped that you cannot help and wonder at the maturity of Deborah's actions. She leaves behind her parents who are very upset at her not marrying a Jewish boy. She knew that once she is in India, there will be little recognition for her religious sentiments and she would be bombarded with an entirely different culture and an alien language. There was no surety that Ravi's parents would accept her but still she was so determined for her love to triumph that she put in everything she had. Even when differences crop up within the family, she handles it with tact and maturity. She is everything her Indian counterparts fail to be in the hour of need.
The book is a tongue-in-cheek look at the dynamics of the joint family system. Hilarious and sentimental, modern yet very traditional, and most importantly, the perfect balance of family and self – the book doesn't fail to entertain. Very well written, with a keen insight into the lifestyle of his characters and complete with all elements of the perfect family drama; this is one book that will put a smile on your face.