Complex world, deftly portrayed
Reviewed by Vikrant Parmar
Let Her Rest Now
By Vijay Nair. Hachette India. Pages 236. Rs 295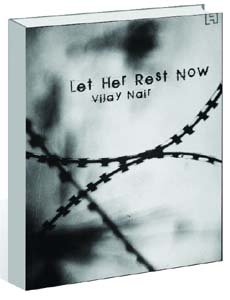 Certain dark alleys lead to a path that is illuminated beyond oneís expectations, one where memories of the blinding darkness fade away instantaneously. This is exactly what happens with Neha, the lead protagonist of Vijay Nairís murder mystery Let Her Rest Now, who quits a plush job in search of her motherís murderer not realising that her own life would run a course where death would be just inches away.
The narrative begins on an intense note with some startling comments on life:"We grow. We donít learn to forget" or "Memories decide for you what you choose to carry from them" or "Life and irony are interchangeable." Through a brilliantly executed word web, Nair takes the narrative forward in a typical whodunit fashion. The mystery element is kept alive right till the 100-odd pages, when Neha finally meets Samir ó her ex-lover and now the chief accused in her mother Ratnaís murder ó and events unfold. Samir is the archetypal rich man, convent-educated, sauve, flirtatious and intelligent. His interest in painting entangles him with a couple based off the US, the effervescent and sexually liberated Sujala and her mysteriously coy, yet firm, husband Kabir. There life is a complicated web of relationships with a couple Nakul and Chetna, where the man loves the man and the woman, the woman.
They further add to the mystery element that confuses, yet amazes. Neha too falls for the charm of Sujala and experiments with her sexuality.
The entire action takes place in Coonoor, a hill station in the Nilgiri hills of South India, and one is immediately transported to small neighbourhoods as well as trekking trails where the fragrance of tea leaves subsumes the air.
Neha returns to Coonoor, where she grew up with her childhood flame Samir, in search of her motherís murderer only to find out that Samir has been further implicated in the brutal killings of one Karla and then a Mrs Kashyap in Coonoor, in addition to Ratna in Lucknow.
What follows is a serpentine course of events that end in a fatal attack on Neha, which she barely survives. Samirís mother Vrindaís role is enigmatic; she appears off and on. So is his step-father Randeepís. IPS officer Veer, who is investigating the case, restores the much-needed sanity in the otherwise complex maze of man-man, woman-woman and man-woman relationships.
Having fallen in love with Neha and expressing it through a missive in typical Victorian style, Veer eventually saves her from the clutches of death.
He then helps Neha perform her motherís sharadh in Allahabad, which liberates her from the recurrent nightmare of the gory event. Peace prevails and normalcy returns at the end of this tale of blood, terror, perversions and mystery. It is Neha who finally "rests in peace".