Love in times of chaos
Komal Mehta, whose debut novel Nick of Time has been well received, chats up about the book and more
Seema Sachdeva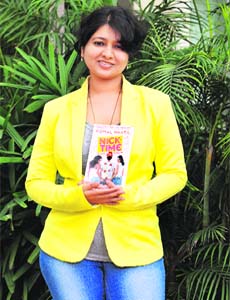 First-time writer Komal Mehta's Nick of Time takes you to the world of friendships, romance and love. The story, which is set in Chandigarh, revolves around the lives of three childhood friends Alehya, Vicky and Shagun, whom fate brings together after a long time. Written from the perspective of all three protagonists, the book sets out to discover how the three grapple with the issues of love and confusion. It is also about how one has to make difficult choices when in love. Excerpts from an interview:
How did a B.E in information technology and an MBA in marketing become a fiction writer?
I have always been an avid reader. I have been doing freelance writing since I was 15. While doing my MBA, I did summer internship at DNA. This set my course for writing though I got a campus placement with Reliance Big pictures.
Nick of Time is your debut novel. How did you work on your book despite a full-time job?
Writing along with my full-time job was very difficult. But I was clear that I wanted to write a book. My work, which revolved around filmmakers, made me realise that a good story should have a beginning, middle and an end, which I had already chalked out. Once I got the idea of writing about two good friends and finding the right person at the wrong time, the story flowed with ease.
How difficult was it to get your first work published?
It was insanely difficult to find a publisher. Getting published in India, particularly for a first-time writer, is very difficult. For six months, I got rejection slips from 14 publishers. I had almost given up when I got a call from Penguin.
You are a Gujarati, based in Mumbai, but the setting for the book is Chandigarh. How acquainted are you with the city?
I have been to Chandigarh more than six times. I first came to the city about 10 to 12 years ago. Chandigarh is a very laidback city. It has all the elements I wanted to incorporate in my story. The location lent itself to a sweet romantic story. Also I love Himachal, so Chandigarh was an obvious choice. I have also attended some Punjabi weddings here and I wanted to incorporate one in my book.
How have you defined the characters?
I wanted to write a simple, classical Indian story. The characters in my book can be found all around us. Often, one comes across people who seem contented but are always looking for someone. There is always this feeling that if they had met the person at some other place and some other time, things would have been different.
Your book is mainly aimed at the young. Do you think reading as a hobby has seen a decline, particularly among the youth?
I have been overwhelmed by the response I got from youngsters for my book. The young readers in India may not be necessarily be hooked to books but they are definitely downloading books on Kindle or other e-book applications.
Best friends, love story, typical Punjabi wedding, the book reads like a Bollywood masala film. Do you see your book being turned into a movie?
We are negotiating on the rights for the movie. Nothing is final as yet. It will be double gratification for those who have read the book.