Food Talk
Mushroom medley
Pushpesh Pant

Kaleji, aka liver, amongst speakers of English, is seldom encountered in restaurants. Even dhabas seem to steer clear of it. We recall a time in our childhood and adolescence when butchers "gifted" a few pieces to favoured customers. If a kaleji recipe was being cooked at home prior order had to be placed to ensure delivery of the desired stuff in required quantities. Lightly cooked to retain succulence, kaleji could be spiced up to taste and made for a wonderful cocktail snack. Some coupled it with gurde (kidney) to serve a two-in-one delight. The Continental repertoire offered kaleji on the mixed grill and chicken liver on toast.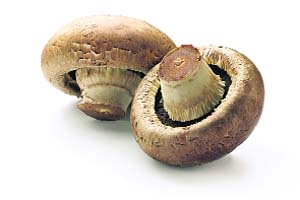 We have in the hills come across lovers of kaleji who like to bite into it uncooked laced with a trace of mustard oil, salt and green chillies. Personally we think that is carrying things a bit too far but each to his own taste! Then came the doctors spreading the scare about organ meat and Cholesterol and kaleji began its downward slide. In the good old carefree days when we indulged to our heartís content in kaleji, there wee times when we had to "match" it for our vegetarian guests.
Saxena Saheb an old family friend prepared a kosher shakahari kaleji with buds of kachnar flower but we never could master that complicated recipe. Khumb came to our rescue then and we are confident this kaleji will not disappoint you.
Method
Wipe the mushrooms with a moist cloth, remove stalks and half or quarter. Chop stalks separately. Heat butter in a pan and put in the bay leaf and the whole spices. When these change colour, add the ginger-garlic paste and stir briskly for 30 seconds then put in the powdered spices mixed with two tablespoon water along with salt.
Stir and add the mushrooms. Cook uncovered for about a couple of minutes stirring regularly. Take care not to overcook. The khumb kaleji should retain a bite! Garnish with green chillies and fresh coriander and give a thumbs up.
Khumb Kaleji
Ingredients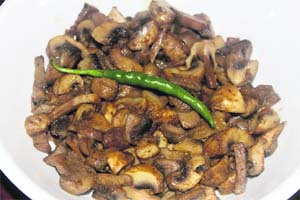 Button mushrooms (large) 400 g
Bay leaf One
Cloves Two
Brown cardamom One
Ginger-garlic paste 1 tsp
Jeera powder 1 tsp
Dhaniya powder 1 tsp
Garam masala 1 tsp
Chilly powder (red) Ĺ tsp
Butter 2 tbsp