The last post at Gir
If you want to see an Indian lion born free, and living free, you have to visit Gir, in Gujarat, and keep your fingers crossed
Hugh & Colleen Gantzer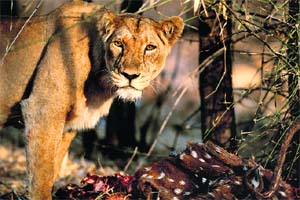 THEY are the universal symbols of royalty. Their names have become titles of courage and are the commonest surnames in India. Singh, Sinha, Singha, Narasimha — all mean lion: specifically the Indian lion. Once upon a time, they had roamed the whole of West Asia, down through northern India and as far as the Narmada. Their ferocity, fearlessness and regality inspired the heralds of England to emblazon them on the crest of their kings.
---
Arts
See the writing on the wall
Underground art movement, aka graffiti, has evolved from vandalism, political and commercial propaganda to an art form in India
Shama Rana
HOW many times have you raised an alarm right in the middle of the night to drive away a bunch of miscreants painting your compound wall red and green? From the ghettos of New York, graffiti art is fast gaining popularity on the Indian landscape too.
---
Sports
Finally, India gets kicking
Indian football is poised for a big leap with the FIFA's commitment to the development of the game in the country
M. S. Unnikrishnan
TWO days after India won the Nehru Cup International Football Championship for the third time in a row, the country completed 50 years of their most prestigious title-win ever — the Asian Games gold at Jakarta in 1962. The Asiad gold at the Indonesian capital was India's best show at the international level when they beat South Korea 2-1 in the title clash.

A foreign foothold
Foreign football leagues have a huge fan following among Indian urban youth, while domestic football has hardly any takers
Vaibhav Sharma
THESE are times of change — and swift change at that. People don't have the patience to wait and they want and expect radical changes. Sports is an integral part of this scenario. Stadiums are getting swankier, people are getting wiser, clubs and federations are getting bigger.
---
Society
That "utterly" adorable little girl
Amul the venture that Verghese Kurien founded, is in the spotlight. The Amul icon ensures that the legacy endures
Harsh Desai
Little girls are not particularly popular in India going by the declining child sex ratio in the country. But one little girl continues to flourish 50 years after she was created by adman Sylvester daCunha with some inspiration from his wife, Nisha, and illustrated by Eustace Fernandes.

Calm down, no quick divorce in Cixi
IN China, couples can get divorced in less than half an hour, but a city in east China's Zhejiang province has introduced a policy requiring couples to wait for a week before they can get divorce. And many couples seem to have now changed their mind.
---
FOOD
Med platter, Indian palate
Food from the shores of the Mediterranean has been recommended for its healthiness by doctors and nutritionists
Baishali Mukherjee
IT can be spiral, flat or shaped like mini pipes. But it has have charmed our kids from the time it was introduced in India. The wiggly shapes are on the menu list of almost all children's parties today. Yes! it's pasta we are talking about. And why only the kids? A sumptuous plate of penne or fettuccini can tickle the palate of even the hardest of the abstemious among us.

Cuisine high for cinema buffs
Food vies with films for spotlight at Toronto film festival
Claire Sibonney
FOR 11 days this month, Toronto was the cinematic centre of the universe during its annual film festival and hungry movie-goers had plenty of food choices thanks to the city's flourishing restaurant scene. Toronto has lured high-profile foreign chefs and the international media are starting to recognise it as a culinary destination.
---
Entertainment
Mumbai makes its mark
At the 37th Toronto International Film Festival, which concludes today, India was represented by a large contingent of talented actors and directors
Saibal Chatterjee
FOR Toronto cineastes with a taste for the diversity of Indian cinema, the latest edition of the city's famed annual film festival was a bonanza. Never before has such a wide panoply of movies from the world's most prolific filmmaking nation been showcased in the late summer event, which is generally regarded as a kick-off to the awards season.

Inhaling life, exhaling cinema
Nonika Singh
WHILE one Anurag (Kashyap) basked in the glory of his magnum opus Gangs of Wasseypur, the other Anurag (Basu) was getting ready for yet another unusual film — Barfi, starring Ranbir Kapoor and Priyanka Chopra. Basu admits to the obvious, the confusion between two Anurags, often one being taken for the other.