ARTS
See the writing on the wall
Underground art movement, aka graffiti, has evolved from vandalism, political and commercial propaganda to an art form in India
Shama Rana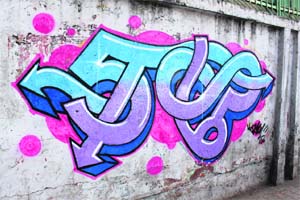 Daku uses Devnagari and other regional languages' script for his tag, which can be found in the Hauz Khas, Malviya Nagar areas of Delhi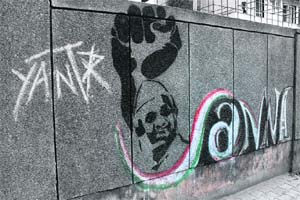 Delhi-based street artist Yantra did a piece on Anna Hazare in Lajpat Nagar when campaign for Lokpal Bill swayed the nation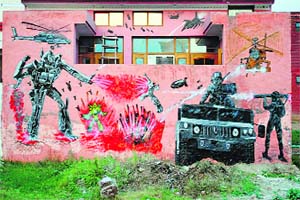 Big Walls by Sawan Madman in Chandigarh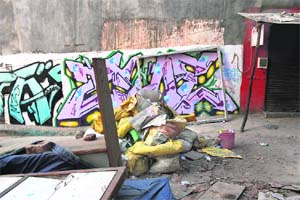 Slum Gods by Zine
HOW many times have you raised an alarm right in the middle of the night to drive away a bunch of miscreants painting your compound wall red and green? From the ghettos of New York, graffiti art is fast gaining popularity on the Indian landscape too. From the streets of Delhi, Mumbai, Bengaluru to the lesser-known parts of cities like Dehradun, Chandigarh and Varanasi, the underground art movement aka graffiti has evolved from vandalism, political and commercial propaganda into a piece of art. Who can forget the spray-painting sequence in the opening shots of Rakeysh Mehra's Rang De Basanti? Youth today have found the walls to spray out their emotions. No youth festival is complete without large murals on the walls.
The term 'graffiti' has its roots in Italian word 'graffio', which means 'to scratch'. The art resurfaced in the 1970s but some of the earliest forms of graffiti are the tribal inscriptions of early man on stone. Street artists are also known as Madonnari since of all Christian religious icons, the images of Madonna were painted frequently in the 15th century.
Ever wondered how the drab structures in the streets suddenly become alive with colours overnight. Crews, as groups of graffiti artists are called, mostly work during the night to avoid detection.
Signature style
Every artist has a distinct style, and this is reflected in the tag or signature — an alias an artist uses for anonymity. Works of Sawan Madman in Chandigarh, Rock in Dehradun, The Spade Guy, W!nk in Pune, Yantra in New Delhi, Swift in Goa, Dcipher in Goa, Bow in Jaipur, Mad in India in Mumbai, Sedr in Agra, Poch Rock in Bangalore, Harry in Vrindavan are hard to give a miss. Ask any graffiti artist his favourite, and pop comes the answer, Bansky. This London-based graffiti artist has been labelled as 'Art Terrorist' as his work often qualifies as anti-establishment.
Daku, who is part of the 156 crew based in Paris, has been active on the Delhi circuit for four years now and uses Devnagari and other regional languages script for his tag. His tags can be found in Hauz Khas, Ansal Plaza, Malviya Nagar area. Bond, an international artist, often visits India and his work can be seen from the subways of Delhi to the weather-battered walls in Leh.
Aakash Nihalani, New York-based street artist, has imbued a distinct style to his designs. No one knew that graffiti could be so much fun until one comes across his 3D-esque tape works in psychedelic green, yellow, pink and blue tapes of this young artist gracing the walls in New York,`A0Paris, Vienna and New Delhi. He has also been featured in New York Times. Aalign — his first-ever show in India was put up in New Delhi. A street art festival named 'Canvassing Street Art' held in Nagpur some time back saw artistes working it out amid the roadside dust and grime, mixing with the sounds and smells of the city.
Mohammed alias DJ Mocity, DJ and graffiti artist from Delhi is known for his freestyle and stencil style. Rush, one of India's handful of female taggers, draws her inspiration from New York graffiti artist Lady Pink.`A0Zine, graffiti artist from Mizoram, has tagged Kasauli, Manali, Shillong and Mizoram. Delhi-based street artist Yantra did a piece on Anna Hazare in Lajpat Nagar, New Delhi, when campaign for the Lokpal Bill swayed the nation.
Apart from the traditional paint and brush style; wild style, 3D, cartoon, abstract, old school, stencil, landscape, brush style, block, billboard, realistic, hardcore, bubble are hot favourite among the graffiti artistes. A standard 400cc spray paint costs anything between ~200 and ~300, which is why graffiti art is often said to be the whim of the affluent.
Growing art
Of late, this art is earning recognition in India and now that graffiti has become a profession, people are hiring these artists for their business establishments. Daku was commissioned to do a 200-metre-long, 7-metre-high graffiti at the F1 track in Delhi. Along with Bond, he enthralled students of IIT Mumbai during their Tech-Fest by doing a 200 sq m graffiti. Taking the cue, graffiti artists were commissioned by the Municipal Corporation in Bengaluru for a beautification project to paint walls on 63 main city roads. Although graffiti art is in infancy stage in India presently but despite all odds and given the cash crunch, the trend is fast catching up.
broad brush
A sweep of happening events in the creative world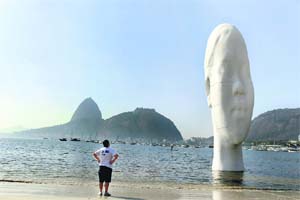 Public space
A sculpture, Awilda, is photographed at the shore of the Botafogo beach in Rio de Janeiro. The 12-metres-tall sculpture, created by Spanish artist Jaume Plensa, will take part in the upcoming art project 'OIR' (Other Ideas for Rio). Several famous artists from different parts of the world will occupy public spaces in Rio with their art installations.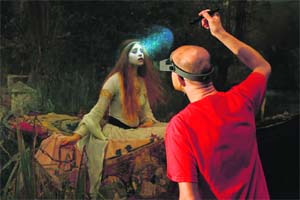 Lady of Shalott
Tate Gallery frame conservation technician Adrian Moore inspects The Lady of Shalott at the Museum and Art Gallery in Birmingham, central England. The Lady of Shalott painted by John William Waterhouse in 1888 was part of the recent Love and Death exhibition.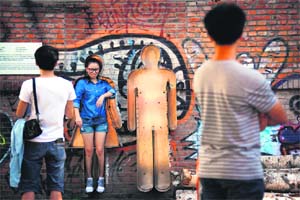 Hole in the wall
Bystanders watch a woman as she steps out of a human-shaped cavity in a wall at an art district in Beijing. Photos: Reuters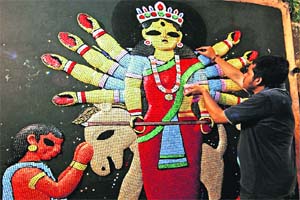 Faith accompli
An artist gives final touches to a button idol of goddess Durga ahead of the Durga Puja festival in Kolkata. Photo: PTI