SPORTS
A foreign foothold
Foreign football leagues have a huge fan following among Indian urban youth, while domestic football has hardly any takers
Vaibhav Sharma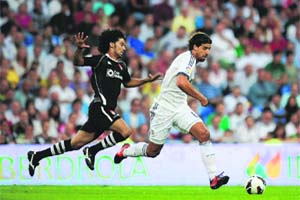 Real Madrid's German midfielder Sami Khedira (R )vies with Granada's midfielder Iriney (L) during the Spanish League football match in Madrid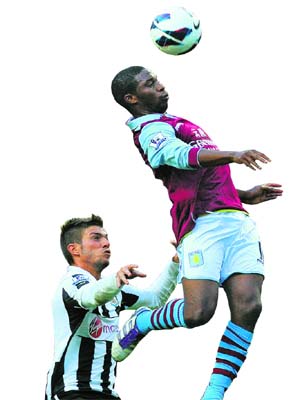 Newcastle's Davide Santon (L) challenges Aston Charles N' Zogbia during the English Premier League football match between Newcastle United and Aston Villa in Newcastle, UK Photos: AFP

THESE are times of change — and swift change at that. People don't have the patience to wait and they want and expect radical changes. Sports is an integral part of this scenario. Stadiums are getting swankier, people are getting wiser, clubs and federations are getting bigger.
But in this scenario, how, exactly, does India fare? Are we competing with the world in terms of infrastructure, if not on-field performances? Sadly, but honestly, the answer is a big no!
Television has changed a lot in sports and its appeal globally. It has ensured that a football club from England or Spain has a following in millions in a country like India. A nation that does not feature anywhere significantly in terms of its own exploits in the sport is mad about these foreign clubs, their results, fixtures, players, managers, stadiums and a lot more.
But to pin it on television solely would be grossly off the mark. The marketing explosion is directly related to the onslaught of live matches on sports channels across India. But even the sheer magnanimity of what these clubs are achieving globally has a lot to do with their appeal.
Real Madrid, the current Spanish league champions, are arguably the biggest club in the world in terms of influence, fan following and brand value. Their era of dominance and the rise of the Galacticos – Beckham, Ronaldo, Zidane, Roberto Carlos etc – coincided with live matches finding viewers in every corner of the world. The brand turned followers into fans, and fans into loyalists. Even now, they own the two most expensive players in the world – Cristiano Ronaldo (80m Euro) and Kaka (65m Euro).
The same would be the case of probably the best team in the world at this moment – Barcelona Fc. The reigning World and European champions, Spain, comprise mostly players from Barcelona. Players like Xavi, Fabregas, Iniesta, David Villa are all heroes the world over, and this just adds to the glamour of the leagues and the clubs they play in. The Messi factor, of course, is another massive one.
Turning to the English Premier League, we come across another prime example of how marketing turns brands into super brands and clubs into super clubs. Manchester United, Chelsea, Arsenal and now Manchester City are not just footballing powerhouses, but also major brands. They have a global presence and their players have an international recognition. Arsenal started the Soccer Stars tournament in India, and many other clubs followed suit. Manchester United has now opened up its own school and has been running their cafes for over two years now.
The success of these clubs has made it easier for the marketing side to brand them and create affinity and loyalty, even in foreign lands. To even compare their fan following to Indian clubs would be outrightly unfair. More Indians would know the names of players from a team like Aston Villa or Sunderland, rather than from the Indian national team. It will not be surprising if most don't even know that Baichung Bhutia is not part of the team anymore.
Partly the reason can be the relative lack of success. The recent Nehru Cup win was a commendable effort but if you are given a chance between watching India play Nepal and Arsenal play Liverpool, the answer is obvious.
The Nehru Cup was being broadcast live on television, but empty stands, rickety-looking stadiums and a playing surface that stopped the ball from rolling more than 15 metres after a kick, only after 30 minutes of rainfall. Compare this to the Old Trafford stadium of Manchester United, or the modern piece of art Emirates Stadium of Arsenal, and you wonder why anybody should settle for an inferior product.
Indian football needs fans and the support structure. But the odds are heavily against them on the field, and off it as well. While a Ronaldo or a Messi is not a bad role model for any kid anywhere in the world, just imagine what it would feel like if the English or the Spaniards cheer one of our own`85 an Indian football star! Not a bad dream to nurture, and not a small target to aim for either. Are we game for it?