FOOD
Med platter, Indian palate
Food from the shores of the Mediterranean has been recommended for its healthiness by doctors and nutritionists
Baishali Mukherjee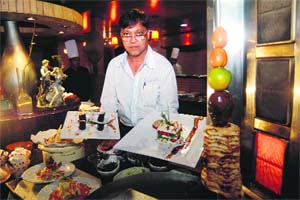 Pradip Rozario runs Mio Amore in Kolkata, which serves only Mediterranean dishes. Rozario is impressed by the diversity of the region and the ingredients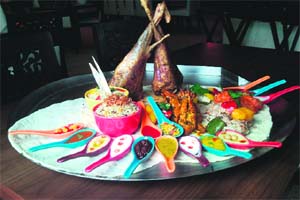 One of the reasons for the increasing popularity of the Mediterranean food in India is the similarity between the two cuisines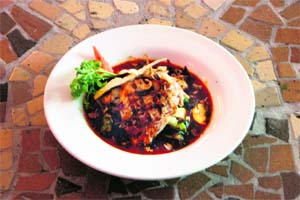 IT can be spiral, flat or shaped like mini pipes. But it has have charmed our kids from the time it was introduced in India. The wiggly shapes are on the menu list of almost all children's parties today. Yes! it's pasta we are talking about. And why only the kids? A sumptuous plate of penne or fettuccini can tickle the palate of even the hardest of the abstemious among us. This Italian delicacy heralded the arrival of a whole host of other Mediterranean cuisine in India.
The success story of pasta has opened the whole vista of Mediterranean cuisine in our country. Today, its repertoire is as rich and variegated as the history of the countries circling the Mediterranean Sea. Chicken and falafal with creamy walnut sauce, fish couscous with onion t'faya, Greek fava with grilled squid, Mediterranean fish fillets, Turkish-style pizza — the list is endless.
United flavours
Countries like Italy, Greece, Spain, Morocco, Egypt, France, Turkey ring the Mediterranean Sea. Though these nations have some common characteristics, the cuisines of these countries vary.
Chef Saby of Olive Bar and Restaurant in New Delhi, famous for Mediterranean food, believes that the biggest reason for the food diversity is the geographical features of the Mediterranean countries. "Almost all countries have varied climatic conditions. The soil, too, is different from each other. The volcanic soil of Greece is chalky whereas the soil of Turkey is rich and full of minerals. Therefore the quality of produce is very different in these countries," he says.
Today, doctors recommend Mediterranean diet for a healthy living which features olive oil, protein-rich legumes, fruits, fish and whole grains, moderate red meat, and a glass of wine. Pradip Rozario, who runs three restaurants in Kolkata, of which Mio Amore, serves only Mediterranean cuisine, is impressed by the diversity of the region and the cuisine. "The nations around the azure sea have all contributed something special to the colourful, vibrant tapestry that is Mediterranean cuisine. The flavours are rich and the healthy ingredients promote a healthy lifestyle making us less prone to high blood pressure, high cholesterol or obesity. As people are becoming increasingly health conscious, Mediterranean cuisine is ideal," Rozario says.
Rozario gives an interesting insight into the basic nature of the cuisines of the five major Mediterranean countries which include Lebanon, Greece, Morocco, Turkey and Italy.
Lebanon shares Arabic tradition in cooking. Spiced lamb stew is an Egyptian recipe served with dumplings or rice. The menu includes several Arabic specialties of which the most famous is couscous, steamed crusted millet or other cereals served with a stew of lamb or chicken.
Greece's distinctive cuisine is closer to Italy than other eastern Mediterranean countries and this is reflected in dishes like artichokes with eggs and sauces using parmesan cheese. But there are plenty of dishes that definitely belong to Greece. Potato omelette, for example, is very popular. Then there's moussaka, a lamb casserole with slices of fried aubergine and topped with cheese before baking it, which is almost regarded as a national dish. Souvlaki are small kebabs of herbed meat sold as snacks at souvlaki stalls; a more sophisticated variation of this is arni souvla, marinated kebabs of lamb and courgettes which are ideal for a summer barbecue. Needless to say, fish is plenty in Greece. An original method of cooking fish is to bake it in paper. This not only seals in the flavour but also makes washing up much easier.
Turkish cooking has close affinities with Greece and the two countries both claim to have given birth to several famous dishes. However, no one will dispute the fact that kebabs are a Turkish invention, usually with lamb. Rice is used in many dishes, often with diced meat and vegetables in a pilaff (pulao).
Morocco offers a totally different cuisine, primarily Arabic, but with a strong French and Spanish influence. Morocco produces in plenty olive, almond, citrus fruits and various cereals. Lamb and chicken are the most common meats, made into kebabs or cooked in tagine, a type of meat and vegetables stew. The Moroccans' fondness for sweets is evident in pastries made with very thin crust and various fillings.
Most Italians begin their meal with a pasta dish which we would often consider substantial enough for a main course. Spaghetti is only one of the innumerable types of Italian pasta, from the tubular or rolled cannelloni to narrow tagliatelle noodles. Wide lasagne noodles and stuffed pasta in different shapes and sizes are also very popular.
For the main course you could choose fish, usually grilled or fried and served with a sauce.
In Bangalore, the Fava restaurant has been creating ripples with its mouth watering Mediterranean delicacies. Abhijit Saha, ace chef of Fava, says, "Like the states of India, the Mediterranean countries maintain a strong individual tradition and culture, which is reflected in their cuisine."
Continental divide
Dividing the Mediterranean region into three parts namely Southern Europe, Northern Africa and West Asia, Saha says, "West Asia seems to have a confluence of Europe and Asia while the North African part is influenced by Asia and Europe." Use of spices also distinguishes the cuisine. Saffron and cumin seed are the most popular spices in North African cuisine while South European dishes have dried lime as a staple spice and West Asian cuisines are conspicuous with the presence of zatar (a spice made from a berry).
One of the reasons for the increasing popularity of Mediterranean food in India is due to, according to Shaun Kenworth, celebrated chef from Kolkata, "the similarity between Indian and Mediterranean food. Many of the Indian dishes have a Mediterranean counterpart. What we have here as baingan bharta can be found as babaganouj over there. Similar is the case with cucumber raita which finds its acronym in tziki. Even the fast foods are quite familiar. What is called butitos hara in the Mediterranean cuisine is actually our alu chaat and falafel is very close to Rajasthani pakodas."
Chef Saby has a slightly different view. "People in India are now very well travelled. This has given them a far better understanding about the cuisine of the Mediterranean. Secondly, the people from the West are coming to India more for work as the economy becomes stronger while recession is still a fact in their countries. So with the increase in trade and commerce there's easy availability of the raw ingredients used in this cuisine."
The travel factor shows up too in the new popularity of Tapas finger food from Spain. Also, the staples from these countries like olives, capers, durum wheat, artichokes etc. have made their way to Indian plates.
Last but not the least, Mediterranean cuisine boasts of some lip-smacking desserts too. So next time you opt for a Mediterranean meal, binge yourself over a plate of the famous Italian dessert tiramisu for a sweet ending or go for some light Moroccan pastry, or even Turkish delights.