FOOD
Cuisine high for cinema buffs
Food vies with films for spotlight at Toronto film festival
Claire Sibonney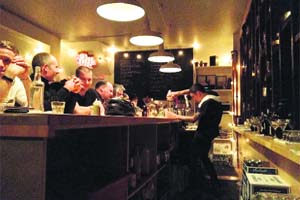 A view of the bar at Grand Electric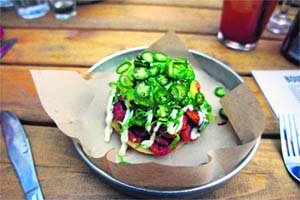 Spicy squid tostadas at Mexican restaurant Grand Electric in Toronto Photo: Reuters

FOR 11 days this month, Toronto was the cinematic centre of the universe during its annual film festival and hungry movie-goers had plenty of food choices thanks to the city's flourishing restaurant scene. Toronto has lured high-profile foreign chefs and the international media are starting to recognise it as a culinary destination.
"There's a new generation of young chefs who with low budgets create wonderful restaurants with great energy and creativity," New York-based French-American chef Daniel Boulud says in a phone interview. Toronto prides itself on its immigrants and varied cuisine. With half of its population born outside of Canada, it is diversity that defines Toronto.
Chinatown is one of the biggest in North America and West Indian and Latin American food shops can be found in the city's Kensington Market. There are also Italian, Portuguese, Brazilian and Vietnamese restaurants. During the Toronto Film Festival, restaurants competed with films for the attention of fans.
Ethnic restaurants
For Sunday brunch, authentic Cantonese dim sum is just as typical as classic Canadian bacon and eggs. The city's increasingly voracious appetite for eating well has prompted new restaurants to pop up frequently.
At Grand Electric, a cool and casual taqueria on edgy Queen Street West, which launched less than a year ago, the lines start to form even before the doors open and continue until the wee hours of the morning. People get lost in the loud urban beats and ramped up Mexican street food — including spicy squid tostadas and tacos filled with scrapple — otherwise known as pork scraps.
Buca, another popular city restaurant, serves artisanal Italian dishes all made from scratch, including pasta and cured meats, bread, vinegar and gelato. Its eggplant parmesan is a stack of crisp eggplant layered with ricotta, preserved tomato and burrata cheese. Another signature dish is the bigoli, a duck egg pasta with duck offal ragu and Venetian spices. Boulud, a Michelin-star chef who is opening his first restaurant in Toronto in October, praised Ursa, a new west-end restaurant in the city he visited recently.
He said its cold green tomato soup with chilli, wild apple, fennel and guanciale, was one of the most creative meals he has ever had in more than a decade visiting Toronto. Besides Cafe Boulud, which will be located in the new Four Seasons hotel, local foodies are awaiting the imminent opening of fellow New York celebrity chef David Chang's Momofuku outpost.
Chang, revered for his bold American-Asian cuisine and rebellious personality, has said he was attracted to Toronto, a liveable city close to New York that also cares deeply about food. He was also impressed by some of the ingredients in the city and described Toronto's Cheese Boutique as "the best cheese store in America."
Gourmet food trucks
A visit to Toronto would also not be complete without sampling its food truck fare. During the Toronto Film Festival, one theater's red carpet was graced by some of the city's gourmet mobile eateries, offering unexpected classics such as lobster rolls and smoked meat sandwiches.
"The people of Toronto can judge better than me, but every time I've been there I''ve had some very exciting moments eating," added Boulud. — Reuters