ENTERTAINMENT
Mumbai makes its mark
At the 37th Toronto International Film Festival, which concludes today, India was represented by a large contingent of talented actors and directors
Saibal Chatterjee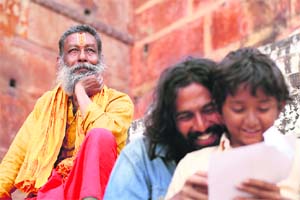 Mohit Takalkar's The Bright Day had its world premiere at Toronto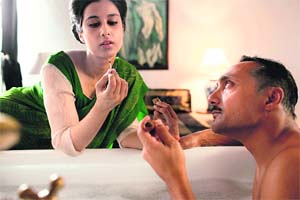 A still from Deepa Mehta's Midnight's Children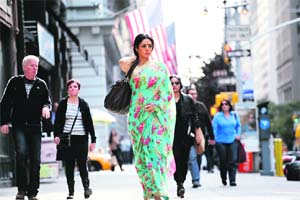 TIFF 2012 hosted a gala screening of debutante Gauri Shinde's English Vinglish, starring Sridevi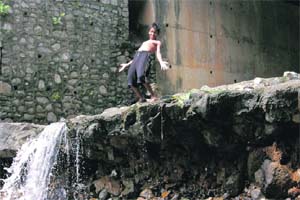 A still from Manjeet Singh's Mumbai Cha Raja
FOR Toronto cineastes with a taste for the diversity of Indian cinema, the latest edition of the city's famed annual film festival was a bonanza. Never before has such a wide panoply of movies from the world's most prolific filmmaking nation been showcased in the late summer event, which is generally regarded as a kick-off to the awards season.
From Girish Kasaravalli, the multiple National Award-winning Kannada cinema stalwart, to Anurag Kashyap, the poster boy of Mumbai indies, to Dibakar Banerjee, the defiantly off-mainstream hit-maker, to a bunch of promising first-timers, India was represented at the 37th Toronto International Film Festival, held from September 6 to16, by a large contingent of talented directors.
The largest share of Indian films belonged to the event's City to City programme, which focused on the cinema of one single urban centre each year. After Buenos Aires, Tel Aviv and Istanbul, it was Mumbai's turn in 2012, and the work of nine filmmakers from the western Indian metropolis was on show over the festival's 11-day duration.
The Mumbai package was made up of 10 titles, including four produced by promising first-time directors. Three of these four films — Anand Gandhi's Ship of Theseus, Manjeet Singh's Mumbai Cha Raja and Mohit Takalkar's The Bright Day — had their world premieres in Toronto. The other debutant in the mix — Anurag Kashyap prot`E9g`E9 Vasan Bala — had his maiden film, Peddlers, in the Cannes Critics Week early this year before making the Toronto cut.
While Peddlers is a dark thriller set in Mumbai's danger-ridden back alleys and deals with a wannabe gangster, a Bangladeshi migrant woman and a troubled policeman, Ship of Theseus, Mumbai's King and The Bright Day are unique, personal and original takes on intimate matters of the heart and mind. These are filmed in a manner that shares little with the general strain of Mumbai cinema.
Mohit Takalkar, a name known and admired by lovers of experimental theatre, believes that The Bright Day, a small, digitally shot film about a young man's journey away from his comfort zone in search of other realities in the outside world, could not have found a better platform than the TIFF.
"It is wonderful to have a film like one in a festival of the size of Toronto," he says. "It could take off from here."
Pretty much the same was on the mind of Anand Gandhi who, at the turn of the millennium, wrote episodes for Ekta Kapoor's saas-bahu serials while doing alternative theatre and biding his time for his big-screening opening. There has been quite a buzz surrounding his Ship of Theseus, which has been co-produced by Amsterdam-based Fortissimo Films.
Like Takalkar and Manjeet Singh, Gandhi ploughs a lonely but dazzling furrow with his debut film. He asserted that Ship of Theseus "is fiercely independent of the pressures of mainstream storytelling".
Says Gandhi: "My film is set in Mumbai all right but it is not strictly about the city. It is a global film with a universal theme. Ship of Theseus could have been set anywhere."
Manjeet Singh, an engineer-turned-filmmaker, completed the exciting trio of newcomers who could, with a bit of luck, script a new feature for a truly independent Indian cinema unshackled from its limited frames of idiomatic references.
Manjeet Singh's Mumbai Cha Raja (Mumbai's King), about a duo of street children who battle odds on the inhospitable streets of the city, banking solely on their own survival instincts, is a naturalistic version of the portrait that Slumdog Millionaire created.
"The idea of Mumbai Cha Raja's narrative is to put together incidents happening in the lives of the boys and portray them as neo-realistic elements in life," says Manjeet Singh.
TIFF's City to City programme included another fresh-off-the-oven film, Hansal Mehta's Shahid, which brought the life of the slain human rights lawyer Shahid Azmi to the big screen. The film was co-produced by Anurag Kashyap, who himself had his two-part Gangs of Wasseypur playing in Toronto this year.
Also in the Mumbai package were Dibakar Banerjee's Shanghai, Habib Faisal's Ishaqzaade and Ashim Ahluwalia's Miss Lovely, which was in the official selection of the Cannes Film Festival this year.
TIFF 2012 hosted a gala screening of debutante Gauri Shinde's English Vinglish, starring Sridevi in her comeback onscreen role.
And for regional Indian cinema aficionados, there was Girish Kasarvalli's Kurmavataara (The Tortoise, An Incarnation), about a lowly civil servant, who was called upon to play Mahatma Gandhi in a TV show.
Two other Indian subcontinent-related TIFF entries that have aroused much interest are Deepa Mehta's adaptation of Salman Rushdie's career-defining novel, Midnight's Children, and Mira Nair's The Reluctant Fundamentalist, based on the critically acclaimed 2007 novel of the same name by British-Pakistani author Mohsin Hamid. Large portions of the film were shot in old Delhi, which stood in for Lahore.