ULTAPULTA
Life in a chair
Jaspal Bhatti

Sitting in the chair for long hours can lead to diabetes and heart attacks, says a survey. That is why the BJP is demanding the resignation of the Prime Minister (PM). The BJP feels that it is time that the party occupies the chair.
My own research tells me that while the common man falls prey to sickness and disease while sitting for long hours, politicians miraculously resuscitate while in the seat of power.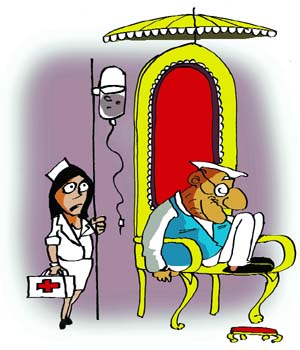 When a frail Narsimha Rao became the PM, there was speculation about how long would he survive. But as each day passed, his ailments miraculously disappeared. Atal Bihari Vajpayee was also rejuvenated after becoming the PM.
In hospitals there should be a chair used for recovery of patients labelled 'Cabinet Minister'. Politicians who are unwell would recover at an astonishing pace after they recuperate on this chair.
So strong is the addiction to the political kursi that Keshubhai Patel at 83 formed a new political party. Eighty-four-year-old Punjab CM, Prakash Singh Badal, is another example of a political warhorse still going strong.
Badal sahib was once overheard telling his OSD, "The joints are getting weak and creaky."
The OSD asked with worry, "Sir; you want me to call the doctor?" The CM smiled, "Call the carpenter, not the doctor. I'm not talking about my knee joints, but the table's joints that need mending!"