Red carpet welcome for Dalai Lama in Mussoorie
The Nobel Prize winner stresses on compassion, forgiveness
Our Correspondent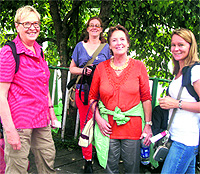 German tourists elated at catching a glimpse of the Dalai Lama.

Mussoorie, September 16
The spiritual and religious head of the Tibetan community, Dalia Lama, received what can be termed as a red carpet welcome on his arrival in Mussoorie today.
Dalai Lama reached the 'Queen of Hills' around 1.20 pm and headed straight for Woodstock School, which is hosting the spiritual guru for the fourth time.
The Tibetan students at Woodstock welcomed the Dalai Lama by singing the Tibetan national anthem. He was then welcomed by Woodstock School Principal Jonathan Long, who described the Nobel Laureate as 'a man of peace and compassion deeply committed to non-violence, a respected world leader and a force for the good of humanity.'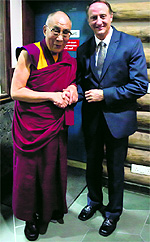 The Principal of Woodstock School, Dr Jonathan Lang, with the Dalai Lama in Mussoorie on Sunday

The 14th Dalai Lama urged students and staff at Woodstock School to remember their common humanity rather than seeing difference in religion or nationality.
Addressing a large audience in the school's Win Mumby gymnasium, the Dalai Lama, who was visiting Woodstock for the fourth time since his exile from Tibet in 1959, said: " Sometimes we are guilty of forgetting we are fundamentally human beings and brothers and sisters."
He recognised the international diversity of Woodstock, a place "with students from many different countries, where students stay and study to become brothers and sisters."
He stressed that people should not be divided in today's globalised economy, as "we are the same people; national boundaries and religious differences are not important."
The Nobel Prize winner urged the audience to act with compassion and forgiveness, whether this was motivated by religious faith or a common humanity.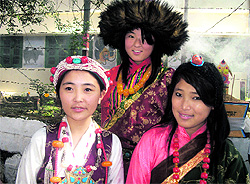 School students dressed in traditonal attire wait for the Dalai Lama.

He also warned the audience to take seriously the issue of global warming, which would affect future generations. He concluded by encouraging the audience to stay positive, as "everybody loves a smile."
Speaking on successful life, he said: " All human beings have the same goal and that is to have a happy life, and in order to achieve that successful happy life, you need education. So provide education without discrimination."
Speaking on corruption, the spiritual head said: "I think a big portion of Indian people are religious minded but despite that corruption has seeped deeply in society, especially among the business- minded people, officials and in some other professions. If people have self belief, then there will be no room for corruption and injustice in society."
He reminisced about his time in Mussoorie in 1959 after first fleeing Tibet, and he frequently had the crowd in fits of laughter as he made a number of self-deprecating jokes.
After his speech, the Dalai Lama was asked a series of questions by students from Woodstock School.
The 77-year-old Lama, when asked about how he kept his youthful vigour, replied with pun intended by saying that normally it was "top secret" but a good eight to nine hours of sound, peaceful sleep was the key. He also said the key to good physical health was a healthy mind and a positive mental attitude.
The Principal, Woodstock School, Long, and his wife Sue, presented the Dalai Lama with a souvenir on the occasion.
Thereafter, he left for Buddha Temple, where he was welcomed by a 2-km-long queue of devotees, staff, ex-students from Tibetan Homes Foundation and Central School for Tibetans dressed in traditional attire all along the road.
The Dalai Lama will rest overnight at Buddha Temple in Happy Valley.
He will be attending a function organised on the occasion of the golden jubilee celebrations of Tibetan Homes Foundation tomorrow.