To ensure quality, teachers must stay informed
D. S. Cheema
IN 1996 the Education Commission stated, "The destiny of India is shaped in her classrooms". Though it was not a path-breaking statement, it urged all concerned, for the umpteenth time, to pay the required attention to revamp the ailing education system. However, the system of educating India has not evolved properly as it remains linear in nature, with poor infrastructure, both physical and intellectual.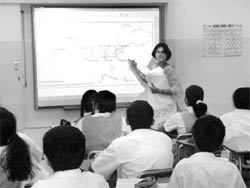 A skilful teacher helps develop the spirit of enquiry among students.
The process of education revolves around the teacher and the taught. Though the student's terminal behaviour should always remain the focus, the role of the teacher is more important as 'what' is taught depends upon how it is taught and how much is learnt by the student. The teacher is the architect of future generation and hence the future of a developing nation like ours is linked to the quality of teachers.
No one can undermine the pressing need for good quality human recourses for India to find its rightful place in the world. This demands better primary, secondary and higher education system which must get out of its present role of 'certificates and degrees provider' and become more responsive to the needs of the changing world. Society and all other stakeholders, like students, teachers, parents and employers, have accepted the 'time-duration-degree' standard of education by respecting the document called diploma or degree, which the students some how manage to get.
Our education system lays undue stress on standard set skills, average competency and teacher's personal knowledge, etc. It does not help develop the spirit of enquiry among students, which is so essential for innovative thinking. The essence of teaching lies in teacher's ability to create an insatiable search for knowledge among his students. For this the teacher of today can't afford merely to be a knowledge-provider, he has to master the emerging trends in education, teaching, learning and knowledge management. Teachers can never cease to be learners. The very reasons why today's teachers are not held in high esteem by students, parents and society should prompt them to adopt new methods of learning and strive to achieve high standards of dedication and commitment.
The first thing the teacher must imbibe is a value system, since value-based education is not possible without value-based teachers. The major difference between the past masters and the teachers of today is their ability to realise their own potential and use the same for 'man-making' of their students. The information and knowledge revolution is beginning to influence the education system in many ways. Even when the teacher prepares himself to adopt IT in learning and teaching, his professional and communication skills, compassion and commitment to his student will be put to a transparent acid test of converting student into a wisdom-seeker, useful member of society. For that he must go back to the basics.
It is unfortunate that many teachers do not take their profession seriously and consider it only as a means of earning their livelihood. They do not try to acquire necessary knowledge, skills, competence and wisdom to teach. Their knowledge is outdated, as they do not engage themselves in the process of learning. As a medicine after expiry date becomes useless and even harmful if taken by the patient, so is the case with 'outdated knowledge' which can do no good. Many old-timers take pride in showcasing their 20-25 years old notes which they used for teaching, without realising that even universal truths can undergo change in different operating time and space.
Everyone knows nothing comes out of nothing; one has to pay the price for success, and that price is hard work, dedication and commitment to purpose. But let's first find out who is a good teacher. A good, skillful teacher is the one who makes even a mundane and unimaginative subject more interesting for students, adopts innovative teaching and learning methods which support student involvement, has a good and positive attitude towards his profession, aspires to acquire life-long teaching skills to be imparted to student, goes beyond the given content, helps students develop the spirit of enquiry so that they don't remain dependent on him, and spreads the fragrance of good value systems. Unless the teachers are prepared to accept the responsibility of translating these objectives into reality, the standard of education will remain as stagnant as it is today.