Why skin care is important in the elderly
Dr Vikas Sharma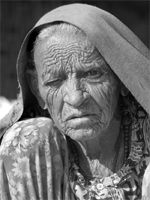 The famous saying "Old Is gold" doesn't apply to human skin as elderly people are recognised by their wrinkled and dull skin. The country's population is getting older, with a greater percentage of people being in the over-65 age group. This trend is expected to continue well into the 21st century. Additionally, with the population of those aged 80 and above also rapidly rising, an increased emphasis on geriatric medicine is inevitable. Geriatric dermatology is a speciality that is getting particular attention.
Primary care physicians and dermatologists are now seeing more elderly patients presenting age-related dermatological conditions. As people age, their chances of developing skin-related disorders increase due to multiple underlying medical conditions — diabetes mellitus, atherosclerosis and decreased immunity.
Common skin disorders found in elderly individuals are xerosis, pruritus, eczematous dermatitis, purpura, chronic venous insufficiency, psychocutaneous disorders, etc. Care-givers and medical personnel can help decrease or prevent the development of many skin disorders in the elderly by addressing several factors like the patient's nutritional status, medical history, current medications, allergies, physical limitations, mental state and personal hygiene, and for specific underlying etiologies, several pharmacological treatment choices are suggested.
As people age, their chances of developing skin-related disorders increase. Two types of skin ageing exist — intrinsic ageing, which includes those changes that are due to normal maturity and occur in all individuals, and extrinsic ageing, produced by extrinsic factors such as ultraviolet light exposure, smoking and environmental pollutants.
Decreased mobility, drug-induced disorders and an increased incidence of chronic diseases are among the reasons for elderly individuals being at a heightened risk of having skin diseases.
Atherosclerosis, diabetes mellitus and congestive heart failure are some disease processes that can be detrimental to skin. These diseases are known to impede vascular efficiency and decrease immune responses, thereby reducing the body's ability to heal.
The inevitable changes in the skin in the aged:
Epidermal changes: Melanocytes ( normal skin colour giving cells) Approximately 15 per cent decline per decade.
Density doubles on sun-exposed skin.
Langerhans cells: Decreased density leads to decreased responsiveness to temperature, pressure and touch.
Dermal changes: Decreased collagen — 1 per cent annual decline.
The dermis becomes relatively acellular, avascular and less dense, and the loss of functional elastic tissue results in wrinkles. The nerves, microcirculation, and sweat glands undergo a gradual decline, predisposing to decreased thermoregulation and sensitivity to burning.
Nails undergo a slow decline in growth, with the thinning of the nail plate, longitudinal ridging, and splitting. The subcutaneous fat layer atrophies on the cheeks and distal extremities, but hypertrophies on the waist of men and thighs of women.
Skin changes in age-related loss of elasticity and thinning of the skin. Clinical results: Xerosis, laxity, wrinkling, uneven pigmentation, easy tearing and traumatic purpura.
Photo-aging — clinical results: Actinic keratoses, fine and coarse wrinkling, telangiectasia, blotchiness and pigmentary changes, elastotic skin with giant comedones.
Xerosis
Xerosis is characterised by pruritic, dry, cracked and fissured skin with scaling. Xerosis occurs most often on the legs of elderly patients but may be present on the hands and trunk also.
The appearance of xerotic skin is like a pattern of cracked porcelain. These cracks or fissures are present because of epidermal water loss. If the skin splits and cracks deeply enough to disrupt dermal capillaries, bleeding fissures may occur.
Pruritus occurs leading to secondary lesions. Scratching and rubbing activities produce excoriations. Subsequently, environmental allergens and pathogens can easily penetrate the skin, increasing the risk of allergic and irritant contact dermatitis as well as infection.
Eczematous changes can occur with a delayed hypersensitivity response, even in advanced age. Secondary infection is an inherent risk with any break in the skin barrier. This cycle needs to be broken to disable the process and prevent complications.
Xerosis preys upon the elderly. This is primarily due to the fact that these individuals have decreased sebaceous and sweat gland activity; this reduced activity predisposes the aged skin to moisture depletion.
Psychogenic Pruritis: Patients complaining of the sensation of parasites crawling on them without evidence of the presence of parasites may have delusions of parasitosis. This condition is more attributable to a psyche-related disorder than to a dermatological problem.
Purpura
Purpura is characterised by small haemorrhages in the skin. Elderly persons are especially susceptible to haemorrhage into the skin. Aging causes a gradual reduction in the number of blood vessels and elastic fibres as well as losses in dermal collagen and fat, causing a thinning of the skin and reduced protection from external trauma.
Important measures include skin protectors and having an environment that prevents injuries.
The writer is Chief Consultant Dermatologist, National Skin Hospital, Mansa Devi Complex, Panchkula.
E-mail: drvikas.nscindia@gmail.com