Clear vision
Usha Albuquerque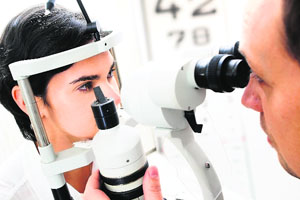 At one time wearing spectacles was associated with being a nerd (!) or being too studious. Today it is a fashion statement. On a more serious note, more and more people are wearing spectacles, contact lenses or some form of visual aid — and not just for fashion. Sight is the most precious of our five senses. It is vital to everything we do - work, play, study, read, relax. But it is only when we have a problem with our eyesight, that we realise the importance of good vision.

Career Hotline
Is English proficiency must for pilots?
Q. I am doing my CPL from Australia. While I'm very good in the technical aspects, my English skills are not very good. Will this be a problem for me in finding a job in India after finishing my course. Also, is the market for pilots still down? I'm very worried because I have taken a loan for pursuing this course. — Gaurav Sampat

Smart strategy: mind games


Cool conditioning for success
D. C. Sharma
Every workplace demands specific job skills from its work force. However, most of the employees don't give the right response at the right time. Here is a fine solution! Acquire the knack for it. Conditioned response, when acquired intentionally, can work wonders. Even unskillful workers have proved their worth by sharpening their skills considerably in a matter of weeks.

Stand up to cheating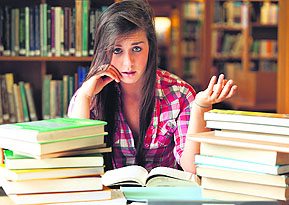 Zubin Malhotra
"Believing the claims of a private institute, my friends and I enrolled for a degree course in computer applications. However even after repeated complaints to the director, my batch-mates and I are totally frustrated, as we have lost one full year. There is no full-time faculty and leave aside practical training, no theory classes have been held in the past two months. What should we do?"
Caught in a bind: Coaching institutes failing to provide the promised services should be taken to task.
Scholarship roundup
Visiting fellowship
The Charles Wallace India Trust offers three-year pilot visiting fellowship in arts, social sciences and humanities for Indian students at CRASSH, UK.
Eligibility: The scheme is intended for earlier-career academics from India (defined as resident and domiciled in India, normally between the ages of 25 and 45 years).
Career compass: filmmaker
From real to reel life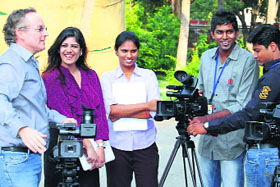 Gauri Chhabra
The corridor from real to reel life is covered with a red carpet; brings to our mind a mosaic of the drama of life — scripted on the canvas of creativity, born out of the idiosyncrasies, follies and foibles of real life, spiced to emote and play with the subconscious to merge with the reel life. Stationed along this corridor is the chaotic loud speaker, the quixotic team with cameras and lenses all over, the picture perfect heroes, the launch parties, the interviews with the press and the red carpet with all its glamour and glory.
How you can ace XAT
Ulhas Vairagkar
For the section on analytical reasoning and decision making, it would be advisable for students to revise concepts pertaining to puzzles and decision making with a focus on practising the distribution-based puzzle questions.
First take
Global edge for fashion course
JD Institute of Fashion Technology has come bagged the distinction of being the first Indian fashion institute to have its own campus in London. R.C. Dalal, Executive Director of JD Institute of Fashion talks about the idea, vision and challenges faced while setting up a campus in London.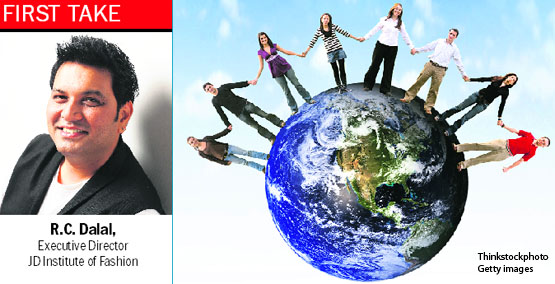 Happiness @ work
Gems of ancient wisdom
Riding high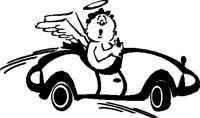 As most of us stay away from our place of work, the mode of transport that we use to get there assumes importance for success in our ventures and work. On the 17th day of the Mahabharata war Karna knew that his battle with arch rival Arjuna was on the cards. So he demanded that he should be given a 'charioteer as skilled as Krishna'. Duryodhana agreed and King Shalya of Madra was handed over the reins. As Shalya had been equated with Krishna, he demanded that Karna must unquestioningly listen to his advice as Arjuna did to that of his charioteer.
Being blunt may work
If your boss is making your life miserable, a blunt approach could be the answer, a new book has suggested. After years of studying positive psychology, author Michelle McQuaid has penned a book called '5 Reasons to Tell Your Boss to go **** Themselves'. While it should not be done lightly McQuaid said that sometimes verbally lashing out at your boss could have a positive result.


CareerCature
SANDEEP JOSHI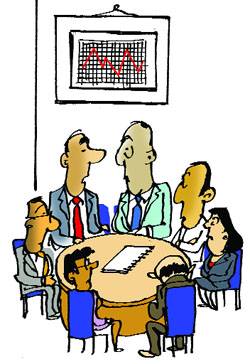 After the meeting we finally have the solution, we'll let you know the problem as soon as we find the file.

GMAC 2012 application trends survey
Demand for management education up
The demand for graduate business and management education around the world has shown signs of renewed growth, as 51 per cent of programmes surveyed by the Graduate Management Admission Council (GMAC) have reported more applications than last year. The overall demand — as revealed in the 2012 Application Trends Survey — is spread among a greater variety of programme types, including part-time self-paced, flexible, and online distance MBAs, as well as specialised master's degrees in business, including information technology management.
Cubicle trends
How Twitter can fetch you a job?
If you're looking for a new job, you might want to consider using Twitter along with more traditional search tools to market yourself, find open positions, get career advice and network, it has been revealed. You can begin by highlighting your skills in your Twitter bio, career experts advise, the New York Post reported.
Book shelf
The opportunities created by a fast-globalising world have led to executives jet-setting across the globe-wining and dining, negotiating, and networking for business. Indian executives, who are brand ambassadors of both their company and their country, too, are making a mark on the global stage, and increasingly find themselves in a number of situations where their people skills can make all the difference.