Khaki fascinates educated youth
Gurgaon, September 20
The perception of Haryana policemen being impolite and discourteous towards the state residents and visitors seems all set to change for good. With more and more educated youth being attracted to the uniformed job, the state police force will now also be known for its professionalism and courteous outlook.
World Junior Softball Championship
Two Haryana lads selected in national team
Jhajjar, September 20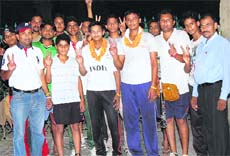 Two promising players of Haryana, Raj Kumar Hooda and Sumit Kumar, have been selected in the Indian Softball Squad for the Ninth World Junior Softball Championship scheduled to be held from November 1 to 8 in Tarana (Argentina).
Enthused over their selection in the Indian squad, Raj Kumar Hooda and Sumit Kumar along with their coach, Joginder Arya (extreme left), make the victory sign. Photo: Manoj Dhaka
PUNISHING ERRANT PUBLIC SERVANTS
Lokayaukta institution lacks sufficient powers
Hisar, September 20
Is the Lokayukta in Haryana a toothless institution? Going by the provisions of the Act, the manner of appointment and the information procured by social activists under the Right to Information Act, the institution needs to be given more powers for it to be really effective against errant public servants.
Finance company told to refund over Rs 2 lakh
Yamunanagar, September 20
Taking back a truck following default in the payment of two instalments cost a finance company dear.