Glass apart
Every wine comes with its own special glass. Connoisseurs say that the right stem glass can change the wine-drinking experience from ordinary to outstanding
Subodh Samuel
In modern times, wine drinking has been elevated to an art and wine lovers come up with newer ways to relish the bubbly. Wine is a delicate drink that has to be enjoyed in style. Its temperature, and the way it is served, makes all the difference between a great and an ordinary wine experience. One of the most important accessories is the glass it is served in. For those in the know of things, a great wine will diminish in appeal if it is served in the wrong glass.
According to folklore, if you serve a cheap quality wine in a sophisticated wine goblet, its flavours will enhance and it will not taste cheap anymore. That is why there are different glasses for red, white, sparkling and dessert wines. There are tulip glasses, flute glasses, hurricane glasses, parfait glasses, chimney glasses and a host of others that are suited for different wines and cocktails.
Dedicated glassware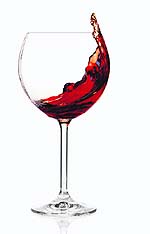 As in wines, there is dedicated glassware to serve other liquors like single malt, Cognac, vodka and brandy in. Since single malt needs to be rolled on the tongue, it is usually served in a tumbler kind of glassware.
Cognac and brandy, on the other hand, need to be swirled in the glass to release their flavours so these have to be served in a snifter, which has a short stem and a wide bell, which narrows as it reaches the rim.
Glasses that are most prevalent for serving wine have three parts — base, stem and bowl. The base gives the glass the uprightness when placed on a table. The stem helps hold the glass from below, which is important because if you hold it from the top, then the temperature of your hand will warm the wine. And the third part is the bowl into which the wine is poured. It is usually the shape and size of this bowl that changes with different kinds of wine.
A respectable arsenal for any home bar should include some basic kind of stemware — flute glasses for sparkling wines like champagne, glasses for red wines like Cabernet Sauvignon, Shiraz and Merlot. You will require smaller stem glasses for white wines like Chardonnay, Pinot Blanc and Riesling.
Complex aromas
It is a well established fact that the shape of the glass can completely change the way wine is savoured. Red wine, for example, has complex aromas and needs to be swirled in the glass so that it comes in contact with oxygen, which will help it release the flavours. For this purpose, a full and wide glass is best suited to enjoy red wine.
A wider glass with a shorter stem, larger and rounder bowl and a wider mouth will make it easy for you to smell the red wine, which is necessary to check if all the aromas are trapped in there. The wide shape of the glass will also allow wine to travel straight to the tip of the tongue so that you can directly savour all the delicate tastes of the bubbly.
White wine glass has a longer stem. That's because it is served chilled and has to be held by the stem. If it is held by the bowl, the heat from the hand will take the chill out of the wine and ruin its flavour. The white wine glass has a smaller and narrower bowl so that small quantity of wine is served to retain its temperature. The stem glass can be refilled with cool wine frequently.
Connoisseurs say that for subtle white wines like Riesling or Pinot Noir, the stemware best suited is the one that has a narrow opening to allow the more delicate aromas to rise to the surface. However, for hardier white wines like Sauvignon Blanc and Chardonnay, a shallower glass is advisable as the flavour of these wines enhance with oxidation.
Sparkling wines
Champagne and sparkling wines, on the other hand, have to be served in narrow flute glasses that preserve up to twice as much carbon dioxide than other glassware. Experts explain that the carbon dioxide present in the Champagne helps determine the aroma, in-mouth taste and aftertaste - the higher the content, the better the taste. However, if it is served in an ordinary or wide-mouthed glass, the bubbles will escape impacting the flavour and taste negatively.
Dessert wines like port and sherry will require short glasses that have small bowls. That's because these are more potent and need to be sipped slowly. Moreover, a sip from such small glass will go straight to the back of the mouth where its intense flavours will unfold gently without overpowering the entire mouth.
Apart from these four basic stem glasses, you will require special conical-shaped stem glasses for cocktails like martinis, margaritas and daiquiris. And also an assortment of snifters, tumblers, goblets and shot glasses for Cognac, brandy, whiskey and vodka for that perfect home bar, which not just shows your knowledge but panache as well.
WINE COUNTRIES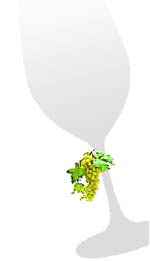 Do the best wines of the world come from France? The answer is yes and no. Yes, France traditionally has been producing great wines but now other countries are catching up with wines, which are qualitatively as good, if not better. Here's looking at the world's five top wine-producing nations whose wines have a mesmerising effect and get the glasses clinking around the world.
France: Despite the onslaught by Italy and Spain, France has maintained its leadership in the wine business. At around 5.5 million tonnes a year, it is the world leader in quantity and quality. Bordeaux, Burgundy, Champagne, Rhone and Alsace and Loire Valley are the main wine-growing regions and home to some of the greatest wines in the world like Pinot Noir, Chardonnay, Cabernet Sauvignon, Merlot, Champagne, Sauvignon Blanc and Pinot Gris.
Italy: Wine production in Italy has grown by leaps and bounds and today stands at around five million — a tad below France. Chianti in Tuscany produces some of the world's most exclusive wines. So do Piedmont and Veneto. These three are the main wine-growing regions of Italy which produce great wines like Amarone, Barbaresco, Barolo, Brunello di Montalcino, Vino Nobile di Montepulciano and Chianti.
Spain: At around four million tonnes, Spain is the third highest wine producer in the world and is also the home of wines fortified with alcohol. The main wine-producing regions are Rioja, Valencia, Ribera del Duero, Rueda, Toro, Priorat, Montsant, Conca de Barbera, Valdeorras, Galicia and Penedés. Its best wines are Contador, Maduresa, Unico Gran Reserva and Domingo de Pingus del Duero, Termanthia, Embruix, Cabrida and Barrica and Absis.
America: Over the years, America has started competing with the best wine-producing nations in the world putting the country — with an annual production of around 2.25 million tonnes — in the fourth place. Most of the American vineries are in California, Washington, Oregon and New York. The best wines are Cabernet Sauvignon, Grenache, Gamay, Sangiovese and Zinfandel. Pinot Chris, Muller Thurgau, Syrah, Viognier Chardonnay and Sauvignon Blanc.
Argentina: The fifth wine-producing position is generally a toss-up between Argentina and Australia. But for the connoisseur, Argentina is a step ahead with its 500-year-old vineyards and state-of-the-art technology that produces almost 1.5 million tonnes of wine annually. The Mendoza region produces almost three quarter of the country's wine. Some of its world-class wines include names like Esmeralda, Achaval-Ferrer, Vina Cobos, Catena and Torrontes Reserve.
SAYING CHEERS WITH INDIAN WINE
The Indian wine market is growing at a whopping 35 percent annually. Experts predict in the years to come, it will be the preferred drink of the young generation.
Leading Indian players like Chateau Indage, Grover Wines, Sula Vineyards and Vintage Wines have been improving the quality and the range of their portfolios, launching lower-priced wines to appeal to a wider range of income groups and also producing wine that goes better with Indian food. Though not yet a mainstream drink, wine is fast becoming the toast of GenNext. Indian wines have gone from hic to hip with even the world's leading producers like France and Italy saying cheers to the Indian bubbly and wine exports expected to touch the ~100-crore mark by 2015.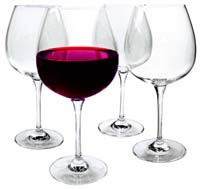 ARTLAND SOMMELIER burgundy WINE GLASSES
This is a must-have set of glasses in your bar. The high quality Artland Sommelier burgundy wine glasses will let the flavour of the bubbly shine through. Crafted of high-quality, hand-blown glass that's break-resistant, this set is suitable both for casual, everyday use and also for a party.
Price: $55 for a set of 4 Rs 3,025

ROBERT MONDAVI PINOT NOIR STEM GLASS
Pinot Noir will taste more refined in a Robert Mondavi stem glass, specially made for the light-to-medium bodied red wine. The shape of the glass is such that it will not only bring out the best taste of the Pinot Noir but also enhance the wine-drinking experience.
Price: $50 for a set of 2 Rs 2,750

SHARON GOBLET WINE GLASS
For connoisseurs of wines, the Sharon wine glasses are sleek vessels from which one can fully appreciate the bubbly. Designed for versatility, these goblets can be used for serving any still wine. The signature teardrop bubble in the stem of the glass makes a bold statement of timeless design.
Price: $80 for a set of 2 Rs 4,400

EISCH PORT WINE GLASS
Made of high-quality lead-free crystal, the Eisch glasses feature elegant stemmed pieces tailored to the characteristics of port wine. The quality of these glasses elevates the enjoyment of wine, preserving the original character and structure of the wine and enhancing its subtle aromas.
Price: $164 for pack of 6 Rs 9,020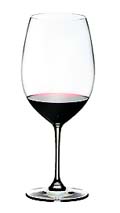 VINUM XL CABERNET SAUVIGNON GLASS
This glass is specially crafted to perfectly blend together the aromas and flavours of Cabernet Sauvignon bringing to light brilliant concentration while harmonising the intense sweet dark red fruit and masking the alcohol. The vinum XL can also enhance the flavours of other young wines from the Bordeaux region.
Price: $80 for a set of 4 Rs 4,400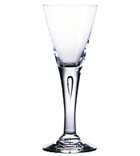 DARTINGTON CRYSTAL SHERRY GLASSES
Exuding a blend of creativity and durability, the Dartington crystal sherry glasses are just what you need to truly appreciate a fine drink of sherry. Suitable also for enjoying port, dessert wines and a range of aperitifs, these glasses make a bold statement of timeless design.
Price: $70 for a set of 4 Rs 3,850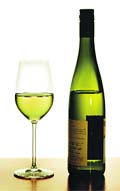 RIESLING GRAND CRU WINE GLASS
This is a very exclusive glass for a very exclusive wine. The Riesling grape variety produces some of the finest white wines which have to be enjoyed in the Riesling grand cru wine glass. Handmade and mouth blown from the finest lead crystal, this glass is designed to recognise the bouquet, taste, balance and finish of the wine.
Price: $110 per glass Rs 6,050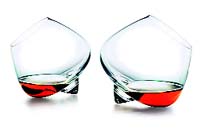 NORMANN COPENHAGEN COGNAC GLASSES
These look quirky but can enhance the aroma of the Cognac. These combine normal functions with a dramatic design. These enhance the flavour of Cognac and maintain the right temperature. Looking like decorative vases, these feel good in the hand while the Cognac is swirled.
Price: $55 for a set of two Rs 3,025

SPIEGELAU VINOVINO MERLOT WINE GLASSES
Its elegance is designed for complete wine enjoyment. The Spiegelau Vinovino Merlot wine glasses are lead-free, taking wine drinking to the next level. These are designed to enhance Merlot flavour and bouquet. Its shape guarantees that the wine will aerate to its highest quality.
Price: $55 for a set of 4 Rs 3,025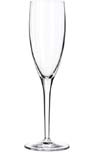 RIGOLETTO CHAMPAGNE FLUTE
This is the perfect way to enjoy your favourite Champagne. The Rigoletto Champagne flute is made with Luigi Bormioli crystal glass, known for its high-level of transparency. The flute-like shape directs Champagne to just the right place on the tongue taking it to a higher level of appreciation.
Price: $158 for a set of 12 Rs 8,800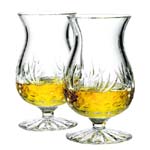 NOVASCOTIAN CRYSTAL SINGLE MALT
Single malt — the name conjures up magic among whiskey lovers. The magic will get a further boost if it is enjoyed in the Novascotian crystal single malt glasses, which are designed to enhance the already divine flavour. That it takes a week to make one glass tells about its quality.
Price: $445 for a set of 6 Rs 24,475

VILLEROY and BOCH BRANDY GOBLET
This handmade glass, with its specially designed shape, will enhance the brandy flavour. The Villeroy & Boch Brandy Goblet is classically shaped and has a facetted detail at the base of the bowl connecting to the stem. The lead crystal gives the glass added strength and an amazing clarity.
Price: $48 per goblet Rs 2,640

SHIRAZ WINE GLASS — FIRE COLLECTION
A sharp blend of style and substance, Fire is the line for high-end home and restaurant bars. It has a tall, narrow bowl to aerate and accentuate aromatic topnotes, along with a narrow rim to swirl the flavours of the medium-bodied grape wine inside the mouth for maximum enjoyment.
Price: $80 per glass Rs 4,400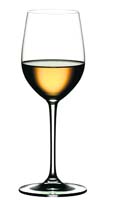 XL VIOGNIER GLASS
The classic shape of the XL viognier glass is designed to bring hasten the development of young and stimulates the texture of mature wines. Machine-made of premium 24 per cent lead crystal for brilliance and clarity, the taller stem and generous bowl of the glass brings to fore the subtle flavours of viognier and Chardonnay
Price: $60 for a set of 2 Rs 3,300

LSA BAR VODKA SHOT GLASS
Perfected for refined beginner or the veteran wine connoisseur, the LSA vodka shot glasses are for the strong-hearted. These are hand blown, individually created pieces of art with chunky bases and a tapered body. Ideal for those who enjoy quick, intense and neat shots of vodka.
Price: $50 for a set of 4 Rs 2,750

ANCHOR HOCKING ASHBURY MARTINI GLASSES
Anchor Hocking, the leading glassware company of America, has been making stem glasses for more than a century. One of its most popular products is the Ashbury martini glass, which features a generous bowl and a tall glass, making the Martini experience stirred and shaken.
Price: $200 for a case of 36 Rs 11,000

CRISTAL D'ARQUES LONGCHAMP LIQUEUR GLASSES
You won't have to be a Sommelier to appreciate the classic elegance of the Cristal D'Arques' Longchamp liqueur glasses, which have found favour with several generations as an affordable luxury. Their popularity can be gauged from the fact that these have featured in films and TV shows.
Price: $40 for a set of 4 Rs 2,200