Making waves on air
Hardeep Singh Chandpuri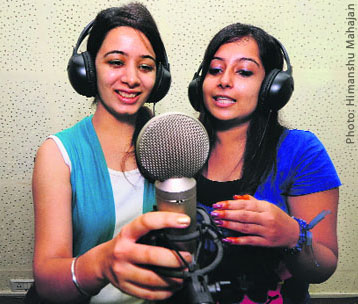 Community radio stations in the region are focusing on issues that citizens feel strongly about and combining entertainment with information
Community radio focuses on issues that are relevant for the community at large, such as health and education etc. The first experience that I ever had of community radio was in the year 1996, when I was studying in Australia. Since bush fires are very common in Melbourne and its surroundings, they had a dedicated community radio station, which would continue giving warnings and educating the listeners about various ways to stop the menace.

IITIANS 'Engineer' A web radio
'Art & soul
Two poets, two paintings
B. N. Goswamy
Both men — poets of great distinction — were wrong. For, one wonders, if any trace of Asad-ullah Khan would have remained — a century and a half has passed — had he taken to wielding the sword like his forefathers? Or, again, for all his misgivings, has Hakim Momin Khan been forgotten all these long years? Both men belonged to the dwindling Mughal court at Delhi but both continue to remain by our sides through their words. Ghalib — the pen-name is entirely appropriate — still 'prevails', as the word suggests, and 'Momin'— the believer, the physician, still heals. Both because of their poetry.
On going gracefully
M. S. Unnikrishnan
Most senior players drag themselves to the limit, before making their exit instead of accepting the inevitable graciously
In the din and debates about VVS Laxman's retirement, and Sachin Tendulkar being frequently bowled out recently, the standout wins of the Indian team in the two-Test series against New Zealand were relegated to the backburner. Such is the country's obsession with the sensational and the frivolous that the positives, at times, get buried under a heap of banalities.

After sunset, the rise
The nowhere women
Deepti Lal
Many young wives experience depression and a sense of alienation when they follow their husbands abroad for a better life
'In Mumbai, my work at a publishing house used to keep me on my toes all day. And whatever free time I was able to manage was spent with friends and family,' recalls Reshu Sinha, 29. These days, her entire life revolves around various social networking sites and Skype.
The dark secret of Dagshai
Malvika K. Singh
The little-known cantonment town has a cellular jail and museum where Gandhi spent a night
The Andaman Islands may house the most popular cellular jail in India but there is a second lesser-known cellular jail in North India. Sixty km from Chandigarh, the Dagshai cellular jail is situated in the little-known and hardly visited cantonment town of Dagshai.
A dress you can eat
A British designer has taken a leaf out of Lady Gaga's meat dress and has created a gown from sushi. The dress, by Central Saint Martin's College of Art and Design graduate George Nemsadze, is made from nori, the seaweed paper — a staple in sushi.
The tramps of Indian cinema
Taru Bahl
The recent PSBT Open Frame Festival sought more platforms for the survival of documentary films
The controversial documentary film 2016 is neither the mouthpiece of a political party nor backed by a Hollywood movie studio. Directed by Dinesh D'Souza, president of King's College, New York, it has raked in more than $6.5 million and has been among the top 10 boxoffice hits since its release in July 2012.
Queen of melodies
Shoma A. Chatterji
Shreya Ghosal, who has sung in many Indian languages, talks about how music gives her the biggest high
Shreya Ghosal does not need an introduction to the lovers of Indian music. But few are aware that she is twice-blessed, as one who has won a string of awards and as one who has sung in most of the Indian languages, including Tamil, Telugu, Kannada and Malayalam, which even Usha Uthup has confessed to not having done till date. She is blessed with one of the most melodious voices in Indian music. She has a brain to match and is beautiful too.