Making waves on air
Hardeep Singh Chandpuri
Community radio stations in the region are focusing on issues that citizens feel strongly about and combining entertainment with information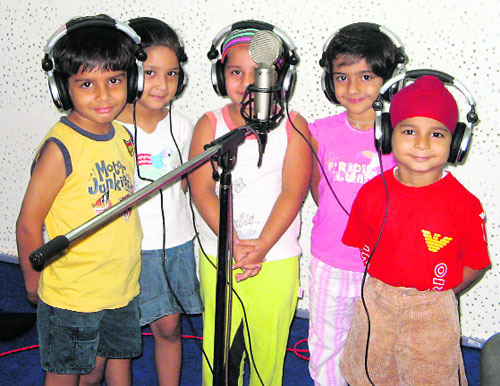 Vivek 90.4 FM, run by Vivek High School, claims the position of a pioneer. It is Chandigarh's first community radio station.

Community radio focuses on issues that are relevant for the community at large, such as health and education etc. The first experience that I ever had of community radio was in the year 1996, when I was studying in Australia. Since bush fires are very common in Melbourne and its surroundings, they had a dedicated community radio station, which would continue giving warnings and educating the listeners about various ways to stop the menace. It was a unique listening experience and an exceptional way to interact and communicate with the masses.
Community radio basically means radio broadcasting with the objective of serving the cause of the community in the service area, by involving members of the community in the broadcast of their programmes. This 'non-profit' business model offers a unique advantage of broadcasting to a captive niche audience. As per government guidelines, the programmes being aired on community radio need to be of immediate relevance to the community and focus on education, health, and environment issues as well as agriculture and rural and community development. As compared to commercial radio, the major thrust area in community radio is on listener-oriented, developmental programming.


| | | |
| --- | --- | --- |
| | New Vision | |
In a unique endeavour, Jyotirgamaya 91.2 FM has also been instrumental in reaching out to the sight-impaired students of the region. The station has roped in visually challenged students of the university and local city colleges, who come with their reading material and record audio books. Till date, four audio books, with more than 70 hours of recording material, have been recorded and made available to them for sharing with others. This unique experiment helps the station to fully utilise studio time, besides fulfilling the purposes of community radio to the maximum.
"We believe in reaching out to the community in an effective manner and have created a strong network of volunteers. We are now also getting a response from even outside Chandigarh, wherein students wish to come for book reading sessions and other recordings", remarks Archana Singh.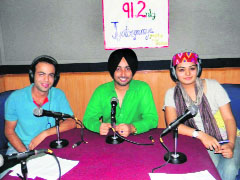 Jyotirgamaya, 91.2 FM, was launched in
February, 2011 with a lot of fanfare.
Its slogan is "Parho Aur Parhao"

Above all, at least 50 per cent of the content needs to be generated with the participation of and interaction with the local community, for which the station has been set up.
In India, community radio found its feet slowly but surely. It was only in the year 2002 that the Ministry of Information & Broadcasting released its "Community Radio Guidelines". Very soon, Anna University applied for a licence and its campus station 90.4 FM started broadcasting on February 1, 2004.
Closer home, Vivek 90.4 FM, run by the prestigious Vivek High School, proudly claimed the credit of being Chandigarh's first community radio station with a mission to serve the community and focus on the common man's day-to-day concerns and help to realise local aspirations. The programming mix of the station has been a revelation. The school engages almost the entire Vivek family of students, teachers, parents and grandparents. The endeavour is to nurture and develop the talent of the community and cater to the needs of every age group. Actually some of Vivek FM's shows have been path-breakers in terms of content and execution.
Panjab University launched its popular Jyotirgamaya 91.2 FM on February 1, 2011, amidst a lot of fanfare. Going by its slogan of "Parho Aur Parhao," it has broadcast very unique content which has been lapped up by the listeners. Reminiscing about its more than one year of existence, Archana R.Singh, Chairperson of School of Communication Studies, says, "It has been a rewarding experience where students of our department, along with other university students, especially from Departments of Education and Economics have blended their experiences and created some innovative and amazing content."
Ever since its conception in the late 1960s in America, the basic idea of community radio has been its easy accessibility, affordable advertising and the ability to further bond the community it serves. In a class that I attended, the late Bill Singer, one of the most popular radio hosts in America remarked, "Community radio was envisaged and developed as a medium, where the local baker could advertise that his freshly baked gingerbread cookies were about to come out of the oven, one could announce about your missing pet or even wish your elderly neighbours a happy anniversary. It is radio without the trappings of a commercial radio station controlled by the big-spending conglomerates."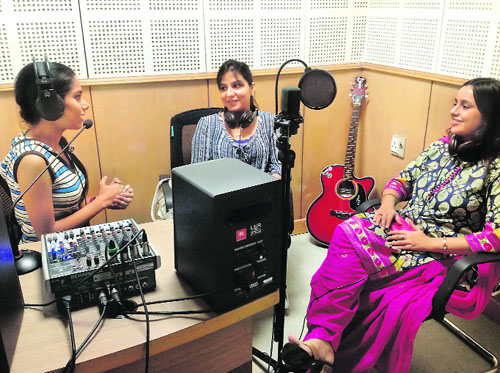 Recently launched, 90.4 FM, radio Mind Tree is proud to be Ambala's very first radio station in any category. Photos by the writer

Recently launched, 90.4 FM radio Mind Tree is proud to be Ambala's very first radio station in any category. Run by noted educationist Hirdesh Madan, it has already created a huge content database by involving local talent, dieticians, doctors, historians, educationists, armed forces personnel etc. "We know and understand the value of our listeners. Till we won't give them a reason to tune-in, they will continue to listens to their CDs. To attract them, we shall be playing today's music, which will be at par with normal commercial radio stations", reiterates Madan.
The year 2009 saw the launch of Himachal Pradesh's first community radio station as M.S. Panwar Institute of Communication and Management (MSPICM), Solan became the proud owner of MSPICM 90.4 FM, which caters to the area within the 10-km radius from the main station that has been installed at the institute. The students of the institute get hands-on experience in script writing, reporting and editing for radio, besides being exposed to the real experience of working in radio studios/stations.
Earlier, community radio was not allowed to broadcast any advertising material but after demand from the stakeholders, the government allowed five minutes of advertising for every 60 minutes of broadcast. Although advertising is a bit slow in coming as compared to commercial radio stations but, it is bound to increase in times to come.
"We as owners, have to understand that initially sustenance will be difficult and to attract advertisers we will need to attract listeners and in order to attract them we need to have attractive infotainment", remarks Madan.
The writer is a radio personality with more than 21 years of experience in the field of radio.