The bond grows deeper
When you constantly live on the edge of danger, as James Bond does, you keep the audience glued to the screen as well. As the ultimate cinematic fantasy figure, he does not fail, does not age, and does not ever run out of ideas. A look at the mystique of the lovable spy
Saibal Chatterjee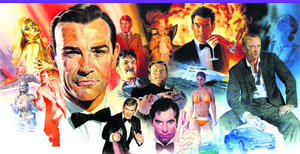 'THE name's Bond, James Bond' is one of the most famous lines ever spoken on the screen. But does The Man with the Golden Gun really need an introduction? No fictional character in cinema enjoys greater instant recall the world over than the flamboyant MI6 secret agent who answers to that name. Age hasn't withered the British spy's mass appeal one bit: 50 years after he first appeared on the big screen, Bond continues to bond big time with his fans spread across the world.
---
Arts
Indian strokes
The Indian section had a fair presence at the recently concluded dOCUMENTA(13), the 100-day festival, which saw more than 300 participants from 55 nations
Alka Pande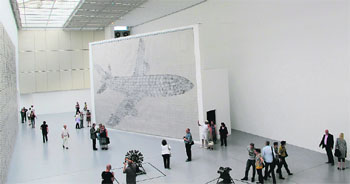 Probably the most important event in the world of contemporary art practice more in the trajectory of the present-day visual culture, dOCUMENTA is the ultimate 'Shangri la' for every living artist. Established in 1955, dOCUMENTA is in its 13th avatar this year, which opened on June 6 and ran for 100 days, ended recently.

German artist Thomas Bayrle's photo Montage, an installation
---
Sports
Vettel's gain is Hamilton's pain
In the Singapore Grand Prix, a gearbox failure for the Briton gave an advantage to Vettel, who grabbed it to steer to victory
Vaibhav Sharma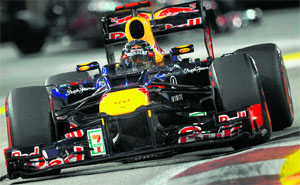 Formula One is not for the faint hearted. It is not even much for punters you may say — especially after seeing what went on at the Singapore Grand Prix. McLaren looked set to dominate the proceedings. Lewis Hamilton had set some amazing times to grab the pole position a day before the final race. He led with authority in the finals initially, but on lap 23, a gearbox failure for the Briton, handed the lead to Sebastian Vettel.
Red Bull-Renault driver Sebastian Vettel of Germany in front and McLaren-Mercedes driver Jenson Button of Britain (back) during the Formula One's Singapore Grand Prix
Little master
Chess is a game of mind over matter. Yet, often, money matters matter the most as the parents of Grand Master Sahaj Grover have realised. But for their sacrifices and support, Sahaj would not have achieved this feat.
---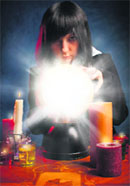 Society
That Extra Perception
Clinical psychologists and psychiatrists dwell on what constitutes ESP and how scientific it is
Swati Rai
FOR most of us Sixth Sense is either a 1999 psychological horror film directed by M. Night Shayamalan or an image of the 1990s hit science fiction television series, the X Files. What, in reality, is Extra Sensory Perception (ESP? Apart from the oft-heard and experienced phenomenon of telepathy; clairvoyance, the act of being able to look into the future and predict has caught the fancy of the 21st century's scientific temperament and is worth exploring.
---
TRAVEL
City of Mings and Qings
From 14th century temples, tombs and palaces to the modern-day Bird's Nest, very few cities can match what Beijing has to offer
Lalit Mohan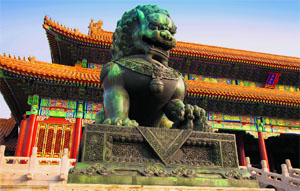 Beijing is not for casual sauntering around, unless you know and can speak Mandarin. So, a visit to city has to be focused and organised in advance. That done, you will find it worth it because very few cities can match what this one has to offer. The Great Wall is the most talked about of its attractions. There are five different points close to Beijing where one can access it.
A statue of the Guardian Lion in Forbidden City
Chinese bacteria improves smelly Japanese dish


Natto, the Japanese breakfast dish of fermented soybeans, has a smell likened to sweaty feet but researchers have come up with an unlikely way of making it less whiffy — using bacteria from Chinese dust clouds. Microscopic organisms found in the yellow fug that drifts over from China are almost identical to the reagent usually added to the beans to start the decomposition process, said Teruya Maki, an assistant professor at Kanazawa University.

Natto is a Japanese breakfast dish of fermented soybeans
Globetrotting
Halloween surprise
---
ENTERTAINMENT
Sounds of the soil
India's folk forms like Punjabi heer, jugni, bhau, Marathi lavni, koligeet, Rajasthani ghumar, maand, gait, Bengali maajhi, Gujarati garba and, now even Bihari nautanki, are the flavour of Bollywood
Deepa Ranade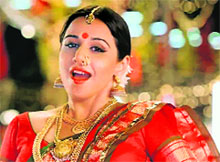 "Bollywood is incomplete without folk music," asserts Gurdas Mann, the father of Bhangra pop, and he's certainly not exaggerating about the pivotal part folk music has played in the popularity of Hindi films. If you were to run a mental check on the most-popular item numbers of any era — you will discover that most of them have a folk base. Whether it was "Shola jo bhadke" from Albela, "Choli ke peeche kya hai" from Khalnayak or "Ek do teen, char paanch" from Tezaab, the folk element in them is undeniable.
Vidya Balan performs "Mala jau de" in Ferrari Ki Sawari
Nandita unplugged
After a three-year stint as the head of the CFSI, Nandita Das is set to return to the thick of action, first with a self-authored play, and then with what she does best — offbeat screen roles, besides another directorial venture
Saibal Chatterjee
How difficult was it settling into a government-mandated job? Was the Children's Film Society India (CFSI) post a natural fit for you?