Choosing between stent and surgery
Dr Virendar Sarwal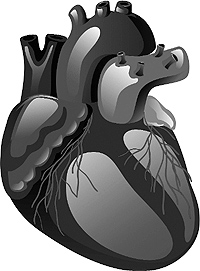 Heart disease is the largest single killer in our society. The changing life-style has added to the stresses and strains of life which have made this disease spread in a big way. In India, it is fast growing and soon we will be the number one country with patients of coronary artery disease. The incidence of this disease is rising in the younger population. Anybody who is above 35 years should have all his investigations carried out from the heart point of view at least once a year so that if there is any alarming sign it is tackled well in time. This particularly holds good in those persons who have a strong family history.
The real dilemma starts when one is found to be having significant coronary artery disease, which requires interventional treatment. As of now, two types of interventions are available (both are invasive and require hospitalisation). These are angioplasty and bypass surgery. There can be situations where both can be offered as treatment of coronary artery disease and, of course, bypass surgery can be applied and is the solution in any type of situation. Angioplasty means that the diseased area of coronary artery is repaired by dilating the diseased portion with a balloon catheter.
Bypass surgery means surgically the diseased part is bypassed with a new route of blood supply via a graft taken from the human body only in the form of a vein or an artery.
Angioplasty is less invasive than surgery as it is done under local anaesthesia and there are no major incisions. Bypass surgery has also become less invasive now because it is being done on beating heart and no longer the heart is arrested to carry out these grafts. So, the stressful effect of the heart-lung machine on the body is gone, and recovery is much faster. Bypass surgery is beyond doubt a long-term, time-tested solution which improves the quality of life and prevents sudden heart attacks. Freedom from second procedure is also considerable.
Angioplasty with stents also improves the quality of life but the other two factors do not hold good. If the stent fails or blocks again, it will lead to a fresh heart attack and also the chances of blockages second time are more with stents where a second procedure may be required early.
Bypass surgery is a proven and durable treatment for coronary artery disease, but when a patient is detected to have this disease there are certain situations where both treatments can be applied, and there the dilemma starts. If you look at human psyche, anybody and everybody in the world will want a less traumatic treatment and, therefore, angioplasty comes in mind immediately. But, at the same time, no one wants to suffer again and again and one wants a long-term solution to the disease or its eradication (which though is not possible), and something close to that is possible with bypass surgery.
As new route of blood flow is created via grafts, which are disease-free, bypassing the diseased part of the artery. This means, in an indirect sense, removing the diseased path from the route of blood supply to the heart. In the case of angioplasty versus surgery, the key issues are: Is angioplasty in multi-vessel disease evidence based? Are the limitations of angioplasty known to the patient? Is it economical in multi-vessel disease as compared to surgery?
There is another major issue. The trials on which we base our treatment are conducted on western population, which is genetically different than Asian or Indian population. In the western population the size of coronary arteries is much bigger than in Asians — it is 4-6 mm as compared to 2-4 mm in Asians. So, the treatment applied there cannot hold good here. As such, if we look at angioplasty vs CABG, the two forms of treatment are not equivalent in the following terms: Bypass surgery not only tackles the culprit lesion but also deals with future lesions as it is done distal to the diseased part. In certain situations angioplasty carries very high mortality like left main disease.
Even the repeat revascularisation or second procedure requirement is higher with angioplasty in multi-vessel disease. As two latest trials show, even in the western population arterial revascularisation therapy study (ARTS), stent or surgery (SOS) trials indicate that the incidence of a second procedure in angioplasty is three times higher than patients treated with surgery. Also, the risk of death in both trials with surgery is very low — 1.2 per cent in ARTS trial and 0.8 per cent in SOS trial.
Again in diabetes, bypass surgery scores over angioplasty in terms of long-term benefits as in ARTS trial it was 43 per cent in angioplasty as compared to 10 per cent in surgery patients. Surgery offers more complete revascularisation with better durability, especially arterial grafts. eft main disease is a very serious situation, which requires urgent intervention, and bypass surgery so far has been the best form of treatment.
Another major disadvantage with drug-coated stents is what we call "Late Stent Thrombosis" or sudden occlusion of the stent after a year or so when the blood thinners or antiplatelets are withdrawn or reduced and, in fact, FDA in the US has issued a warning to all these companies for this dreaded complication.
Other myths about angioplasty safety have also been proved wrong.
1. Risk of heart attack during angioplasty is 10 per cent.
2. Risk of restenosis in the first year is 10 per cent to 30 per cent.
3. There is no reduction in neurological complications with this.
4. Even in trials, including drug-coated stents' multi-vessel disease, small vessels, long lesions, diabetes and restenosis patients have been excluded but in practice they are applied in even these subset of patients also.
The father of interventional cardiology, Andreas Gruntizg, who died prematurely in a plane crash at the age of 46, stated in 1979, "We estimate that only about 10-15 per cent of candidates for bypass surgery have lesions suitable for angioplasty. A perspective randomised trial will be necessary to evaluate the usefulness in comparison with surgical and medical management."
So, stent or surgery is not/should not be a physician's choice. It should depend on what the disease demands keeping in view the long-term benefits and economic advantages. Pros and cons of both procedures should be made known to the patient in detail. Durability of treatment rather than a short stay should be the goal.
The best way to remove this dilemma is have a multidisciplinary team consisting of a physician, a cardiologist and a cardiac surgeon to decide about the treatment plan for coronary artery disease in a particular patient on an individualised basis.
The writer is senior consultant, Dept of Cardiothoracic and Vascular Surgery, Max Super-Specialty Hospital, Mohali.