M A I N N E W S
HC confirms death to Hoshiarpur boy's killers
Tribune News Service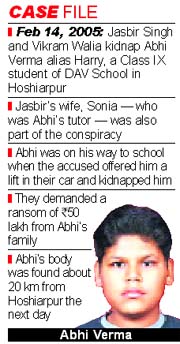 Chandigarh, October 3
Seven years after the murder of Hoshiarpur boy Abhi Verma, the Punjab and Haryana High Court today confirmed death sentence awarded to the two assassins, Jasbir Singh and Vikram Walia.
With this, a Bench headed by Justice Surya Kant paved the way for their hanging, but deferred execution of sentence till October 12 to allow them to challenge the judgment in the Supreme Court.
The two convicts had abducted Abhi Verma, son of a goldsmith from Hoshiarpur, for ransom. A Hoshiarpur court had awarded death to three accused, including one Sonia, whose death sentence was commuted to life term by the apex court last year. However, the apex court upheld Walia and Singh's hanging.
Abhi (16) was killed in 2005. His two killers, Jasbir Singh and Vikram Walia, had moved the High Court challenging the death sentence. The two were to be hanged on October 5, but the duo moved the high court on the ground that the death awarded to them under Section 364-A of the IPC (killing for ransom) was not legally tenable.
The petitioners argued that Section 364-A of the IPC dealt with offences committed against the state or the Central government and not against a private individual.