M A I N N E W S
Assault on LT Gen KS Brar

Punjab Police: Attack handiwork of youths influenced by radicals
Jangveer Singh/TNS
Chandigarh, October 3
Youngsters influenced by radical Sikh propaganda and not trained terrorists could have been behind the attack on Lt Gen KS Brar, according to Punjab Police officials who track movement of radicals here and abroad.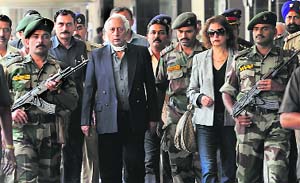 Lt Gen KS Brar (retd) (C) being escorted out of the Chhatrapati Shivaji International Airport after his arrival from London in Mumbai on Wednesday. — AFP
There is a feeling among police circles here that the attack was the work of amateurs and not trained professionals. Officials said the fact that even three attackers could not overpower the General or attack him in a manner that could be described as fatal, indicated they were novice and had not been sufficiently motivated to "go for the kill" at all cost.
Sources said the fact that the attackers did not use firearms also indicated that they were more interested in sending out a message. Terrorist organisations, on the other hand, would plan such attacks meticulously, they added. They gave the example of how the Babbar Khalsa had flown in terrorists from abroad to execute Rashtriya Sikh Sewa head Rulda Singh two years ago.
Officials, however, claim they had been preparing to counter such a scenario in Punjab for around six months. They said the events following awarding of death sentence to former Chief Minister Beant Singh's assassin Balwant Singh Rajoana in March this year gave a fillip to separatist forces. The state-managed protests after Rajoana was awarded the death penalty helped radical forces to stage a comeback among youth abroad.
Sources point towards the propaganda unleashed by "Sangat" television abroad and collection of $1.5 million in two days after a Sikh youth died in a clash in Gurdaspur during protests held to demand clemency for Rajoana. The incident gave boost to the radical cause, they said.
Sources said the inflow of funds to separatists abroad resulted in its onward flow to former militants in Punjab. They said such people, including Daljit Singh Bittu and Kulbir Singh Barapind who were arrested recently, were under pressure to show results in Punjab. The Punjab Police claims both Bittu and Barapind had been distributing money to militant families in Punjab.
The Punjab Police has decided to oversee the security arrangements of all officers who had been associated with anti-militancy operations. Though the security cover had been thinned in some cases, it has been further strengthened in case of high-risk individuals including former state police chief KPS Gill and some religious leaders.
Intelligence agencies have asked the Centre to take steps to counter the anti-India propaganda among youth abroad.

Failure of Central agencies: Punjab
Tribune News Service
Chandigarh, October 3
In a rather delayed reaction to the cowardly attack on Lt Gen KS Brar, the Punjab Government fell short of condemning the incident by concentrating on denying any role of the state in his protection.
The government described as "factually incorrect, wild and irresponsible" the allegation that it had downscaled the threat perception to Lt Gen KS Brar from 'Z' to 'Y' category.
"Lt Gen Brar is not under the protection of the Punjab Government but of the Mumbai police," said Harcharn Bains, Adviser to Punjab CM Parkash Singh Badal on National Affairs and Media.
Bains said the threat perception is categorised by the Government of India and not by the state governments. The Punjab Government does not come into the picture at all.
Bains said, "We are surprised that attempts are being made to link this incident with the Punjab Government. It is common knowledge that for all high-threat perception categories such as 'Z' or 'Y', the decision rests with the security agencies of the Government of India.
"The security cover is also provided by them and not by the state government. We are surprised that a former Chief Minister like Capt Amarinder Singh should pretend not to know this. There is no ground for such an allegation."
Bains said the incident amounted to a "security lapse" on the part of the Government of India agencies. "It was for the Central security agencies to inform their counterparts in the UK about the presence and movements of Lt Gen Brar in that country. It is clear that they failed in this primary task."
There appeared to be no coordination between the Central agencies and the Indian High Commission in London, he said.
"For all those having such threat perception, it is normal practice to keep the agencies of the host country informed about the arrival, presence and detailed itinerary of the person. In all such cases, the diplomatic channels are automatically pressed into service. But in Lt Gen Brar's case, these blue-book norms have obviously not been observed."
Bains said the Centre should clarify the position on the subject and, if necessary, hold a full-scale inquiry to fix responsibility.

Badal rewarded 5 former terrorists with top positions: Capt
Jangveer Singh/TNS
Chandigarh, October 3
Punjab Pradesh Congress president Capt Amarinder Singh today not only questioned Chief Minister Parkash Singh Badal's silence on the attack of Lt Gen KS Brar but also accused him of rewarding five former terrorists with important positions in his party and government.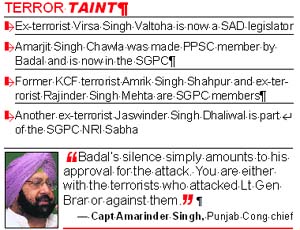 Amarinder maintained that Badal's silence on the issue simply amounted to his approval for the attack. He said, "You are either with the terrorists who attacked Gen Brar or against them."
He claimed that Badal had adjusted five former terrorists in the party and government. He said former terrorist Virsa Singh Valtoha had been given the party ticket and was now a legislator.
Amarinder said that former terrorist Amarjit Singh Chawla had been appointed member of the Punjab Public Service Commission by Badal earlier and was now a member of the SGPC.
He said former Khalistan Commando Force terrorist Amrik Singh Shahpur and former terrorist Rajinder Singh Mehta were serving as SGPC members. Another Ex-terrorist Jaswinder Singh Dhaliwal was part of its NRI sabha, he said.
CM Parkash Singh Badal tried to evade questions on the attack on Lt Gen Brar. All Badal said on persistent questioning in Bassi Pathana was "wrong is wrong".
When asked about Amarinder's statement that allowing the building of a memorial to commemorate Operation Bluestar had encouraged separatist forces, the Chief Minister gave the example of the killing of Sikhs in a US gurdwara two months earlier. He said such incidents could happen anywhere. He said there was no question of revival of terrorism in the state.
Punjab Congress general secretary Arvind Khanna lashed out at the "opportunistic" silence of the Punjab BJP on the murderous attack on Lt Gen Brar.
(Inputs from Sanjay Bumbroo and Surinder Bhardwaj in Bassi Pathana)