Star value
B-town actors are making a beeline for Punjabi film industry, the budgets are swelling & actors are being paid like never before...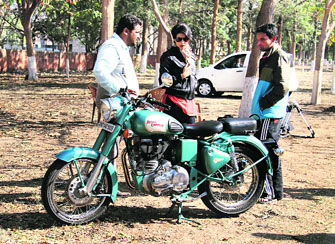 With the breaking of the box-office jinx, Punjabi artistes, hitherto considered good actors at best, are stars now. While promoting one of his recent films, Gurpreet Ghuggi may have started on a tangent but was, nevertheless, spot on, "There was a time when every Punjabi artiste had an alternative career. They were either paid peanuts or took to other things to earn a living. That is not the case anymore."
Gurpreet Baba (L) with Gul Panag (in black) on the sets of Sarsa

Comfort zone
Actor Eijaz Khan, in Chandigarh for the shooting of the movie Lucky Kabootar, says reality shows are not his cup of tea
When a television actor jumps on to the Bollywood bandwagon, a few things happen automatically. Amid the fame, money, recognition….an actor somehow also gets the license to criticise and crib about the relatively smaller medium - television. It then suddenly becomes all about regressive content, hectic schedules; no channelisation of creativity and only working on the tested formula of family dramas! In case of Eijaz Khan, the TV-actor-turned-Bollywood-actor with Tanu Weds Manu and aspiring to become a star with his next venture, Lucky Kabootar, it's just the opposite. He showers praises on the television industry and Bollywood at the same time. In Chandigarh for the shooting of the movie, he shares his experiences.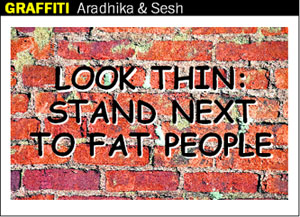 Astro turf
ARIES: You won't be able to count on anyone; so if you are going to go out, prepare to walk, take a cab or stay home and have friends visit you. It's time to get rid of all the burdens you've been carrying on your shoulders. Tarot message: Do not transact in uncertain matters. Lucky colour: Royal-blue. Lucky number: 51
TAURUS: Love can take a turn if you aren't thoughtful, generous and loyal. Be attentive toward the ones you love and let bygones be bygones. You can have all the fun you want, but make sure you have someone you can count on by your side. Tarot message: Don't reveal your plans. Lucky colour: Red.
The year ahead
If your birthday is October 4...
You will be sensitive to the disturbing feelings you arouse in someone else. Try to stay fair instead of abusing this attention. Showing too much compassion will not be wise. Try to check your expenses for improved finances. Communication in relationships needs to be checked; think twice before you speak. Getting caught up is important, but cultivating awareness of what others are up to is also the key. You may not be compartmentalising as neatly as you think; recognising the fact means you can take corrective measures. Exhausting trips and having to wait will make you lose your patience. Expect consistent income, professional gratification and excellent collaboration. Promising planetary movements offer good time for consolidating your professional position.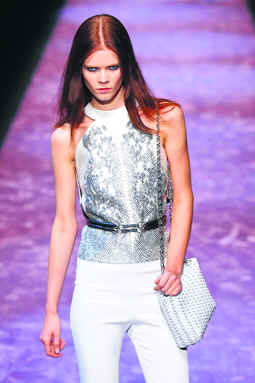 Fashion forward: A model presents a creation by German designer Lydia Maurer as part of her Spring/ Summer 2013 women's ready-to-wear collection for during Paris Fashion Week. — Reuters

Chatter box
Aamna Sharif is back on the small screen after a hiatus of five years with Honge Judaa Na Hum, but says she does not want to do reality shows. The 30-year-old, who became popular as Kashish with her debut show Kahiin To Hoga, tried her luck in Bollywood too with Aloo Chaat and Shakal Pe Mat Ja, but none could stir the box office. The bigg fight: Before the launch of any big show on television, the rival channels gear up by coming up with something out-of-the-box to fight the competition. Well, this is exactly what is happening when it comes to the upcoming launch of Colors' big ticket reality show, Bigg Boss (season 6). So, what will the number one channel Star Plus do to combat it? Well, here is news for you.
Malaika's five commandments
Malaika Arora Khan seems to have it all, looks, great body, fan following and happy family. Here, she shares her life
Malaika Arora Khan has a very happening life and she looks stunning. She is a part of Salim Khan's big family. Here she talks about fitness, multi-tasking and more. I have a lot to do everyday. Right from judging a show to taking care of my family to producing a film and even dancing. The best part is the family support I have. We are all there for each other, no matter what. I look forward to all my daily activities and I am happy that I keep busy.
Past perfect
Harvinder Singh Khalsa, a collector of antiques, aims at reviving the textiles of the yore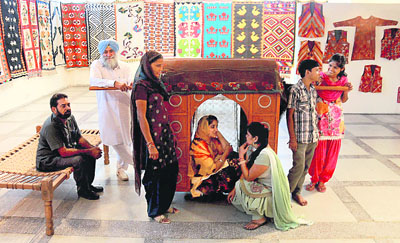 It doesn't get more vibrant than this—fuchsia phulkaris spread on the walls, bagh prints strewn on the floor. In between, there are the likes of parandas, rumal, ino, pakhis, katni, velna, raths, giving a peep into the Punjabi culture at its best.
Collector's den: Harvinder Singh Khalsa (in blue turban) with some of the visitors. Photo: Manoj Mahajan

Pet passion
Bundle of Jo(e)y
Staying in hostels and working in the metropolitans, there was only an in-between time when they could have a pet. Did the boys not make the most of it? "Our parents were a little apprehensive initially and before this we were in hostels, so we anyway couldn't keep a dog. Once I was in college and one fine day, my brother got him," laughs Bhavpreet Singh, software engineer and former student of Rayat and Bahra College of Engineering. To have a dog, you don't need a reason, to not have one, excuses galore. He adds, "A new house had to have a new dog. Also I always wanted a dog in the house." That's how the household got introduced to the now one-and-half-year-old, black Labrador called Joey.
Brand new brew
Heineken Lager Beer, the iconic global beer brand, was unveiled in Chandigarh on Wednesday. Brewed at United Breweries' brewery at Taloja, near Mumbai, Heineken is positioned as a super-premium lager beer that will target the discerning beer drinker in India. Heineken has been launched in bespoke world class packaging, with imported green embossed bottles and clear plastic labels, a first for any beer brand in India.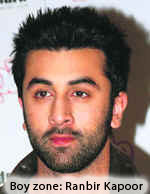 Ranbir Kapoor, inside out
Ranbir Kapoor is a complete entertainer. In a free-wheeling chat, he talks about his girlfriends, friends and his bad habits. On Katrina Kaif: She is a close friend of mine and we hang out together and we are fond of each other. I am not dating her. I have other friends too such as Deepika, Bipasha and Priyanka. I am also friends with my old exes, not that I have many. Friends forever: My friends in the industry are Ayan Mukerji and Imtiaz Ali. Ayan is so young and talented and he is a fine writer. We just click. Imtiaz is extraordinary and it is impossible to not love him. He is so sensitive to everyone's needs and he understands cinema in and out. He is not commercial at all. You can talk to him about anything. He is wise and does not judge.
Old wine, new bottle
Ekta Kapoor is all set to remake the 1976 film, Naagin. It is learnt that Balaji Motion Pictures has almost finalised buying the rights from the original producer. As of now, the production house is busy checking whether any filmmaker has registered the title Naagin.
Master Chef
Roll-icking treat
A whole-meal snack with a lot of veggies is what foodies are looking for these days. This is why the subway sandwiches are so popular. As they take care of the carbs and vitamins too, they are recommended for the diet conscious. These Vietnamese rolls falls in the same line . They are as yummy to eat and simple to make.
The final comeback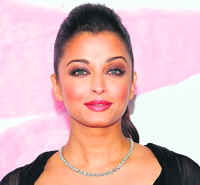 In June last year, Aishwarya Rai Bachchan opted out of Madhur Bhandarkar's Heroine because of her pregnancy. Now, almost a year later, it is said that the beautiful and talented actress is ready to face the camera once again. The actress has given her nod of approval to Mani Ratnam's adaptation of Daphne Du Maurier's famous 1938 novel Rebecca. The novel recounts the tale of a newly married woman who is constantly compared to the first wife of her husband. While she feels belittled by the shadow of the deceased lady of the house, she later realises that her husband was never in love earlier. Aishwarya will play the lead role of Mrs de Winter, the protagonist in Maurier's novel. According to sources, the filmmaker is currently busy putting the script together. The film will go on floors by late next year. It is expected to hit the theatres in 2014. — HRM
Character sketch: Aishwarya Rai



Thanking God
OMG has done great business. The movie made Rs 16.5 crore over the weekend and will continue to rake in the moolah during the week too because of good reviews and word-of-mouth publicity. The makers have God to thank!
Divine power: Poster of OMG
Late bloomer
Grey's Anatomy actress Kate Walsh says finding success in Hollywood is not an easy task but one should not give up in the face of failure. The 44-year-old said she didn't land her big break until she was in her late 30s and she never gave up on her hopes of becoming a famous actress, reported a website. "Age is just a number. Unless, that is you live in Hollywood, where there's the notion that if you haven't hit it big by your 20s, you may as well hit the road. I never dreamed that one day I would land my breakout role at the ripe old age of 36," she said. And Walsh, is actually relieved that she didn't make it big until her later years. — PTI



Salman's advice
Yash Raj Films takes Salman Khan's advice very seriously. He advised them to beef up their security by hiring guards from Shootcare, his make up man's agency. So YRF will use security from Ronit Roy's company and Shootcare as well.

Puppy love
Sonakshi Sinha found a cute puppy on the sets of Son of Sardar and fell in love with him at first sight. The duo was inseparable during the making of Son of Sardar and she named him Simba.
First sight: Sonakshi Sinha
Goodwill hunting
There is nothing like star support for independent films. Shah Rukh Khan held the screening of Bedabrata Pain's Chittagong to show his support for the film. Lately this has becoming a trend of sorts, with stars supporting various regional cinemas and movies. Hope it continues.
In the waiting list
Tarun Mansukhani is still awaiting approval from Karan Johar on the script of Dostana 2. Meanwhile, Shah Rukh Khan has asked him to write a film on the lines of French film Heartbreaker.
A trip to remember


Sonal Chauhan has shot her film and completed her fashion commitments. So she and her friends have taken off to Europe covering Greece, Belgium, Cyprus, Monaco and Paris, while on their trip. She will return and promote her film with Neil Nitin Mukesh. She has her own close circle of friends from her modelling days. Three cheers!
Free spirit: Sonal Chauhan