Swellness boom
For a complete body-mind experience, visit a new haven for jangled nerves — the spa
Shobita Shivshankar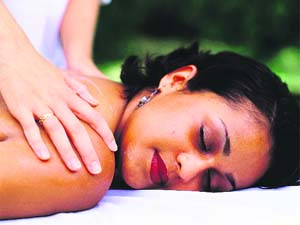 A spa is the new trendy place to be in. Every city in the world has healing spots which attract people in search of nirvana for body and soul. Healthy living seems to be the new flavour of the tension-ridden world.
This trend or quest for "swellness," the feel-good factor, is attributed to the changes in lifestyle and increase in the stress levels among young professionals. Says fitness trainer Reena Vij, "It is not always cosmetic considerations and de-stressing that draw people to spas. These are increasingly being seen as part of alternate therapy for many physical and mental ailments. But given their exotic appeal, most people seek these for their leisure element."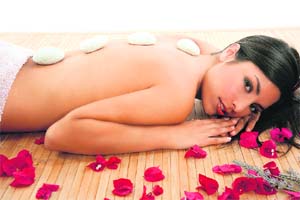 The word spa is drawn from Siena Par Aqua — Latin for healing with water. Unlike gyms, spas offer more. The soothing ambience enriched by the fragrance of aroma oils, soft music, dim lighting, gentle hands and warm towels makes you feel at ease and peace with yourself and the world. Some are destination spas which have staying facilities where people can spend a leisurely weekend or more.
People come here for medicated steam baths, herbal oil and gentle rubs that breathe new life into tired bodies and stressed minds. It is not just the neo-rich who want to flaunt it as the new symbol of success but also the health conscious and luxury loving individuals, who are finding the spa experience truly uplifting.
Ayurvedic treatments
But are spas really good for you, or are they just for those with money to burn? Experts say that gyms are only for the body while spas are excellent for both mind and body. Many of them amalgamate ancient Indian astro-sciences and ayurvedic treatments with modern equipment to create preventive and curative methods of healing and wellbeing.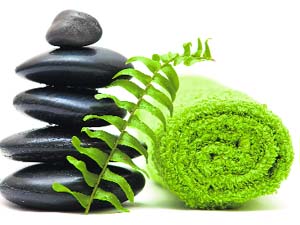 Healing and relaxation usually start as you step into a spa. Muted lighting and soft music welcome guests. There are special treatment rooms, each with its own purpose. There are separate rooms for hot stone massages, Thai treatments, as well as rooms for manicure and pedicure.
While massage remains the focal point of most spas, a great deal goes to the attention of ambience. The experience incorporates an array of classic and modern treatments, massages, scrubs, wraps, facials, baths, foot and hand care, slimming, toning and firming techniques, as well as pampering and destressing. Together with fitness programmes, the therapy drives away daily stress with restorative and rejuvenating therapies.
Many spas offer a lifestyle room to get personalised interface with fitness and yoga and astro-science experts. Others have private meditation rooms that can be customised according to a person's planetary position, by playing appropriate mantras and colour lighting and vedic chants for activating positive energies.


spas near you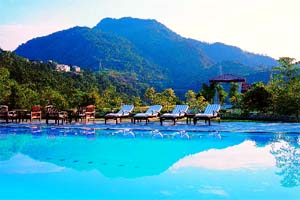 Ananda, Rishikesh
Price: Rs 33,082 to Rs 40,537 per night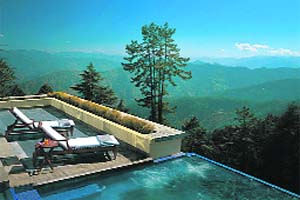 Wildflower Hall, Mashobra
Price: Rs 26,000 to Rs 66,000 per night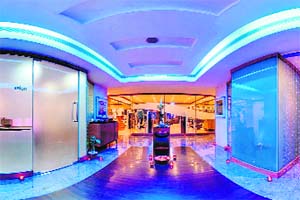 Radisson, Noida
Price: Rs 6,999 to Rs 12,999 per night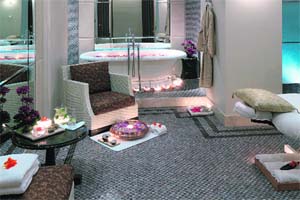 Umaid Bhawan Palace, Jodhpur
Price: Rs 31,500 to Rs 41,000 per night
Pamper yourself
For those who want to shed kilos, there's usually a fully equipped fitness club and a yoga and aerobic studio. Most have an aqua aerobic pool for aquatic exercises. There's the jacuzzi and a heat treatment suite with sauna and steam. There are also body wraps and body scrubs.
To pamper, tone and beautify the face and body, these spas offer exclusive treatments, seaweed wraps and hydrotherapy baths, a wide range of facials using fruit acids, pure plant oils, marine nutrients and collagen.
The treatments have three major components — water, massage and mud. The water maybe drunk, bathed in or soaked in the body through a steam bath. Massage can include aromatherapy and underwater jets. In mud baths, one is covered in natural clay that has matured with bacteria and algae to create a biologically active and mineral-rich potion.
Specially treated mineral water and mud stimulate the skin to produce new and healthy tissues. Mineral-enriched water also reduces blood cholesterol. Mud therapy has been shown to activate cartilage re-growth.
Holistic healing
Some spas in leading hotels offer several holistic healing treatments aimed at the globetrotter. These include, the travel recovery massage which, as the name suggests, relieves fatigue from long travel. Then there is the shiatsu massage, a traditional Japanese therapy using acupressure, compression movements and stretching. The lomi-lomi Hawaiian massage uses a combination of long and broad strokes along with rhythmical rocking.
In a new trend, couples keen to de-stress and spend a relaxing weekend or afternoon together frequent these spas. This, in part, because spas are health rather than beauty-oriented and so hold an appeal for both sexes.
According to Vijay Ahuja, director of Oriental Wellness, a newly opened spa in New Delhi, "Places like ours cater to those who don't have the time to take off to Kerala for herbal therapy treatment but still wish to avail the benefits of one. They cater to one's inner health and mind-calming."
Says Preeti Butalia, a tour operator, who is an annual member here, "I first go for an invigorating aroma oil massage, followed by steam and I follow it with a jacuzzi for a jet blitz. This routine destresses me completely."
Cost of de-stressing
The bad news is that spas come at a cost. A full day at one of these places could cost a minimum of `2,000, besides the services one avails of. You can also opt for membership where you would pay a yearly amount starting at around `50,000. But there are again plenty of schemes to choose from depending on the amount of money you like to spend.
"To help understand the high perceived cost, think of it as employing your own top class personal trainer, maid, chef and beauty consultant," says Ahuja.
That's why, for those who can afford it, a visit to the spa is surely an experience worth cherishing. The soothing ambience enriched by the smell of aroma oils, soft music, dim lighting and warm towels makes one feel completely at ease. Some spas also offer health cafes where most of the food has to pass the strict muster of a trained dietician.
"Spas are ideal for people who have high-powered and stressful professions. They demand no deadlines and promise complete relaxation," says Ahuja, who calls them the new fitness mantra. He adds, "They are not just about fitness and herbal treatments. Visiting a spa means taking time out for yourself, listening to the sound of your heartbeat and enjoying your inner peace."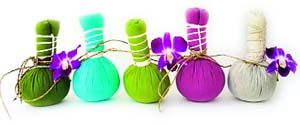 A new concept overseas is a Spa at Sea offered by leading cruise companies. Which in effect means that you take a spa vacation on the sea. Here the spa is not just one of the many experiences to enjoy while on a cruise but the cruise is in itself a giant floating spa.
The luxury floating spa that usually has relaxation rooms, state-of-the-art thermal suites, solariums, Persian gardens and Turkish baths. There are spa consultants and nutrition experts and dedicated spa cafes with a selection of healthy foods. These cruises offer a host of exotic treatments ranging from oxygenating facials, detoxifying seaweed wraps, aromatherapy and reflexology massages as well as Chakra Stone therapy, bamboo massage and Thai poultice massage. Everything a spa enthusiast can dream of, including a health-focused restaurant.
There are specially designed spa cabins to create a Zen-like experience. Cruise passengers have free access to thermal suites and exclusive in-cabin treats. If you want, you can spend nearly your entire cruise wrapped in the relaxing spa atmosphere. A spa at sea is one of the most exotic and invigorating experiences.
Sitting in a floating ship, you can see the wonderful sweep of the sea with the waves swaying you gently even as the therapists uses medicated oils and herbal pastes to gives you a relaxing massages. Paradise is so near. Well, almost!
Club: A facility whose primary purpose is fitness, which offers a variety of professionally administered services like beauty, wellness and relaxation programmes. But it has no overnight accommodation.
Destination: Spas with overnight accommodations and usually offering multi-day, all-inclusive programmes, including exercise classes, body treatments, mind-enrichment and stress-reduction activities and special cuisine.
Holistic: Spas focusing on alternative healing methods and nutrition, mainly vegetarian or macrobiotic holistic healing. Such spas claim that these aim for a 'high level of wellness,' integrating body and mind in a higher consciousness.