Plagiarism in research a threat to excellence
Harender Raj Gautam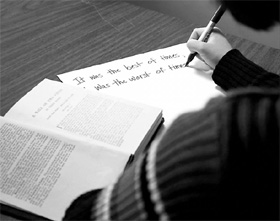 TODAY India's research output is declining both in terms of volume and quality. Its research output was just 3.5 percent of global research output in 2010. In our country, the allocation for research is only about $8 million in comparison to about $250 billion in the US and $60 billion in China. Consequently, the students are loosing interest in pursuing research for the higher degrees as enrollment for Ph.D or M.Phil degrees has tumbled down from 0.44 in 2009 to 0.34 per cent.
India awards only 5,000 Ph.D degrees in science in a year, whereas there is need for producing more than 25,000 degrees. On the other hand, China is producing more than 15,000 Ph.D degree holders in a year. India has 119 researchers per million of the population, compared to 1,564 in China, 2,706 in the UK, 4,605 in the US and 6,807 in Iceland. Even in terms of the number of researchers per 1,000 people employed, India, with 24 researchers, ranks below China (115), Japan (131), the European Union (231) and the US (324).
The declining number of researchers leads to low output of research. We as a developing nation need more volume and of higher quality of research. As volume of the research output is coming down, research quality is also compromised. Cases of ethical lapses or plagiarism emanating from institutions of scientific research are increasingly being reported.
According to the United States Code of Federal Regulations, "Plagiarism means the appropriation of another person's ideas, processes, results or words without giving appropriate credit." The other common practice of research misconduct is to plagiarise one's own work through reuse of identical or near-identical portions of manuscripts without acknowledgement or citation. Simultaneous or subsequent submission of similar manuscripts with only minor differences and without citation between the manuscripts is unfortunately a rather common practice among authors hoping to acquire multiple publications from a research project.
The basic problem of plagiarism in research lies in the personal integrity of the researcher involved, but there are other factors too that prompt the researcher for resorting to such means. In our universities and other institutes of higher learning, a degree of Ph.D and the publication of research papers have been linked to the career in teaching and research, starting from recruitment to the job, to award of an increment and to various promotions in the career. Therefore, academics try and adopt easy, unethical practices in putting together a research piece. Plagiarism also gives an indication to the systemic failure in higher education, as many institutions in the private sector are plunging into research but without any improvements in academic and research infrastructure.
India does not have a statutory body to deal with scientific misconduct in academia like the Office of Research Integrity in the US. In institutions of higher learning in the US, plagiarism is considered a serious breach of research ethics and if committed intentionally, is considered research misconduct. Plagiarism may result in serious sanctions, including public disclosure, loss of research funding, loss of professional stature and termination of employment.
China has also strengthened its regulatory system to counter the rampant problems of plagiarism and is ready with a new law to clamp down on academic cheating at its universities. Some publishing houses have also taken corrective measures to check this menace. For example, Elsevier, a trusted publisher of science and health information, has created a website, Ethics in Research and Publication, and uses resources such as the plagiarism detection service CrossCheck powered by iThenticate to protect the integrity of literature being published.
In India, in most of the cases, a public/media outcry leads to an investigation either by institutional authorities or by independent enquiry committees. Authors responsible for plagiarism have been given some severe punishments, including suspension, removal and demotion. However, cases of plagiarism are often dealt in ad-hoc fashion, with different routes being followed in different cases and no fixed route has been prescribed to monitor such activities.
In the last couple of years, Panjab University, Chandigarh, University of Pune and University of Madras, State Medical University of Tamil Nadu have taken some tough action against such incidents with future remedial measures to check such practices. In an effort to control increasing cases of plagiarism and low quality research, the All-India Council for Technical Education is going to launch Project Factory, an online repository aimed at capturing abstracts of all postgraduate projects.
Also, all the universities should come forward to be part of the University Grants Commission's (UGC) national repository for Indian Electronic Theses and Dissertations. A committee set up by the UGC has suggested that every university should upload research abstracts on its website. But it is impossible for an individual to look through 500-plus university websites. There should be one all-India portal for this purpose.
Today softwares are available in the market which can help to deter the people from indulging in malpractices. Turnitin is one such software, which is successfully used in global universities. The software can go through huge databases to identify plagiarised portions of a work. But such softwares are available in English only, and we need to create databases for the research done in other languages in our country. In this context, there is need to create awareness and come up with a set of clear guidelines to maintain academic integrity. This serious issue needs a long-term solution, and the establishment of an independent ethics body can be a lasting solution.
The writer is Senior Scientist at Dr Y. S. Parmar University of Horticulture and Forestry, Nauni (Solan)