A big, bossy affair
The stage is set for the latest season of Bigg Boss. While there are models, actors and singers, our eyes will be firmly fixed on our very own star — former cricketer Navjot Singh Sidhu

Who are they? Where have they come from? Do you know them? Are they the true-blue celebrities or just the ones suffering from 'me-too-a-celebrity' syndrome? There is a parrot, a fish, a Sana Khan, a Sayantani Ghosh, models Niketan Madhok and Karishma Kotak; introduced to the public by Bigg Boss all in a bid to create 'somebodies' out of 'nobodies.
STAR POWER: Salman Khan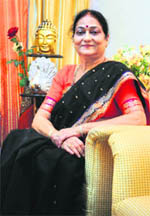 success mantra
A prayer called dance
Art, administration and family, known danseuse Shobha Koser has handled different facets of life beautifully. One of the leading proponent of Jaipur Gharana of kathak, her performances have got standing ovation around the globe. Having started in her childhood, till date, well in her post-retirement age, she is as passionate about her craft as ever, "One can express the inner self beautifully in kathak and it is simple enough for viewers to understand as well," says Shobha, who is busy propagating traditional Indian fine arts at the Pracheen Kala Kendra. She shares her success mantras.

STEP WISE: Shobha Koser

Together forever
Former WWE wrestler Stacy Keibler has reportedly moved in with actor boyfriend George Clooney at his Los Angeles home. Keibler, who had spent most of the summer with Clooney at his home in Lake Como, Italy, has now shifted to his bachelor pad, making their friends believe that their relationship has become serious, reported a publication.
Love struck: George Clooney and Stacy Keibler

Zac finds dating tough
Zac Efron may have wooed many a young actress but the Hollywood actor finds dating awkward. The 24-year-old actor, who has dated actresses Lily Collins and Jennifer Hudgens, confirmed that he is regretfully single, reported a publication. "Dating is kind of hard. A forced awkward situation is very strange. Especially for me, for some reason. I like to go and do something adventurous. I like to go out and do some sort of crazy activity," said Efron.
It's a Hat-trick
Nishabd actress Jiah Khan, who was last seen in 2010 film Housefull, has signed a three-film deal with a big production house.
Mumbai calling out to Ileana
Like many of her colleagues from Southern cinema, actress Ileana D'Cruz intends to move to Mumbai after making a successful Bollywood debut with Barfi!, and work towards building a career in Hindi cinema.
Sunny Leone not in RGV's next
Bhoot Returns is yet to release but film-maker Ram Gopal Varma has already started planning the third part of his 2003 film Bhoot.
Parineeti's fashion-noble act
Clad in a beautiful navy blue-orange lehanga, teamed with a deep-cut choli and a heavy dupatta, chirpy and spontaneous actress Parineeti Chopra left the audience applauding and cheering when she walked the ramp for veteran designer Manish Malhotra at the ongoing Wills Lifestyle India Fashion Week (WIFW).
All praise for Milan Luthria
Actress Vidya Balan, who played southern actress Silk in The Dirty Picture, says the movie's director Milan Luthria should be given credit for starting the trend of using southern flavour in the characters and songs of Bollywood.
fashion funda
Step into the comfort zone
The fact that the designers Pankaj and Nidhi presented their collection with Kallol Dutta at the grand finale of the Lakme Fashion Week explains how big they have become. They were applauded for their creations, which were on the lines of lattice work, something that hasn't been done before. Here they share tips on the latest trends this season.
Master Chef
Apple-Dapple!
No dear readers, I'm not indulging in kindergarten gibberish! Apple-Dapple is not toddler-talk. It's actually the name of a popular cake, moist, fragrant and studded with apple chunks! A buttery brown caramel sauce is poured over the cake and allowed to soak in before removing the cake from the pan, it is by far the moistest cake I've ever baked. If you've ever wanted to win someone over through their stomach, this cake is the one!
stress buster
Meditation marvels
We are living in stressful times and are swallowing outrage and frustration caused by unfair situations and irrational superiors. This is because we can't let go of either the situation or the people concerned. In short we can neither afford to lose our job nor can we let go of certain relationships.
TRENDSETTER
Wear your confidence
It is the stylish look that makes one stand out in a group, which may not be 'brand' induced or due to inherent good looks but the attitude which one adopts. It may also be just the smart coordination of clothes which does the trick. Ashmeet Arora, a student of journalism and mass communication, talks of her style quotient—
High Spirits
Cheers to Corbusier
This cocktail called La Corbusier is dedicated to the creator of City Beautiful.
Ingredients
* 45 ml Absolut Citron y 1 tbsp castor sugar y Lime wedges y 10 ml passionfruit syrup y 4-5 mint leaves
* Top with Redbull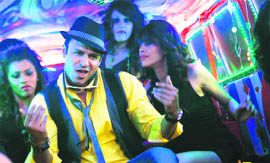 Notes from the heart
Hero se tu kam na lagta
Thara look boy tera killer
Tom Cruise aur Johnny Depp
Tera aage chiller…
…are some lines from the recent song Baith Pajero main that's rocking the charts.
Says composer-singer Santokh Singh, "I love experimenting with genres and languages in my music."

A still from the movie Kismet Love Paisa Dilli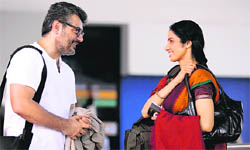 Thumbs up for Sri
The reviews for English Vinglish have been unanimously positive. Meanwhile Kismat Love Paisa Dilli has been trashed. All praise for Sridevi though reviews have said that she looks a tad too thin.
A still from English Vinglish
Nothing serious this time
Richa Chadda has done serious and independent movies like the Gangs of Wasseypur saga. To change her image a little, she is doing a romantic comedy with Neil Nitin Mukesh.
Comic take: Richa Chadda
On a success ride
Rishi Kapoor and Ranbir Kapoor's films that have released this year have crossed 300 crore INR at the box office. Rishi Kapoor was part of Agneepath and Housefull 2 which grossed more than 100 crore INR at the box office and Ranbir Kapoor's Barfi! has crossed Rs 100 crore mark at the worldwide box office! Way to go!
Virtual star wars
Student of The Year actors Siddharth Malhotra and Varun Dhawan have their own pages on social networking sites and are battling it out virtually, as they battle it out for the title and the girl in the movie too! Who will win? Find out on October 19!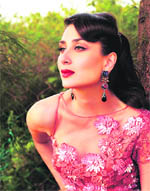 Yet another item
Kareena Kapoor's first release after marriage is Talaash and she will do an item song as well, which she will shoot for after marriage, for the movie Dabangg 2. She will bare her midriff again so she wants to be in proper shape.
Bring it on: Kareena Kapoor
chatter box
Content soul
Samir Soni who plays Kunal in Colors Parichay is happy to play an important role in the show.
How do you look at the leap in show?
It came at a good time as we had brought the story to a point where a leap was a good decision. With a leap you can bring in new elements with the same characters which make for good drama.
The year ahead
If your birthday is October 9...
You will be able to enjoy at the work place. Partners will be emotional and their behaviour will affect the relationship. Concern about the progress of your children will be in your mind. You will enjoy good health. Overall, it will be an above average year. In this phase, the right way to face the situation is to intervene with decisiveness.
Astro Turf
ARIES: Your skills will be noticed by those who matter. Networking will help you build the contacts to further your career plans. You gain insight by looking at truths and listing priorities. Spend time on fitness routines. Tarot message: Don't give up your rights or freedom without consideration. Lucky colour: Saffron. Lucky number: 36