Small wonders
From tutor watches to must-have designer editions, shock-resistant sporty ones to customised toon characters, the dazzling world of children's watches is keeping the market upbeat
Deepa Ranade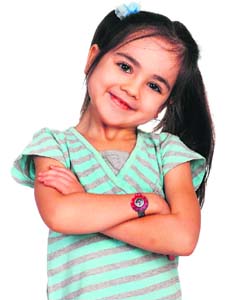 don't be late for your music lesson!' 'Report on time for your swimming practice.' 'Not more than 30 minutes of the PlayStation.' Well, not easy being a child these days! To get the most out of those 24 hours in a day, the child must have a watch to suit his purpose. Glow watch to check time in the dark, water and shock-resistant watch for the sports enthusiast and the delicate designer timepiece for the fashionable young lady. And the children's watch market is evolving and growing 360 degrees.
Exactly 144 years ago in 1868, Swiss watchmaker, Patek Phillipe created the first wristwatch, which opened new vistas for the time-keeping industry. Wrist watches were then worn mostly by ladies, men liked to carry their pocket watches. But soon the wrist watch caught on and the pioneering Swiss watchmakers grew into brands. Spring watches gave way to Quartz, electric and then digital varieties. Wristwatches became a designer accessory — Rolex, Cartier, Morellato, Calvin Klein, Citizen, Seiko, TAG Heuer — such high-end brands acquired an aspirational quality.
However, American clock company Timex (then called Waterbury Clock) was the first to venture into children's segment in the 1930s with their Disney branded Mickey Mouse watches. Timex tasted huge success with this dedicated collection. The trend caught on and children's watches blossomed in amazing variety of vibrant designs, colours, modern materials and attributes.
In India, wrist watches were the coveted coming of age prize. You got a golden HMT watch as you cleared your board examination.
"But the children's segment is still the most neglected. It is in fact non-existent," comments Mr Waghmode, a veteran watch retailer in Mumbai.
Indian watch company Titan launched Zoop watches exclusively for children. But this range hasn't caught on with the customers. "There are too many disposable, non-branded watches available in the market, so who would want to invest in an uninspiring design of Zoop?" asks Waghmode.
Also the liberalisation of the market has brought home a huge range of imported brands of children's watches. Online marketing offers added variety of brands and the ease of shopping. There is so much to choose from for your little ones. The tantalising variety of children's watches is like Ali Baba's cave.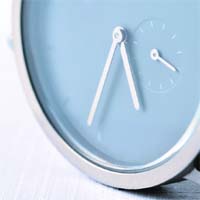 Quality or price. Plastic, resin, gold-plated and stainless steel straps. Digital display or the analogue watch. Shock and water-proof. Toony or trendy, while buying a watch for your child, there is a mind-boggling variety. Following are some tips that can make your watch shopping easier:
Lifestyle
When buying a watch for children, first consider lifestyle — durable or dressy, sporty or stylish — depends on what your child is like. A dancer would like a decorative watch while a footballer would go for a sturdy sporty one.
Age & gender
Girls often like dainty, decorative watches. Pink and flowery — that's them. Boys go for their fave toons — Spiderman, Hulk or Batman. They like sports watches with hi-tech features. Try the tutor watches for four to six age group.
Strap & the face
Metal, leather, rubber, Velcro or the latest silicone variety - straps add value to the watch. The face of the watch could be big for boys and beginners. For young girls, the face could be smaller. Time now for trying out dials and straps in exciting colours.
Water and shock-proof, indiglow
If your kid is a swimmer or a footballer, go for these features. For swimmers, water-resistant watches up to 50 or 100 metres are recommended. The glow can help them see time in a movie hall or a dark room.
Right price & brand
No price is too big and no watch too small for the apple of your eye! Whether you want to pick a great deal on tele or net shoppe or go scouring stores, depends entirely on how much you are ready to shell out. That will help you pick your brand.
Brand Wagon
Kids watch market is flooded with brands, the leading ones are
Swatch Little Idiot
Swatch recently joined musical artist, DJ and producer, Moby, to produce a limited edition watch Little Idiot, available in a limited edition of 7777 pieces and comes with the prints of Moby's hand drawn 'Little Idiot' character, which has cropped up in much of his music now appears on Swatch watches, giving it a new context. Quirky and clean, this range is for the creatively inclined. And, of course, a collector's item.
Price: Euros 75 (Rs 5,175)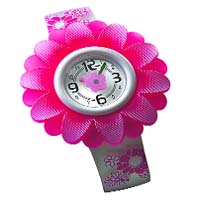 Titan Zoop
India's only kids' watch brand Zoop by Titan, is targeted at kids aged between six and 10. Colourful and affordable in the range of ~300 and ~1000, it has a variety of appealing designs for boys and girls. This pretty pink model has a round dial surrounded with a decorative floral pattern. The comfortable strap is made out of plastic and has large floral prints. It is both practical and good-looking and provides a safe and non-irritating wear for long hours.
Price: Rs 425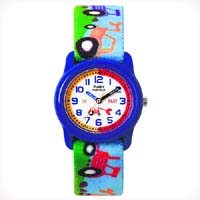 Timex Analog Construction
With a legacy of more than 150 years, Timex was the first brand to venture into children's segment. The Timex Kids Analog Construction from its youth collection has night glow Indiglo, washable elastic fabric strap and a rotating graphic as second hand. The acrylic safety crystal quartz analog watch is water-resistant to 30 metres. Young boys will love this watch.
Price: $23 (Rs 1,265)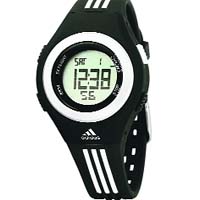 Adidas Mini
Adidas was founded in 1948 by Adolf Dassler in Germany. The sports brand diversified into watches that are durable, pocket friendly and fashionable. Their children's catalogue is not vast but it has a big following. This sporty-look watch in black, set around an LCD display with high-visibility numerals fastens with a sturdy branded strap. A champ's watch.
Price:£18 (Rs 1,566)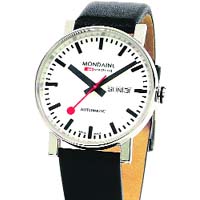 Mondaine Evo Big Date
The iconic Mondaine is considered to be affordable luxury. This iconic brand, which has been crafting timepieces of high quality materials, has an exclusive range of kids' watches. This model has the traditional analogue displaying white dial, synthetic leather belt and a buckle clasp. With a water resistance of 99 feet, it can withstand rain, splashes of water, and short recreational swimming. An ideal gift for boys, who are non-fussy, with a pragmatic bent of mind.
Price: £165 (Rs 14,355)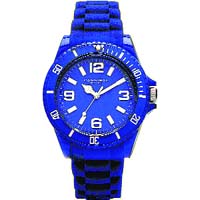 Cannibal Kids
The reliable and robust range of Cannibal kids is meant for school as well as play. It has special tutor watches with clear dials and instructions, making it both fun and easy for children to learn how to tell time and read a watch. Splash proof, water proof, sporty and fun - the range of Cannibal watches are gaining great popularity. This rubber model is available in blue and pink with analogue display and water resistance up to 165 feet.
Price: £19.99 (Rs 1,740)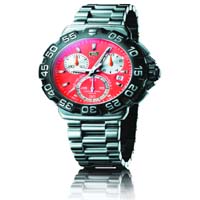 TAG Heuer Formula 1 Chronograph
This Swiss brand has been the official timekeeper of the three Summer Olympic Games of the 1920s and the Formula One World Championships. This high-end brand has a small teen range. This model with red hot dial has luminescent hands and markers, besides titanium carbide-coated unidirectional bezel and three rows of fine-brushed stainless-steel bracelet with diving extension. A young man's prized possession.
Price: Rs 79,000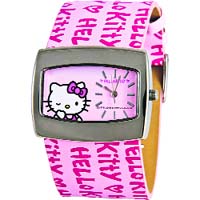 Sanrio Hello Kitty
Hello Kitty watch is the ultimate in chic design for the style conscious female. Even the employees of the Sanrio store in New York's Times Square must address the company mascot, "Hello, Hello Kitty," and under no circumstances just, "Hello, Kitty." The Sanrio Hello Kitty graffiti watch has a dramatic wide leather-feel strap with double clasp wide and wide analogue face make this time piece a must-have fashion accessory.
Price upon request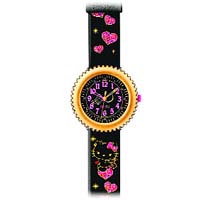 Swatch Flik Flak
Swatch, which owns several Swiss brands like Omega, Rado, etc. has a dedicated children's range of watches, the Flik Flak. The Hello Kitty Devilish model from Flik Flak is a hot catch. This limited edition has only 20,000 of these scuba-style timepieces geared to children aged eight and above. With synthetic leather straps embellished with 'Hello Kitty' in Gothic type and Kitty with the devil's tail, this watch is machine washable in fabric net.
Price: £50.05 (Rs 4,400)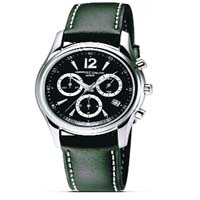 Frédérique Constant Junior Black Dial Chronograph
Frédérique Constant, the premier Swiss brand, prides itself in its high quality, differentiation and precision in design and manufacture. It has recently introduced an exclusive range of timepieces for young gentleman from 12 to 16 years of age. This elegant, black watch has a calfskin strap and water-resistance up to 165 feet. That it is well-suited for swimming, skiing and parachuting makes it the choice of a fashionable, sporty young man.
Price: £630 (Rs 54,810)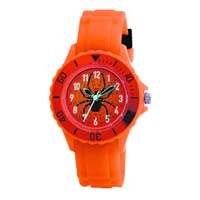 Tikkers Spider
These watches are just for kids. Boys' watches have camouflage dials, pirate faces or cross bone motifs. Girls' collection has hearts, bows, butterflies and all things pretty. This eye-catching orange watch has analogue display and a tuneable bezel and the dial features numeral hour markers and a creepy spider good enough to scare away the weak-hearted.
Price: £14.99 (Rs 1,300)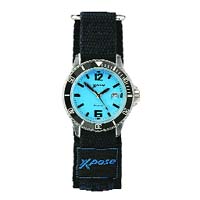 Sekonda Xpose
The Soviet watch company, Sekonda, which was launched in 1966, went on to become the leading watch brand in the UK. Their Xpose line is just for children. With big, round dials, surrounded by wide crenelated bezels marked in five-second intervals, wide Velcro strap — it's very child-friendly. This casual Sekonda Xpose watch with a blue and black fabric strap is lightweight and water-resistant up to 165 feet, making it a perfect buy for the sporting ones.
Price: £24.99 (Rs 2,175)
Ice Aber Blue Ice-Love
It's super cool to own an Ice, says 11-year-old Vikram. The biggest rage in the UK, currently, this brand blends traditional style with modern materials and funky designs. Available in a range of bold colours, this blue dial with enamel dial and silicone strap is sporty as well as showy. Its water resistance offers freedom to swimmers. With an acrylic crystal dial that is resistant to shallow scratches, this is low on maintenance. Coming soon, a new range - Ice Tic watches.
Price: £ 80.75 (Rs 7,025)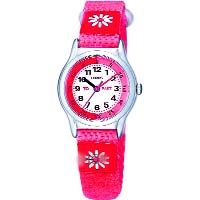 Seiko Lorus Digital
These watches are created by the Seiko Watch Corporation and introduced in 1982. Lorus' kid's selection makes the perfect first watch for a youngster because Lorus never uses nickel in their watches. Lorus has anti-magnetism protections built into their watches for telling accurate time. This pink sleek and smart white dial watch makes an ideal gift for any girl. Water resistant up to 100m and with a two-year guarantee, it is sure to last the test of time.
Price: £16.99 (Rs 1,000)
Lego Make 'n' Create
Eighty years ago in Denmark, Kirk Christiansen, a master carpenter, started a toy company Lego. Wooden toys soon graduated to plastic injection-moulding machine to make toys. The Lego brick also lay foundation of the colourful make'n'create watches . This fun model, with a water resistance up to 165 feet, engages children in assembling their own combination of colours of the strap, hardy and vibrant.
Price: £ 15 (Rs 1,300)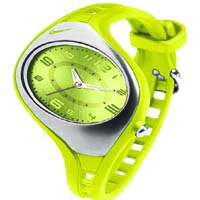 Nike Triax Roar
The US-based sports brand, which is named after the Greek goddess of victory, Nike offers a range of watches as sports accessory designed to suit an active lifestyle. This twisted-looking dial with quartz movement is available in attractive bright plastic straps — yellow, red, lime green, purple and aqua blue — it's a style statement of a sport lover. Water resistant to withstand regular swimming and high altitude trekking, this Nike watch will inspire the wearer to 'Just do it'.
Price: $80 (Rs 4,400)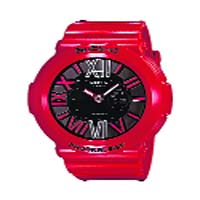 Casio White Candy
In 1946, Casio took off with Tadao Kashio, an innovative engineer's calculators. Casio pioneered calculator watches. They were one of the first watch companies to manufacture the now-famous quartz crystal watches. They shot to fame with their timepieces with high-tech features at affordable prices. In the children's section, this playful range in pristine white with pink candy motifs and analogue display with three hands is attractive for young girls.
Price: $55 (Rs 3,025)
Exchange rate
1$ = INR 55
1£ = INR 87