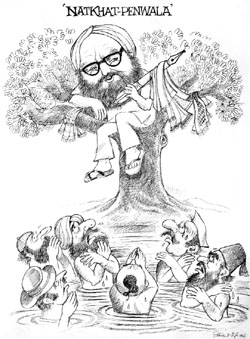 No full stops for this Sardar
A salute to Khushwant Singh, still naughty in his nineties, for adding to our humour quotient. He manages to make us chuckle, smile, guffaw and often break into peals of laughter
Nirupama Dutt
Santa said to Banta, "I have invented a new kind of computer which behaves like a human being"
"In what way?" asked Santa. "Whenever it makes a mistake," replied Banta, "it blames other computers."
Our well-loved Santa and Banta owe a lot to the bespectacled sardarji, with his untidy turban, sitting in a bulb and scrawling through sheets of paper every day: Khushwant Singh, of course. He made the Santa-Banta jokes popular indeed by carrying them as a tailpiece in his weekly columns and then compiling them in best-selling books that adorn the kiosks at bus stands and railway stations.
---
Arts


Powerhouse music
North India hosted Sunburn Noida, Asia's largest electronic dance music festival. It saw the finest and world's most sensational house music, trance and techno tunes by some of the world's greatest artistes
Saurabh & Gaurav
Electronic Dance Music (EDM) is categoried by fans as an ever-evolving plethora of named genres, styles and sub-styles. Though the term Electronic Dance Music is relatively new, electronic music has been around for decades, first gaining popularity through influential early acts like Kraftwerk in the 1970s. So what accounts for the recent rise of EDM? Many renowned DJs credit the new avenues of spreading the genre that has cropped up in the past few years.
---
Sports


The last hurrah
Michael Schumacher, the seven-time World Champion, will retire after the current season
Vaibhav Sharma
Greatness in sports is measured on many parameters. Ability, vision and consistency - all these factors ultimately contribute to turn ordinary people into icons. But as many of these champions will tell you, starting something on the right note is different, and ending it on an equally sound note is totally different experience altogether. A career can be studded with moments of glory, punctuated with heroic acts, but to be able to end it on the right note, it turns out, is most important, after all.

Another flop show
The failure of the top batting order and some blundering bowling mistakes were responsible for India failing to find a spot in the semifinals
M. S. Unnikrishnan
India is deemed as the hub of Twenty20 cricket. But for the third consecutive T20 World Cup, Mahendra Singh Dhoni's boys have failed to crack the semifinals code. Though India won four of the five matches in the latest edition of the T20 World Cup in Sri Lanka, they went wrong in their arithmetic and gameplan to run aground, on the basis of a lower net run rate, compared to Pakistan and Australia, in the last Super 8 league match.
---
Society


Men as victims of domestic violence
Abuse at home is perceived in gender-specific terms in India and only women are seen as victims. Men who complain of being attacked at home or harassed by their wives are often ignored and discriminated against by police who believe that women are the real victims
Nivedita Ganguli
The Protection of Women from Domestic Violence Act, 2005, was enacted to shield married women from being abused in the confines of their homes. But it is increasingly being used by devious women with extortionist tendencies to torment their husbands and in-laws, claim members of Save Indian Family (www.saveindianfamily.org).

Prehistoric artists used the cartoon effect
Archaeologist Marc Azema of the University of Toulouse-Le Mirail and artist Florent Rivere have reported their findings after 20 years of researching Stone Age animation techniques, A new study of cave art across France suggests prehistoric artists used cartoon-like techniques to give the impression that their images were moving across cave walls. The research claims when the images, in which animals appear to have multiple limbs, heads and tails, are viewed under the unsteady light of flickering flames they can appear to move as the animals they represent do.
---
life
Time to harness Shakti
Pushpesh Pant
N

avratri

literally translates as 'nine nights'. The prefix nava also suggests 'new' beginning. Navratri, as a matter of fact, includes Dasehra (Vijayadashmi) and stretches to full 10 days. In Kulu and Mysore, Dasehra is the climax. It marks the end of pitripaksha (period of shradh), the fortnight reserved in the Hindu calendar to remember and honour departed ancestors. Having done our duty and bid farewell to past, it is now time to celebrate the present moment and look to happy tidings in future. The weather is just right for festivities and feasting.

Sweet treat
Nobin Chandra Das invented the rosogolla. After persistent efforts through trial and error, the much-loved mishti was born in 1868
Ranjita Biswas
It is one of the busiest intersections in Kolkata, commonly called Dharmatolla, in the heart of the city where major roads and tram tracks intermingle. The premises of K. C. Das, the famous sweetmeat shop round the corner at Esplanade East, are teeming with people.
---
Entertainment


Living her dream
Gauri Shinde's debut film English Vinglish has received much critical acclaim. The film also sees the return of Sridevi to the big screen
Surekha Kadapa-Bose
Like most ad filmmakers, Gauri Shinde, too, had dreams of making a feature film some day and shoot the same in New York. The debutant director's dream has been realised with her maiden feature film English Vinglish, starring former diva Sridevi.

India shines at Mumbai fest
Many first-time directors will get an opportunity to showcase their films at the 14th edition of the Mumbai Film Festival, which is known for high-quality films
Ervell E. Menezes
The Mumbai Academy of the Moving Image (MAMI) or the MAMI film festival as it is popularly known as, will take place at the National Centre for the Performing Arts and Inox cinema both at Nariman Point from October 18 to 25. This festival, known for its high-quality films, is in its 14th edition and the competition section will be open to films by first-time directors.
---

FRUIT FACTS