Rooted yet flying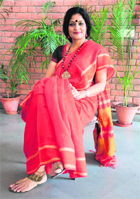 Without a doubt acclaimed Bharatnatyam dancer Geeta Chandran, with a dimple in place, is a beautiful woman. But once she gets talking, her striking good looks move into the background, it's her sharp incisive mind and clarity of thought that holds your attention. Indeed, her big eyes still say a lot… but speak in a language of passion and abiding commitment to her muse. As she stands as a bridge between tradition and contemporary, often between different art forms too, she echoes the words of renowned dancer Yamini Krishnamurthy, "You take a handful from the river of tradition and offer it back."

following passion: Geeta Chandran

The culinary king
As he recounts his gastronomical journey, every instance from the past stands witness to his love for cooking. Celebrity chef Rakesh Sethi comes calling to Chandigarh, on Sunday, to promote his latest outing as a mentor to Spark Punjabi's Big Punjaban participants. Says Rakesh, "I basically belong to Delhi, but for the past two years I have been residing in Mumbai. Cooking has been a part of my life since my childhood days."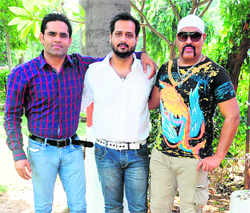 A new beginning…
Punjab and its youth caught in drug snare has troubled young director Gaurav Sharma time and again. His second Punjabi film, announced on Sunday, Inquilab 2012 deals with the same theme. Having worked on the subject in his previous film Sapolay, Gaurav has been wanting to address the issue in a full fledged movie. With Inquilab 2012, which goes on floor on October 20, he fulfills his dream.



Coming soon: (L-R) Rajinder Marshal, Gaurav Sharma and Jazzy Loharia

Evil designs
The God of Oh My God got lucky. He didn't have to wear the heavy metal jewellery to affirm his status as God. He got a relief from huge headgear, curly, shoulder length, unkempt hair and flowing outfits.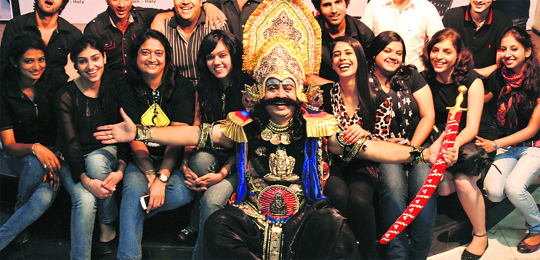 Bling it on

: Sunil Sharma with student designers
Gujarat at your door step
Gurjari, on at Lajapat Rai Bhawan -15, brings a fabulous range of handlooms and handicrafts of Gujarat to Chandigarh. From typical bandhani saris to colourful puppets, it brings the culturally rich state alive. At the very entrance is a heavy brass statue of Ganesha (only Rs 1,07, 000), though the range of brass knick knacks starts from Rs 70.
get physical
Set realistic goals
Aerobic exercise is believed by many scientists to be the single best predictor of weight maintenance. You can even lose weight without exercise by reducing your caloric intake, but it takes a regular dose of exercise to keep your weight off. Somewhere between 30 to 40 minutes of moderate intensity exercise five days per week is probably the right way to do.
star track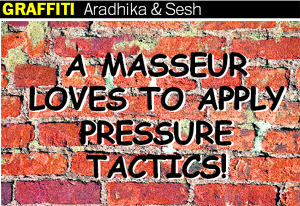 Walk the talk
The wedding planner
Net loss
Yash Chopra down with dengue
'Bookies' of B-town
The world's a stage…
Festive timing
Jessica Alba refuses to strip
Couple of gifts
chatter box
The best in the list
When love threatens...
Getting the steps right
Mind over money
A modern twist
Tough time for Karan