Gadkari usurped M'rashtra farmers' land: Kejriwal
BJP chief trashes charges, party rallies behind him
Vibha Sharma
Tribune News Service


Gadkari- Ajit Pawar 'nexus'

Rules were bent by the Maharashtra Government, particularly scam-tainted former irrigation minister Ajit Pawar, to benefit Gadkari


Vast tracts of land were acquired from farmers to build a dam in Umred taluka in Nagpur and excess land that should have been returned to farmers was given to Gadkari following Ajit Pawar's intervention


The Maharashtra Government, which had rejected in 2002 the farmers' demand for return of excess land, decided to give it to Gadkari within days of his request in 2005
New Delhi, October 17
Seeking to dispel the widely held impression that India Against Corruption was aligned with the saffron party, activist-turned-politician Arvind Kejriwal today unleashed an offensive against BJP president Nitin Gadkari. Gadkari rubbished the charges as baseless.
Accusing Gadkari of grabbing farmland to promote his business interests in Maharashtra, Kejriwal alleged a quid pro quo, this time between the BJP and the Congress-NCP government in Maharashtra.
Kejriwal charged Gadkari with being hand in glove with Nationalist Congress Party (NCP) leader Ajit Pawar to promote his business interests and said political parties across the board were involved in "cozy" relationships even while they ostentatiously raised issues against each other to "fool the public". The IAC leader asked Gadkari to specify whether he was a trader or a politician.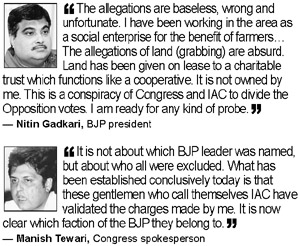 Still recovering from the Kejriwal onslaught against Congress president Sonia Gandhi's son-in-law Robert Vadra and senior leader Salman Khurshid, the Congress saw this as an opportunity to redeem some lost ground and demanded Gadkari's resignation from his post as BJP president.
The second big expose by the IAC saw an immediate response from BJP's top leadership. Describing himself as a "social entrepreneur", Gadkari claimed absolute innocence. "I work as a social enterprise for the benefit of farmers and poor people. They (IAC) have tried to malign me for their political interests," he said.
Top party leaders — Sushma Swaraj, Arun Jaitley, Ravi Shanker Prasad and Prakash Javadekar who had got together in advance to formulate their strategy — termed the allegations as baseless and accused Kejriwal of trying to further his own political career.
"The IAC has damaged the credibility of all civil societies of the country," Jaitley said.
"We are happy that they could not dig out any dirt against our party president," Swaraj added saying that no comparison could be made between allegations against Vadra and Gadkari.
Kejriwal's main accusation was that Gadkari received personal favours by getting around 100 acres of agriculture land in Maharashtra with the help of the Congress-NCP government.
Specifically alleging a quid pro quo between BJP and the Congress-NCP government of Maharashtra, he said that Gadkari and his party maintained "silence" over various issues of corruption like the irrigation scam surrounding the Maharashtra Government.
Pawar, incidentally, was forced to quit last month after allegations of a Rs 70,000-crore irrigation scam.
Aided by lawyer Prashant Bhushan and another IAC activist from Maharashtra Anjali Damania, Kejriwal claimed that rules were bent by the state government, particularly scam-tainted Pawar to benefit Gadkari.
He claimed that vast tracts of land were acquired from farmers for building a dam in Umred taluka of Nagpur district and excess land that should have been returned to farmers was given to Gadkari and his company following Pawar's intervention.
"Gadkari is not a politician. He is not in politics. He is using the BJP to increase his business interests. Now, the party has also amended its Constitution to give him a second term as president," Kejriwal claimed.
He said Gadkari had a big business empire with interests ranging from power to sugar to ethanol. "That is the reason why he did not wish to raise the issue of corruption in irrigation dams in Maharashtra," he said.