The enemy lurking within
Reviewed by Balwinder Kaur


Roll of Honour
By Amandeep Sandhu.
Rupa Publications.
Pages 237. Rs 275.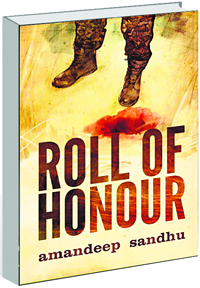 The course of Appuís life was clear cut. For six years he had followed the rules, toed the line and carefully walked the tightrope between being a teacherís pet and popular student hoping to be school prefect. This would be followed by his successful entry into the NDA and, finally, he would be an officer in the Indian Army. But this was the summer of 1984 and in the wake of Operation Bluestar all of Punjab was in a state of barely controlled chaos. The air was thick with anger, fear, resentment, propaganda and confusion. People were forced to pick sides and community and nation were no longer one.
Even in the highly controlled environment of his military school in Jassabad changes had occurred. Everything was hastily reordered; friendships, values, allegiances, prerogatives and hierarchy. Facts, rumours and hearsay divided them. The rules had changed and the system began failing him in more ways than he could count. His life began slowly devolving into a fugue of confusion and disorientation. Conflicting viewpoints of authority figures, both at school and at home, further undermined his confidence in others and himself.
Then trouble arrived in the avatar of Balraj, the former school prefect and idol who had become a wanted criminal and what bad tidings he brought with him only darkened the horizon. The raging hormones of adolescence, coupled with the need to rebel, and the sheer complexity of male relationships meant that tensions ran high and aggression saturated every cell; a storm was brewing. The aftermath of which remains unbearable to Appu to this day. The trauma which broke him; and remade him into an unrecognisable twisted version of himself. And for twenty-five years, he ran with the past heavy around his neck.
Roll of Honour by Amandeep Sandhu captures the volatile atmosphere in Punjab post-Operation Bluestar. Set in a testosterone-saturated, hyper-masculine bastion that emasculates many of its residents. The account feels intensely personal with a raw visceral quality. Analysing the difficulty of finding identity within the confines of a strict institution in a time of major political unrest while coping with heteronormative masculine roles of honour, pride and merit. He also explores and deconstructs these ideas of masculinity, the fragility of these contrivances and the ultimate toll these unliveable standards take on the individual.