Ifs & butts
As every other actress worth her salt seems to be puffing away on screen, is she defying or reinforcing stereotypes about women who smoke?
Nonika Singh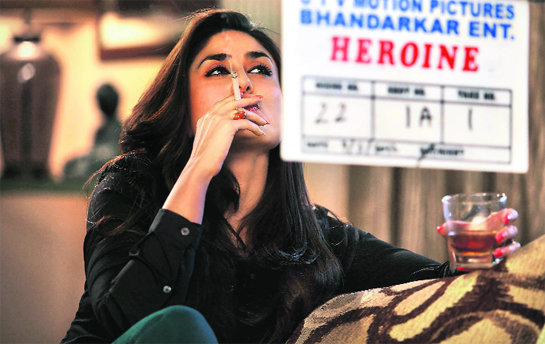 Kareena Kapoor on the sets of Heroine
Ina key scene in Heroine, one of the female characters essayed by Shahana Goswami asks the lead protagonist Mahi Arora (Kareena Kapoor) while lighting a cigarette and offering her one. "Tumhara brand nahi hai….ya chhup ke peeti ho…" suggesting that all women in the film industry smoke. Women and smoking… well once they were as disparate as chalk and cheese. But not anymore. Neither in real nor reel life.
---
Arts


Palaces on the move
The tents and furnishings in Mughal courts reveal the presence of a flourishing, and highly specialised, industry dealing exclusively with creating and maintaining those remarkable structures
I never cease to be amazed at the range and the density of detail in the records that were kept at some of the courts and other establishments in Rajasthan. In these royal orders jostle with diplomatic correspondence, the accounts of receipts and payments compete with daily diaries: many of them going back to hundreds of years.
---
Sports


The men, the machines and the madness
They are back again as the second edition of the Formula One Indian Grand Prix kicks off on October 26
Vaibhav Sharma
I

ndian

sport has often been accused of being one dimensional. The love, passion and numbers it throws at a sport like cricket are nowhere to be seen in any other sport. So how does any sport that wishes to find its feet in the second most populated nation in the world come around? If you are looking for answers, just turn the clock back to a year and look at the inaugural Formula One Indian Grand Prix. It was hailed, across the globe, as a massive success. And it announced the arrival of one of the most eagerly awaited moments in India's sporting calendar.

Force's India connect
Force India pitch themselves as an Indian team. While that is a smart marketing move, not to discount the fact that they are owned by Indian business tycoon Vijay Mallya and the team also holds an Indian licencse, but they are based out of the Silverstone circuit in the UK.
---
Society


Make the camera fall in love with you
Mriganka
I

ronically

, while everyone wants to look perfect for a wedding, because of the high level of excitement and hustle and bustle, one ends up looking hassled and an advertisement for the rumpled look. As far as wedding photographs are concerned, a bit of care can go a long way. You have seen celebrities pose, pout and look picture perfect.
---
travel


Valley of wine
Rajnish Wattas
A

nyone

who has seen the famous Hollywood films Bottle Shake and Sideways would recall the enchanting world of chardonnays and pinot noirs, lush-green vineyards, old wineries and tasting sessions set in California, USA. All this becomes possible in real life if one visits the famous Napa Valley. It is located close to San Francisco, just 50 miles northeast of the city, enabling a convenient day trip.

Luxury on wheels
Anew luxury train, which will cover tourist destinations in three states, started its maiden journey from Safdarjung railway station in the capital Sunday. "Royal Rajasthan on Wheels" — touted as India's most luxurious train — is a joint venture between Rajasthan Tourism Development Corporation Ltd (RTDC) and the Indian Railways.
---
Entertainment


3D bug bites Bollywood
With a number of 3D films flooding the markets, here's an attempt to unravel the mystery of the third dimension and understand if it is the future of Indian cinema
Deepa Ranade
A

s

grand and as glorious as it gets — that's the mission 3D cinema experience strives to achieve. "When handheld appliances are becoming so savvy, the theatre-going experience has to be value for money," says Merzin Tavaria, the co-founder and chief creative director of Prime Focus, the only company that converts 2D films into 3D in India.

For the love of good cinema
Private cinema houses are doing what national film board has not been able to do. They are bringing off-beat, quality films into the Indian market
Ervell E. Menezes
What's in a name, you may say echoing the sentiment of the great Bard of Avon and yet PVR, these three initials have come to represent quality cinema, films that might not have found their way to India. And this is because it is run by those who are deeply fond of cinema.
---

FRUIT FACTS