Ifs & butts
As every other actress worth her salt seems to be puffing away on screen, is she defying or reinforcing stereotypes about women who smoke?
Nonika Singh
Ina key scene in Heroine, one of the female characters essayed by Shahana Goswami asks the lead protagonist Mahi Arora (Kareena Kapoor) while lighting a cigarette and offering her one. "Tumhara brand nahi hai….ya chhup ke peeti ho…" suggesting that all women in the film industry smoke. Women and smoking… well once they were as disparate as chalk and cheese. But not anymore. Neither in real nor reel life.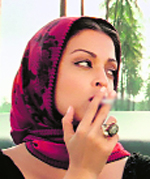 Aishwarya Rai in Guzaarish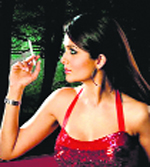 Amrita Arora in Red-The Dark Side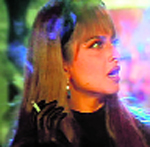 Rekha in Khiladiyon ka Khiladi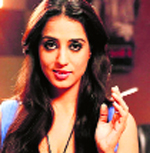 Mahie Gill in Ut Pataang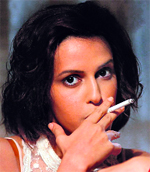 Neha Dhupia in Siskiyan
Decades ago only vamps smoked. Then came Zeenat Aman and Parveen Babi. They not only lit the screen with their voluptuous presence but also with chillum and cigarettes in their hands epitomised the new Bohemian woman. Today as every other actress worth her salt seems to be puffing away on screen, is she defying stereotypes about women who smoke? Or are merely perpetuating the stereotype — good girls don't smoke and bad ones do. So there it is Rani Mukherji as the gaali-spewing firebrand in No One Killed Jessica, Vidya Balan in the biopic on Silk Smitha in Dirty Picture is raunchy and bold…so could smoking be far behind? And more recently in Heroine more than one female character is shown smoking away to glory.
While the Health Ministry and the filmmakers have repeatedly been at loggerheads over the portrayal of smoking scenes in films, the new onscreen smoking reality now includes women too. According to a study 87 per cent Hindi movies show onscreen smoking and 26 per cent have a heroine who smokes. Not that the Censor Board was any less stringent towards Kareena's smoking scenes. Not only did the film get an A certificate but also came down heavily on the cigarette brand the film was trying to promote.
In fact, ever since the former health minister Anbumani Ramadoss got into a hyperactive mode and banned smoking in public places the Health Ministry and film industry have been sparring with each other over the issue of smoking scenes in films and battle lines have been clearly drawn. In 2006, India became the first country to ban images of smoking in all television shows and new films. According to Mr Ramadoss, 52 per cent of youth consume their first cigarette when they see their favourite movie actor smoke. No wonder he beseeched Shah Rukh Khan and Amitabh Bachchan to stop smoking in the films. While the WHO study did support his claim that smoking scenes in films could send wrong signals, the film industry too found support in judgments like this one.
Smoke signals
In 2009 a Delhi High Court judge remarked, "A cinematographic film must reflect the realities of life. Smoking is a reality of life. It may be undesirable, but it exists." Though he didn't specify women in his judgment the fact is that Indian women do smoke. If around the world women constitute about 20 per cent of the world's more than one billion smokers, in India there has been a perceptible rise in the number of women smokers. According to a World Health Organisation study, First Report on Global Tobacco Use, one in every 10 women in India smokes or chews tobacco. So what is the big deal in showing them smoking on screen?
That's exactly what film actor Mahie Gill and her director Tigmanshu Dhulia who made her smoke onscreen in Sahib Biwi Aur Gangster feel. Mahie reasons that women smoking in cinema is in sync with their realistic portrayal. Divya Dutta who too has smoked in several films like Monica and Heroine, too feels that there is nothing wrong in showing women smoking as long as it gels with the characters she portrays. And therein lies the rub. What kind of women smoke? Like the strong-willed Pallavi of Heroine who has no qualms in bending and manipulating rules. So crucial were the scenes, according to the director of Heroine Madhur Bhandarkar, that producers of the film even moved court regarding the proposed static anti-smoking message during smoking scenes. However, Lillete Dubey playing the part of Kareena's mother in the movie feels that the smoking scenes in the film that included her as well were certainly Bhandarkaresque.
As she puts it, "It was director's vision. For he felt that since mother is that sort of person so she would smoke. So beyond a point it didn't convey much."
In comparison, her smoking moment in Monsoon Wedding where her character of stressed-out middle aged mother smokes in a closed bathroom was a natural act. In fact, it was so realistic that till today not only is it etched on the mindscape of viewers but most women can relate to it. She muses, "There it was not only used interestingly raising much mirth but also made a socio-gender specific statement."
But by and large she agrees that makers and directors do reinforce stereotypes when they show women smoking. So instead of breaking new ground they end up creating more pigeonholes.
Reality check
Without a doubt, over the years the portrayal of women has undergone a sea change. Many shades of women are being shown, the most important being grey. Producer director Mahesh Bhatt agrees that it is indeed an old construct dating back to the pre-Independence era when all things western were bad and good, while Indians did things differently. So while a Julie and Mary could smoke, a Rehana and Pooja couldn't. He agrees that the same attitude reflects in the cinema of today where each time a female character has to be demonised, the moment the makers hand her a cigarette.
By and large, he asserts, the mainstream cinema that panders to the pan Indian consciousness will show a woman's descent into the grey area by showing her smoking and drinking. Indeed, one of his films Raaz 3 too depicted the overtly black character of Bipasha Basu in a similar vein. But then he reasons that the film followed simple black and white clearly demarcated line of characterisation.
You bet a woman smoking is never white, at best grey. To this Dutta says, "We perceive it so because we are Indians at heart." Even Mahie agrees that both the films, including Not a Love Story, in which she smoked did have a negative connotation. In fact, she goes out to argue that each time she canned a smoking scene in a film she could sense a certain strength and negativity around
her character.
So Tigmanshu may steadfastly refuse to see any complexity or layering in the character of a woman smoking, the fact is makers do intend to show more than the reality. Just as good people fall in love and don't have sex so good women don't smoke holds true for the Indian silver screen… for the time being at least.
Smoking hot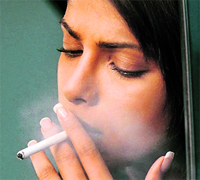 In Fashion, Priyanka Chopra reinforced the stereotype
In a case concerning the movie Heroine, the centre might have maintained that the Indian tradition does not promote smoking by women, the fact remains that actresses have time and again ignited the screen with smoking scenes. From Kareena Kapoor to Deepika Padukone to Kangana Ranaut, the list is long and even includes Aishwarya Rai though her smoking scene in Guzaarish had an altogether different connotation. Priyanka Chopra smoked in the film Fashion. Though her character in Fashion was not exactly negative the underlying insinuation that women associated with glamour industry smoke was not lost on the viewers as Kangna Ranaut playing the part of deviant supermodel in the same movie too smoked. While Kareenas's smoking in Heroine might have stoked the embers of controversy, her smoking act in Chameli won her a Filmfare Award too. In Karthik Calling Karthik, Deepika Padukone's reel character was depicted as an avid smoker. And wonder of all wonders even Shabana Azmi has smoked in Godmother. Interestingly, based upon the real life story of Santokben Jadeja, a defamation case was slapped against the film producers by Jadeja herself.
A cinematographic film must reflect the realities of life. Smoking is a reality of life. It may be undesirable, but it exists.
Delhi high Court, 2009

The mainstream cinema that panders to the
pan-Indian consciousness will show a woman's descent into the grey area by showing her smoking and drinking.





—Mahesh Bhatt

There is nothing wrong in showing women smoking as long as it
gels with the characters she portrays.






—Divya Dutta