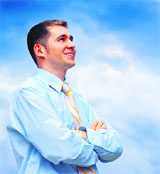 meteorology
Men for all seasons
there is more to a career in meteorology than sky- gazing and forecasting rain. IT IS AN EXCITING AND CHALLENGING FIELD WHERE NO TWO DAYS ARE THE SAME
If you enjoy everything from watching the red sky and deriving truths from it…, then meteorology is the career option for you. Meteorology is a sub-part of atmospheric science that mainly talks about weather processes and forecasting. It includes both weather and climate and is concerned with the physical and chemical state of the Earth's atmosphere and interactions between the atmosphere and the Earth's surface.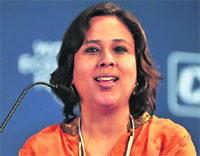 Career Hotline
I want to be a journalist
Q. I want to become a journalist. Which course should I pursue immediately after my completing my Class XII next year? Can you please guide me about the college and courses? — Tanveer Bhatia

Want to be in Barkha Dutt's shoes: A degree in journalism paves the way for an exciting career
Cool Counsel
Cultivate courage
Courage is surely one thing which most of the employees seem to lack when it comes to chasing goals. In the present competitive scenario each one of us wants to rise high, but at the same time everyone is scared to take any risk. We all want to do the work that guarantees success, but this 'no-risk attitude' leads either to no tangible success, or just a moderate success.
CareerCature
SANDEEP JOSHI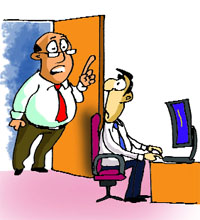 Instead of a raise, we've decided to deduct 7 per cent entertainment tax for using social media sites during work hours.
Computer revolution in Haryana schools
Computing, an end-to-end virtual desktop and computing solution provider, has successful ly launched high-performance and green computer labs in 2,622 government schools in Haryana as part of the Haryana government's education initiative called the 'ICT in Education' project. The system provides revolutionary desktop virtualisation solution that requires 75 per cent less maintenance and saves upto 90 per cent energy by using 1 watt of electricity as compared to the traditional PC that consumes 120-150 watts.
Expanding horizon
The scope of homoeopathy as a career has increased over the years. As a doctor not only does one earn good money but also gets a platform to explore various avenues
Homeopathy has come a long way since it was first established 200 years ago as an effective form of healing. It has also gained from the fact that more and more people nowadays are hesitant to use allopathic medicines because of the side effects and strong doses that upset the body's equilibrium. Homeopathic medicines are cheaper, safe and easy to use, which has made homeopathy popular among the masses.
algorithmic and hft trading
Driven by technology
Coping with the sheer volume of data surrounding a trader and using it effectively in today's competitive scenario often takes more than just the human brain. Electronic trading solutions empower traders to implement strategies which not only tap the data explosions and manage greater trading volumes but do so within timeframes in the order of milliseconds.
What is Algorithmic trading?
Also called automated trading or black-box trading, algo trading is the use of electronic platforms for entering trading orders with an algorithm deciding on aspects of the order such as the timing, price, or quantity of the order, or in many cases initiating the order without human intervention.
Course cruising
Tata Institute of Social Sciences (TISS), Mumbai has announced admission to the 2013-15 batch for the full-time PG degree programmes (MA, MSc, MHA, MPH) offered from Mumbai, Tuljapur, Guwahati and Hyderabad campuses
Placements
The Indian Institute of Foreign Trade (IIFT) has seen a surge in the number of pre-placement offers (PPOs) and pre-placement internships (PPIs) offered this year. The number has increased to 35 PPOs/PPIs till date. Industry stalwarts like Colgate Palmolive, Goldman Sachs, GCPl, Flipkart, CEB etc, have already released PPOs this year.
smart strategy: art of rejecting job offer
Decline with grace
Searching for a job is a daunting task for any professional especially during the current economic downturn. As a consequence most of us apply for multiple positions to increase our chances of employability. Whilst landing a job is exciting it is accompanied with weighing the pros and cons before taking the final decision.
MBA doesn't mean employable
Employability of management students remains below 10 per cent for any functional role in the field of HR, marketing or finance, a survey has revealed. According to the National Employability Report by Aspiring Minds, employability of management graduates is at dismal low levels particularly in the field of business consulting, followed by analyst and functional roles.
Be prepared for off-the-wall questions
New job-hunters need to be prepared for 'puzzle interview' questions like why are manholes round or how many barbershops are there in San Francisco, researchers say. According to SF State researcher Chris Wright, candidates need to be prepared for such questions even though they may consider them to be unfair or irrelevant.
Don't let that smile deceive you
Does your boss smile back at you when he passes by? It might not always be a friendly gesture! According to a new study, those who feel powerful tend not to smile back at important people, saving their smiles instead for those below them in the hierarchy.
management tip
Change your culture in stages
Many leaders try to change their company's culture in tandem with new strategies, such as mergers or turnarounds. But most cultures are so entrenched that wholesale change is near impossible. Instead, choose your battles and focus on a few critical shifts.
Happiness @ work
Gems of ancient wisdom
An occasional party doesn't hurt
What better way to beat the tension of targets and deadlines than to throw a party. The Vaanara search teams from the north, east and west had returned without any news of Sita. The south-bound group was lucky to have met mighty eagle Sampati on the seashore. Plus, they were fortunate to have Hanuman in their midst. As Hanuman had jumped over to Lanka, met Sita and returned, the group decided to party.