Kingfisher deadlock over staff wages ends
Employees to get four months' salary by Dec-end
Tribune News Service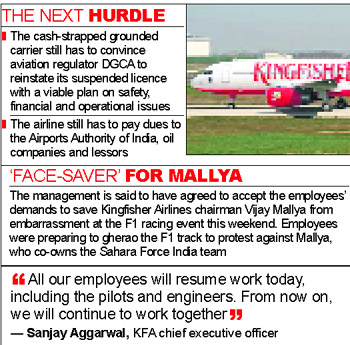 New Delhi, October 25
The management of beleaguered Kingfisher Airlines today managed to broker a deal with disgruntled employees ahead of the F1 Grand Prix in which airline promoter Vijay Mallya holds a major interest. The 26-day deadlock was resolved with the management agreeing to pay four months' dues by December-end to the striking employees, who have not received salaries since the past seven months.
Though the employees decided to resume work with immediate effect, the grounded carrier will have to convince aviation regulator DGCA to reinstate its suspended licence with a viable plan on safety, financial and operational issues — all of which may take time.
Airline's chief executive officer Sanjay Aggarwal said: "Employees are on duty as we speak... We are all in this together and looking forward to get this airline going in the next few weeks."
The development was confirmed by engineers' representative Subhash Chandra Mishra, who said they had accepted the management's proposal for a staggered payment of dues by December. A representative of the striking pilots also said they would be resuming work immediately.
As per the plan, the March salary would be paid within 24 hours, the April salary by October 31, May dues before Diwali in mid-November and June salary by December-end.
Dues from July to September would be paid by March next year after recapitalisation of the airline, the staff members said. The management also withdrew its circular asking staffers to give a written undertaking before resuming duty.
It is clear that the management, which was earlier offering only a three-month salary, agreed to accept the workers' demand for payment of at least four months' dues by December-end to save Mallya from embarrassment at the international racing event slated this weekend. Mallya, who co-owns the Sahara Force India team, wanted to avoid employees' agitation at the event.
Earlier this week, Kingfisher proposed to pay three months' wages by November 13 and clear arrears every month after that, an offer that was rejected by employees demanding clearance of dues by October 26.
For the management, the development came as a big relief but it still has to convince the DGCA to reinstate its licence. According to Civil Aviation Minister Ajit Singh while salary was "a big issue and the employees should be paid, the bigger issue than that is the airline's fiscal assurance to the DGCA". The airline still has to pay dues to the Airports Authority of India, oil companies and lessors. Noting that the airline had not yet submitted any revival plan to the DGCA, the minister said in his view it was a "very difficult proposition but not impossible".
The DGCA suspended the airline's licence after the carrier failed to address its concerns over safety. All flights have remained suspended since September 30 due to the strike, followed by a lockout from October 1 and suspension of Scheduled Operator's Permit (SOP) or the flying licence by the DGCA on Saturday.
The license of Kingfisher was issued on August 26, 2003, and is valid till December 31.
The airline with a fleet of 66 aircraft now has 10 planes. Saddled with a loss of Rs 8,000 crore, it has a debt burden of another over Rs 7,524 crore, a large part of which has not been serviced for several months.