M A I N N E W S
Krishna resigns ahead of Cabinet rejig
Says leaving to make way for youngsters y Ambika Soni, Anand Sharma and Kapil Sibal probable contenders
Anita Katyal
Tribune News Service
New Delhi, October 26
External Affairs Minister SM Krishna resigned from the Cabinet today, setting the stage for the long-awaited ministerial shake-up. Eighty-year-old Krishna sent his resignation to Prime Minister Manmohan Singh, saying he is leaving to make way for youngsters.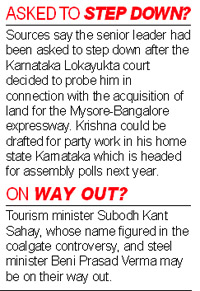 Krishna's exit indicates that the Cabinet reshuffle to be undertaken this Sunday, will be a major exercise. There were unconfirmed reports at night that Union ministers Ambika Soni and Mukul Wasnik had also offered to quit the government to work for the party.

The UPA government is keen to present a "new look" Cabinet with the twin objective of taking the narrative away from corruption and changing the negative public perception about the ruling combine. The ministerial reshuffle has also acquired significance as this is the last revamp before the 2014 Lok Sabha elections. Congress president Sonia Gandhi met the Prime Minister this evening to discuss the ministerial changes.

Krishna's removal has been the subject of speculation in the run-up to every previous reshuffle but he managed to hold on to his ministry.

UPA sources said the senior leader had been asked to step down after the Karnataka Lokayukta court decided to probe him in connection with the acquisition of land for the Mysore-Bangalore expressway. Krishna's exit will provide an opportunity to the PM to appoint a younger person for this ministry.

Krishna could be drafted for party work in his home state Karnataka which is headed for Assembly polls next year. No sooner had Krishna put in his papers that speculation began about his successor. Ambika Soni, Anand Sharma and Kapil Sibal are being mentioned as probable contenders.

Although there is no official word about AICC general secretary Rahul Gandhi joining the government, Congress sources have indicated that he prefers to work in the party organisation. However, the new ministerial team is expected to have his imprint as he has been closely associated in the ongoing discussions on the reshuffle.

Several new faces could be inducted and younger ministers promoted. Among those who could be elevated at Rahul Gandhi's behest include junior ministers Jyotiraditya

Scindia, Sachin Pilot, Jitin Prasad and D Purnadeshwari. They could be made ministers of state with independent charge. Ajay Maken, Minister of state (independent charge) could be promoted as a Cabinet minister. Lok Sabha MPs Meenakshi Natarajan and Manick Tagore, known for their proximity to Rahul, are likely to be appointed ministers of state. Ministers of state Srikant Jena and Harish Rawat are also in line for a promotion. West Bengal Congress will get a greater representation following the resignation of six Trinamool Congress ministers. Deepa Dasmunshi, state party chief Pradeep Bhattacharya, Ghani Khan Chaudhary's brother AH Chaudhary and Adhir Chaudhary are among the probables.